Nashville Predators Recall Saros, Aberg to Replace Mazanec, Fiala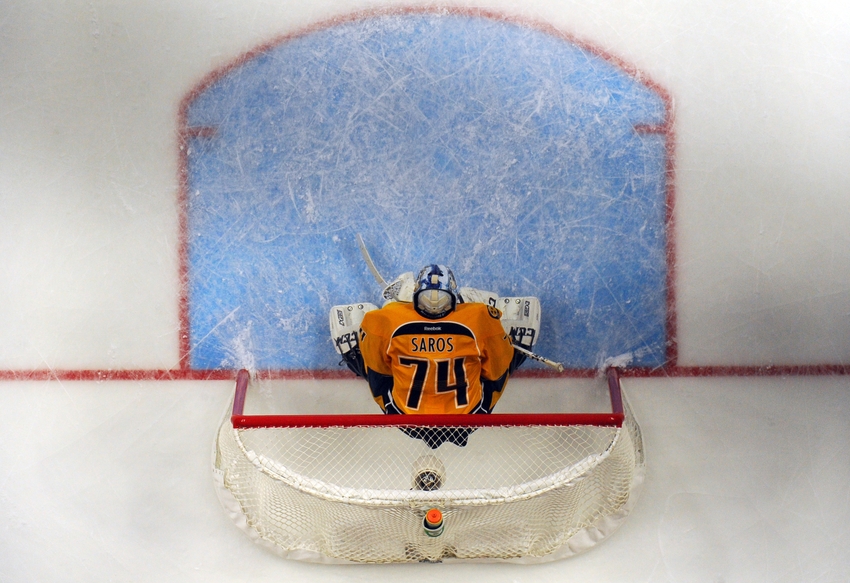 The Nashville Predators are making some changes, hoping to shake up both their roster and season.
The Nashville Predators make some roster noise moving into Tuesday night's tilt against the Ottawa Senators. They have recalled goaltender Juuse Saros and winger Pontus Aberg to the NHL level while assigning goaltender Marek Mazanec and winger Kevin Fiala to the team's AHL affiliate Milwaukee Admirals.
The moves represent a relatively straight forward player swap at both the backup goaltender and third-line winger positions. The Nashville Predators are hoping the changes may help spark a turnaround to a season that has them sitting near the bottom of the NHL standings with a 3-5-3 record.
Kevin Fiala notched two goals in ten games played, appearing in all but one contest on the season. Both goals came in a single contest against the Pittsburgh Penguins, and his single absence came as a healthy scratch during a 5-1 Nashville Predators victory over the Colorado Avalanche.
Backup goalie Marek Mazanec found ice time in two games this season, though his starting record stands at 0-1. Mazanec earned a rough 5.06 goals against average and an .806 save percentage in his time, saving only 29 of 36 shots faced against both the Chicago Blackhawks and Anaheim Ducks.
Fiala's skates will be filled by 23-year-old Pontus Aberg, who was last recalled to the NHL level for two games during last year's playoff action. Aberg has recorded 5 goals and 4 assists through 9 games with Milwaukee this season, earning a +4 plus/minus rating along with his point-per-game stride.
The man who many see as the future of goaltending in Smashville, Juuse Saros, will be making his return to the Nashville Predators after earning a 1-0 record at the NHL level earlier this year. His only contest came against the Pittsburgh Penguins and saw him stopping 34 of 35 shots for a .971 save percentage.
Saros is the only goalie to have registered a win in for the Milwaukee Admirals in their 9 games this season, registering an impressive 6-1 record through 7 starts. He holds a 1.99 GAA and a .929 save percentage at the AHL level.
The 21-year old was expected to spend the entirety of his year in the lower league to earn valuable playing time, so his recall casts an interesting question mark over the net in Smashville. It seems difficult to imagine the Nashville Predators pulling a promising young talent away from the ice and his development only to have him continually warm a bench behind starter Pekka Rinne.
The Predators will hope the roster changes can help make an immediate impact as they take on the 7-4 Ottawa Senators tonight. As rough as the season has been going, a win will put Nashville right back into the mix, setting them in an early Western Conference wild card position.
This article originally appeared on