Nashville Predators Powerplay Leading NHL Early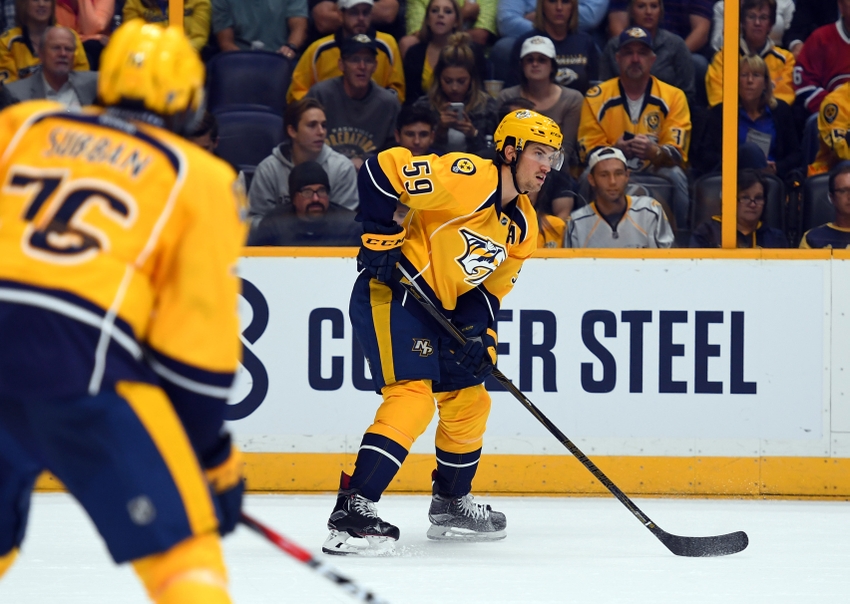 The Nashville Predators wanted to improve their man advantage in the offseason, and early returns indicate that they've succeeded.
The Nashville Predators haven't gotten off to the start they would have liked with a 1-2-0 record, but that doesn't mean they haven't been doing some great things. Pekka Rinne has looked like a force to be reckoned with, Ryan Johansen is averaging over a point-per-game early, and the team leads the entire NHL in powerplay percentage.
The Preds have scored on 45.5% of their powerplay opportunities early in this season, earning goals on 5 of their 11 advantages. This number comes in well above the league's current 19.4% PP goal percentage, with the Columbus Blue Jackets and their 2 goals on 5 attempts earning the second place slot behind Nashville at 40%.
What's making the difference in Smashville? Simple- players are doing what they are supposed to be doing.
The Nashville Predators have often employed a one-defender four-forward umbrella look on the advantage, using their elite puck-moving defenders Roman Josi and P.K. Subban as quarterbacks on their respective power play units. Both QB's have earned a goal by blasting away a quality opportunity from the point into traffic- doing what you need your defenders to do when you have a special teams advantage.
Captain Mike Fisher leads the team with two goals, both scored on the powerplay. Not necessarily known as a 'skill player,' the Captain has been doing his work out there with a mop and bucket in the crease, making things difficult for the defense by parking directly in front of the goaltender.
Fisher's markers come on a tipped-point shot by Roman Josi and an opportunistic quick-release after finding himself alone in front of the goaltender following a fortunate bounce. So the Captain has been following through, making sure no puck goes left unburied.
Craig Smith did his job as a winger on the PP unit, lasering home a top-shelf wrister. Ryan Johansen, who leads the Nashville Predators with four total points, has done so by earning four assists, all on the man advantage. That's how you'd like a top-line skill center to operate when looking for special teams success.
The 1-2-0 record isn't great to look at, but it's come against some of the league's best competition in the Chicago Blackhawks and Dallas Stars. A key to gaining prolonged success throughout the course of the NHL season will be sustaining success on special teams, and the Nashville Predators look like they have they make and the mold to do that.
The Nashville Predators and their power play units will be back at work on Friday, when they square off against old rivals, the Detroit Red Wings. Both teams currently sit at 1-2-0, though Detroit will face the New York Rangers tonight.
This article originally appeared on