Nashville Predators Pekka Rinne is Mr. November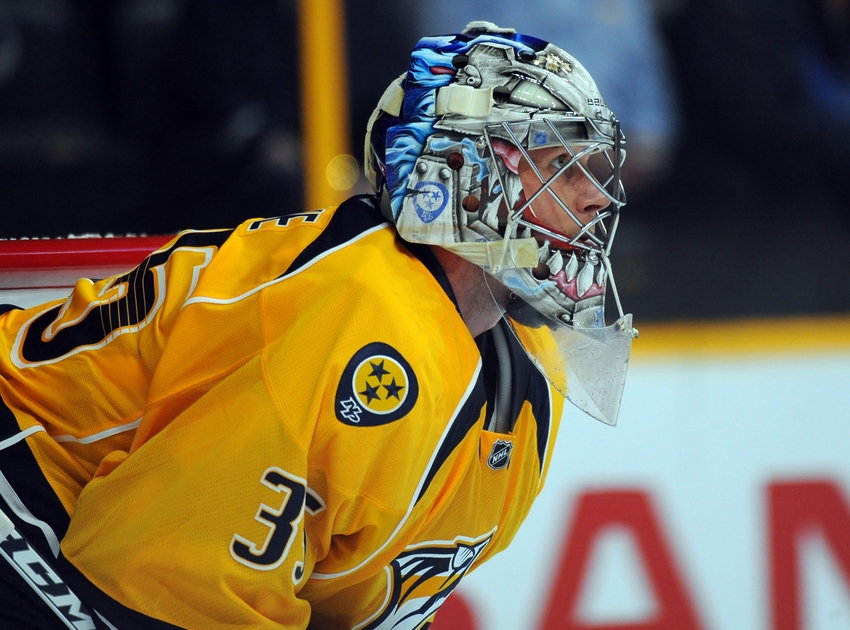 The Nashville Predators goaltender led the charge as the team steamrolled through November.
One of the biggest question marks surrounding the Nashville Predators before heading into this season was whether or not Pekka Rinne could bounce back from an uncharacteristically bad year in 2015/16. Now with the first quarter of the season out of the way, it's probably safe to say that Pekka Rinne is back to being the Pekka Rinne we're used to seeing.
At the tender young age of 34, Rinne has asserted himself once again as one of the league's premier goalies with the finest month long performance of his 11 year NHL career. Rinne locked down the net in almost every start of his, turning out a 9-1-2 record for the month. He was even more impressive on home ice going 6-0-1, his only blemish being a shootout loss against the Carolina Hurricanes.
You can't understate how important of a turnaround that is from Rinne's performance in October where he managed a 1-4-1 record and a .892 save percentage. To be fair, Rinne was waylaid by the now infamous chicken soup in Detroit and wasn't getting much goal support from the rest of the team on the nights that he played well.
Now the Predators are rolling on all fronts. The team is clicking offensively and is almost invincible on home ice. In fact the Predators haven't allowed more than two goals in any game on home ice so far this season.
While that surely isn't a record that will last an entire season, the fact that the Predators are a quarter of the way through the season with a stingy record like that on home ice is nothing short of spectacular.
Need any more validation that Pekka Rinne is back and ready for a great season? He was just honored as the NHL's 1st star of the month. The first Nashville Predator to ever receive the honor in franchise history. Congratulations Pekka!
Hopefully October was the low point of the season for Pekka Rinne and the Nashville Predators. Momentum is on their side and December looks to be another friendly month for the team with 9 of their 14 games being played at home next month.
Let's see if the Predators can make a push to the top of the Central Division before Christmas.
This article originally appeared on