Nashville Predators: Mike Fisher a Fit for Captain?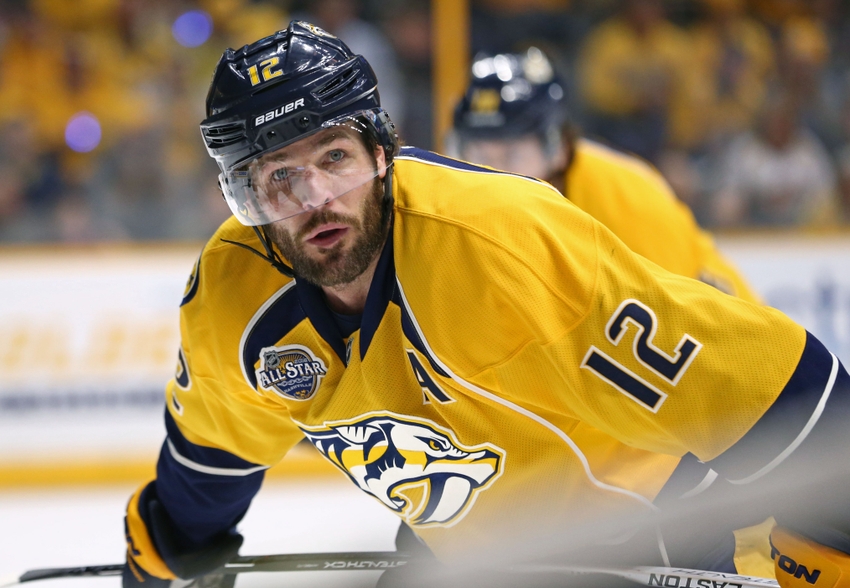 The Nashville Predators are still without a Captain- should the fan favorite center get the nod?
The Nashville Predators have been sitting in the middle of a giant swirling question mark since trading away their franchise staple and team Captain Shea Weber earlier this offseason. Naturally, the question then becomes: who is next in line to brandish the C on their chest?
A popular nominee around the Smashville fan base seems to be veteran center and Alternate Captain Mike Fisher, who has been a favorite star athlete in the Music City since arriving via trade from the Ottawa Senators in 2010.
Fisher has been a reliable contributor on the ice with the Nashville Predators, though his contributions outside of the arena could be considered equal, where he is known to put forth a great amount of charitable effort in the community. The argument could be made, however, that neither of these factors drives his popularity in the home of country music quite as much as his marriage to country superstar Carrie Underwood.
The question now becomes: should Mike Fisher's popularity give him an edge when it comes to choosing the new Nashville Predators Captain? Let's take a closer look:
Pros
Mike Fisher is a leader. He's a leader in the Nashville community away from the arena, and on the ice he's a veteran presence who has already served as an Alternate Captain for a number of seasons.
The Nashville Predators clipped away nearly all of their older, gritty figures (Shea Weber, Paul Gaustad, Eric Nystrom, Barret Jackman) earlier this offseason, and having the fearless Fisher as Captain could help ease any issues that the team could be getting too soft.
Worried about the 36-year-old's age? Well, it didn't show towards the end of a long campaign last season, when the center elevated his game in the postseason, notching 6 points in 7 second-round games. It was the exact kind of performance you would want to see out of your team's leadership.
But there are two sides to every story:
Cons
Fisher is, as we mentioned, 36 years old, and nobody but Jaromir Jagr is Jaromir Jagr. His numbers have shown a noticeable decline in recent seasons, with the forward finishing last year with 23 points (13 goals, 10 assists) and a -14 rating through 70 games.
The total is good for 12th on the team from the 15 skaters who played at least 60 games last year. He is a positionally sound player who serves valuable time on the Nashville Predators penalty kill, but he also found his home centering the third forward line, a position rarely occupied by an NHL team's Captain.
The Ontario native is also entering the final year of his contract. At the conclusion of the 2016-17 season Fisher will be facing multiple options, including a change of team and retirement. If Fisher is declared team Captain, the Nashville Predators face decent odds of having to answer this very same question next offseason.
What's our opinion on the matter?
Our Opinion
The Nashville Predators would be in good hands with a Captain Mike Fisher. He's a hard worker who appears to have earned the respect of his teammates, and he's a Canadian who embodies Nashville's unique culture, making him an easy guy for the city to rally behind.
However, Fisher is a Barry Trotz guy who has been talented enough to play his game in Peter Laviolette's system. He's a valuable player which any team would be happy to have, but the Nashville Predators are very clearly moving in a 'speed & youth' direction and would benefit from electing a Captain accordingly.
On a team stocked with ascending talent and a number of All-Star caliber skaters only now entering their prime, it would be a questionable tactic to hand over the Captaincy to a player who may not be with the team a year from now. The arrow on this Nashville Predator team is pointed straight up for the coming future, and needs a Captain who will undoubtedly be there to see them through it.
The other options for the Captaincy vary: Predator lifer Roman Josi appears to rival Fisher for the popular vote, though newcomer P.K. Subban has his supporters. Pinning the C on a young forward like a Filip Forsberg, Craig Smith, or Ryan Johansen could serve to shock a number of people while loudly declaring a new Laviolette era in Nashville, though sniper James Neal has had his name tossed around water coolers as well. Only time will tell.
This article originally appeared on