Nashville Predators Hockey is Here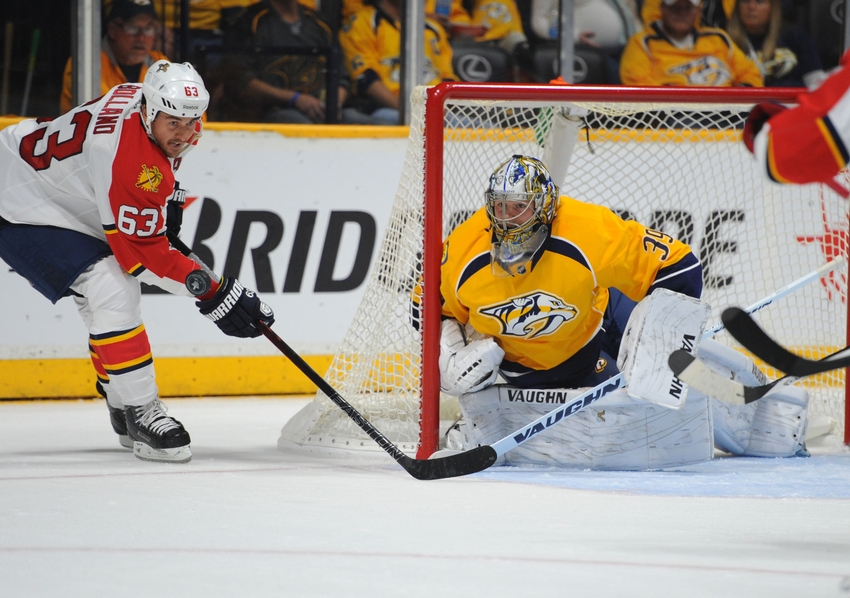 The Nashville Predators, at long last, have taken to the ice for preseason action.
The Nashville Predators officially began the preseason yesterday with a doubleheader against the Florida Panthers. The two teams split the games, but there were plenty of takeaways looking towards the Predators season opener.
The first game of the day was taken by Florida 4-1, but sparking legitimate intrigue was a starting Predator top line of James Neal, Calle Jarnkrok, and Kevin Fiala. This trio hands us a couple answers to questions that have floated through the offseason.
One- it appears that young winger Fiala is being given every opportunity to show what he can do alongside talented linemates. Hopes are that the former first-round draft pick can make the jump to the NHL level this season, bringing along a heavy dose of both speed and offensive creativity.
Calle Jarnkrok, who spent last season at the left wing position, was also handed the keys to the top line's center position. He excelled in his natural role, earning an impressive 63% faceoff win percentage with an assist on the team's only goal. Arrows point to the freshly 25-year-old Jarnkrok being fully capable of stepping into a center role should the opportunity arise.
The top line registered the only Nashville goal of the game- a James Neal power play marker with both Jarnkrok and the new Weber, Yannik Weber, earning assists. Despite dropping the matchup 4-1, the Nashville Predators outshot the Florida Panthers 37-23.
Marek Mazanec also proved serviceable in his performance, stopping 15 of 16 shots for a .938 save percentage. The preseason will be as important for the new backup goaltender as anybody on the Nashville Predators roster.
The second matchup of the day saw a 2-1 Preds victory. Nashville goals went to Miikka Salomaki with a tipped goal at the net and Pontus Aberg with a game-winning snapshot, both coming in the first period.
The highlight performance of the day went to second-year defender Anthony Bitetto who notched two assists. Bitetto may already have the best shot at claiming one of the open roster positions on the third defensive pairing, and starting the preseason with a multi-point performance is only going to sway things in his favor.
In less exciting news, Craig Smith exited the game in the first period after being part of a collision. No news yet on the extent of the situation.
Absent in preseason action were each of the Nashville Predators participants in the World Cup of Hockey- Filip Forsberg, Mattias Ekholm, Roman Josi, and Pekka Rinne. Also absent were defenders Ryan Ellis (upper-body) and P.K. Subban (soreness).
The Nashville Predators will return to preseason action on September 29th in Columbus against the Blue Jackets- perhaps the debut in gold for superstar defender Subban.
This article originally appeared on