Nashville Predators Goaltending Present, Future Looks Blindingly Bright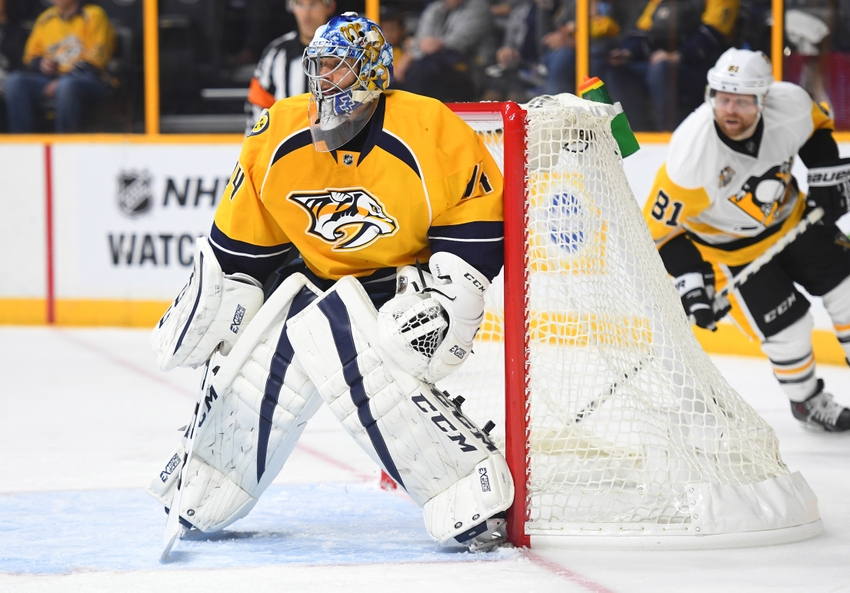 The Nashville Predators goaltenders dominated their leagues' nets in November.
The Nashville Predators nets have been guarded in special fashion. The franchise has not one, but two goaltenders who earned top honors in their league during the month of November.
Not only was Pekka Rinne given the NHL's first star of the month- the first player in franchise history to earn the distinction– but backup goaltender Juuse Saros was named the AHL's Goaltender of the Month for his play in the lower league.
Saros rattled off a 5-0-0 record in the AHL through November, earning a 1.37 goals-against-average paired with a .955 save percentage. The numbers included one shutout, to the tune of a 35-save affair.
The young goaltender is currently stored away on the Nashville Predators bench, though he leads the AHL in all major goaltending categories on the year- holding a 1.59 GAA, .945 save percentage, and tied for league lead with 9 wins.
The 21-year-old is hailed as the heir apparent to the 34-year-old Rinne's throne, which is currently scalding hot. Pekka earned league best stats of his own for the month, posting a 9-1-2 record, 1.49 GAA, and .949 save percentage in the world's best league.
Unbelievably, Juuse Saros has been even better in an admittedly small NHL sample size. Though he has split his two games 1-1-0 (against the Pittsburgh Penguins and Winnipeg Jets), he recorded a ridiculous .965 save percentage with a 1.02 GAA. Saving 55 shots of 57 shots faced in the NHL this season, Saros has given Smashville reason to be excited about the future in goal.
He's not eligible to be drafted to the expansion Vegas team this offseason, and with Rinne signed through the 2018-19 season, it will be interesting to see how the Nashville Predators manage their goaltending situation moving into the future.
Having two goaltenders capable of putting up league-best numbers is a fantastic problem to have, especially as the team may look to limit the playing time of an aging Rinne. No matter who's in net on any given night, it will take strong goaltender play to lead the Nashville Predators to a Cup run.
Left on the outs of great goaltending performances is Marek Mazanec, the Predators backup goaltender at seasons beginning. Mazanec has been residing in the AHL after posting a less-than-enticing 0-2 record with a 5.45 GAA and .809 save percentage at the NHL level.
This article originally appeared on