Nashville Predators Goaltender Mazanec Gets Nod with Rinne Out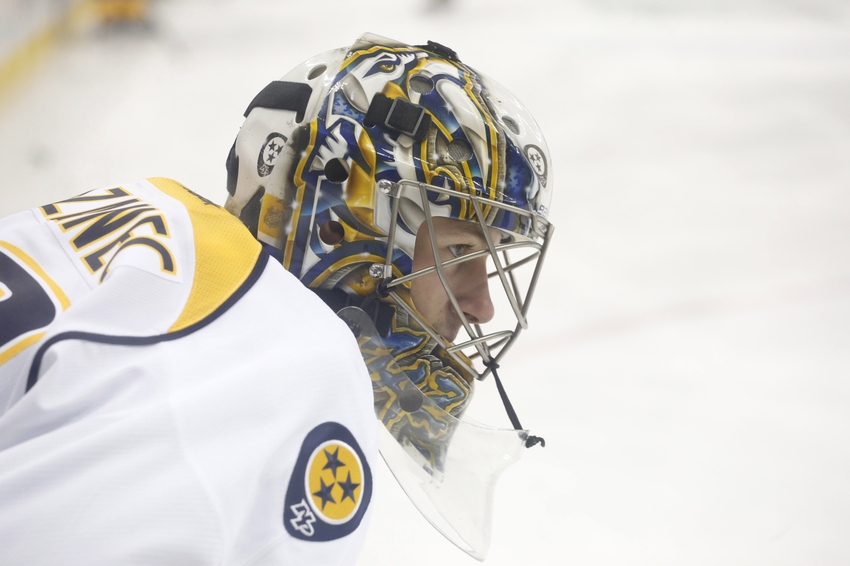 The Nashville Predators will have to go without their hot starting goaltender as they look to extend their point streak tonight.
Nashville Predators fans had fears confirmed as it was announced that starting goaltender Pekka Rinne is officially considered day-to-day with a lower body injury. Suspicions were aroused when Rinne missed practice yesterday, and it turns out what was hoped to be a 'maintenance day' is in fact a legitimate injury as he will not be on the active roster for Tuesday night's tilt against the Toronto Maple Leafs.
Filling in between the pipes will be goaltender Marek Mazanec, who will be making his return to the NHL level after two contests with the AHL Milwakee Admirals club. He will be backed up by hopeful future starter Juuse Saros.
The injury comes at the height of momentum for the Nashville Predators, who are currently riding a six-game point streak and have been the winners of three straight. The Preds have managed to turn around an unenviable start to their season, and much of the change in play has been rooted in tremendous play in goal.
Pekka Rinne was named one of the NHL's three stars for his performances last week. He managed a 3-0-0 record while posting a .976 save percentage and a 0.67 goals-against average, allowing only 2 goals on 84 shots.
His absence will mean a break for the Maple Leafs, one of the younger teams in the league led by two rookie scorers in Auston Matthews and Mitch Marner. The 6-6-3 Toronto squad will be looking to be advantageous against a Nashville Predators team with a nearly identical 6-5-3 record.
They will be shooting at a starting Mazanec who began the season as the team's backup, but is only now making his return to the NHL after being assigned to the AHL Milwaukee Admirals. The move to assign Mazanec was indicated by the Nashville coaching staff as nothing more than a way to earn the goalie valuable playing time, which his numbers suggest he needed.
Having seen playing time in two NHL contests earlier this year, the 25-year-old Mazanec holds a 5.06 goals-against average and an .806 save percentage, stopping only 29 of 36 shots faced. The appointment to the lower level was surely meant to help boost his confidence levels, but we'll have to see his play tonight to determine if the strategy worked.
Mazanec surrendered 4 goals in both of his appearances with the Admirals, one a 5-4 overtime win, and one a 3-4 overtime loss. Making 45 saves on 53 shots earned him a .849 save percentage at the AHL level that does not necessarily serve as confidence-inspiring.
If things go south quickly the Nashville Predators can decide to plug in Juuse Saros, the heir-apparent for the starting job in the future. Saros was expected to spend the entirety of this season earning valuable minutes in the AHL, but has been donning the gold jersey primarily in a backup role as the Preds work out their goaltender situation.
Saros has seen NHL action in one game, earning a 1-0 record against the Pittsburgh Penguins. He earned a .971 save percentage, stopping an impressive 34 of 35 shots.
Sitting Saros in favor of Mazanec comes across as a clear sign that the team's backup position is Marek's job to lose, and the Preds intend to commit to the development of Saros at the AHL level once Rinne returns from injury. Hopefully Mazanec can improve his numbers and prove that he's up to the task of stopping the puck in the NHL.
The Nashville Predators currently sit just outside of the playoff picture with 15 points, though they have two games in hand over both teams holding wild card positions- the St. Louis Blues (17 points) and Dallas Stars (16 points). Scraping together points without veteran Pekka Rinne will be a necessity if the Preds hope to find success this season.
This article originally appeared on