Nashville Predators Can Overcome Fisher Injury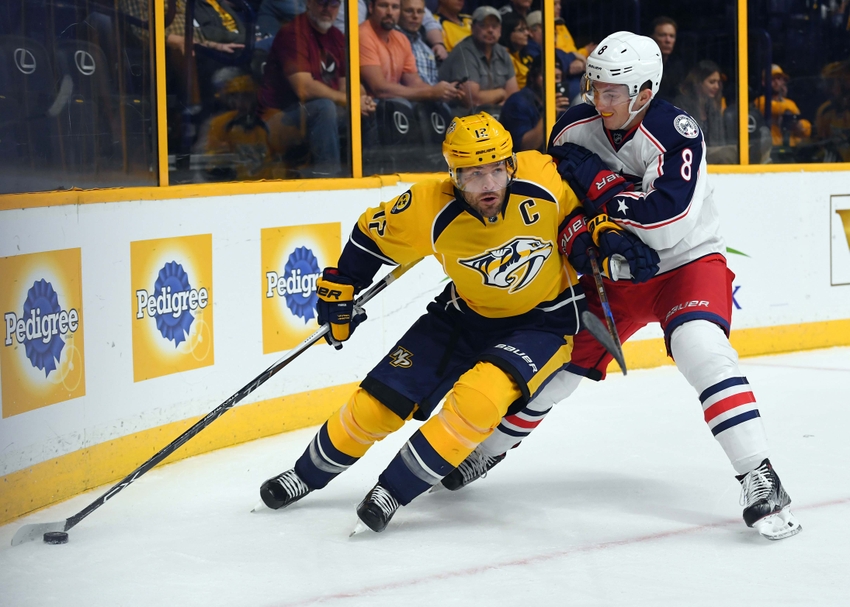 The Nashville Predators have the pieces on board to deal with any potential time lost by their Captain.
The Nashville Predators may have to spend some time without their Captain, as Mike Fisher left Tuesday night's tilt against the Colorado Avalanche early. He is listed as day-to-day with an injury being labeled in typically vague hockey fashion as an upper-body injury.
The Captain reportedly hasn't been on the ice for practice the past two days, indicating that he may not be available for tonight's matchup in Arizona. His absence would leave a void at the center position and on both special teams units, typically performing on both the powerplay and penalty kill.
Luckily, the Nashville Predators should be able to successfully patch his disappearance without needing to dip into the AHL level. Enter forward Calle Jarnkrok and his ability to fill in nearly all positions on the depth chart.
Typically slotted as a winger, the Swiss Army Knife has earned his nickname by displaying an adept ability to fill in any forward role on the roster without the Nashville Predators suffering a sag in talent level. Jarnkrok served a solid term as the team's top line left winger last season, and performed well in the dot when positioned as a center this preseason.
While Fisher undoubtedly brings leadership and a hard-working presence to the ice, Jarnkrok does not register as a terribly noticeable drop off in talent, and should fill the void well until the Captain is able to return to his skates. What about Jarnkrok's vacated winger position, you ask?
Young forward Kevin Fiala served as a healthy scratch in the Nashville Predators last contest, and has the opportunity to find himself back in the lineup at Jarny's position. Fiala was sat presumably for not being 'tough enough to play against,' as head coach Peter Laviolette opted to play perennial fourth line winger Cody Bass in an attempt to find some grit.
We're only nine games into the season and some flags are going up around the Nashville Predators aging center core. Mike Fisher and Mike Ribeiro, both age 36, missed practice yesterday due to an injury and a maintenance day, respectively. While injuries and maintenance days are expected in the sport, specifically with older players, it's a bit unnerving considering the franchises's second and third line centers are having concerns flare up so early into a long, long grind.
On the positive side, Fisher shouldn't be expected to miss much time, and the Nashville Predators should be able to utilize their assets (Jarnkrok, Fiala) to earn some points during his time out. They're in a prime position to do so, with their next two games being pitted against Arizona and Carolina, the two teams with the lowest point totals in the league.
Tonight's tilt against the Arizona Coyotes will come against a team dealing with some injuries of their own. Coming off a big win against the San Jose Sharks, the desert dogs are expected to be without Martin Hanzal and Mark  Stone.
This article originally appeared on