Nashville Predators Are Arriving Fashionably Late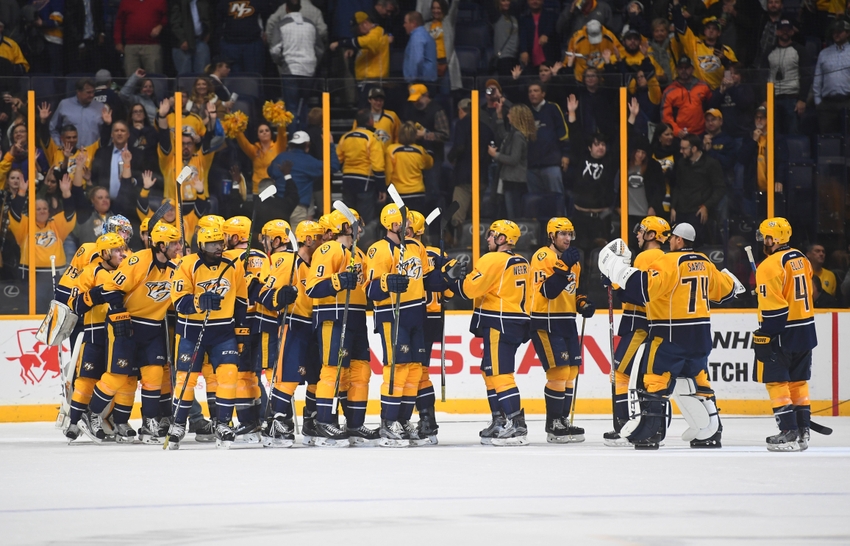 The Nashville Predators apparently know that the city of Nashville is a late arriving town.
The Nashville Predators are mimicking the rest of Middle Tennessee this season.  If you live here, you know just what we mean.  Folks here don't get there early.  Go to church and no one sits down until the music starts.  Concerts look empty until 20 minutes in.  Even Predators games, it seems like half the folks are walking in during the National Anthem.
The Preds seem as if they decided to arrive fashionably late to the NHL party this season.  You know how it is, they wanted to make an entrance.  Wait until the conversation has died down a bit about Edmonton's hot start and Cary Price carrying the Canadiens once again.  Suddenly, the Nashville Predators are ready to start turning some heads at the party as they come through the door with Gold jerseys and helmets.
October ended with just the opening night win against Chicago and that improbable "food poisoning" game against the defending champion Penguins.  The Preds were in 29th place in a 30 team league.  Nothing to worry about folks, it's a late arriving town.
November is just about time to join the party.  Let's see, we beat Colorado, take a point each from Arizona and Carolina and with a couple of wins against Ottawa and the Blues, we have a five-game point streak.  Suddenly, we are just a point out of the Wild Card and four points out of second in the division with two games in hand over St. Louis.
There are starting to be murmurs at the party that the Nashville Predators have awakened and are looking more like the team they were supposed to be.
The best thing about that is that their top scorers are still waiting to make their entrance. Granted, James Neal has seven points in his last six and goals in three straight games.  But we are still waiting for Filip Forsberg and Ryan Johansen to make their grand entrance.  They have one goal between them and that can't continue long.
Colin Wilson has only five points and Craig Smith, although he has five goals is still looking for his first assist.  Both of these players along with Mike Ribeiro have been playing hard and getting chances.
The defense, especially since splitting Roman Josi and P.K. Subban and adding Matt Irwin has seemed to really start to build chemistry and gel.  They have started to keep shots off of Pekka Rinne who has looked pretty strong in net so far.
All in all, it looks like the party might just be revving up and now that the Nashville Predators have arrived it might be a lot more fun.  Although you may find some of those Central Division foes that were happier before they showed up.
If a few more of the Nashville Predators make a grand entrance, ahem…Forsberg, RyJo…this team could find themselves right where they want to be by the end of 2016.
This article originally appeared on