Montreal Canadiens: Top 3 Defensemen Habs Should Consider Trading for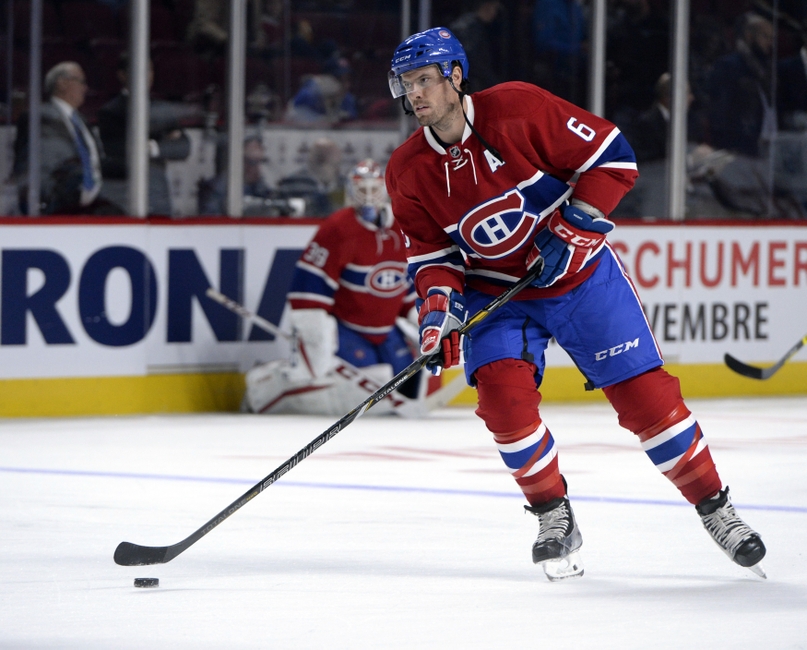 An examination of the top three defensemen the Montreal Canadiens should consider trading for this season.
The Montreal Canadiens are rumored to be in the market for acquiring a top four defensemen, and there are definitely some options available. The Canadiens also have some extra draft picks available through the next two seasons that they could part with.
The Habs will want to add depth on defense because injuries are bound to happen. Zach Redmond has already been hurt due to a broken foot that he suffered in practice a couple of weeks ago. The Canadiens have since called up Joe Hanley, but he doesn't have much NHL experience.
Question Marks on the Left Side
The Habs will likely look to add a left shooting defensemen because their best defenders are already on the right side. Shea Weber and Jeff Petry have played outstanding this season and are both solid veterans the team can depend on. Greg Pateryn has also been more than adequate on the teams bottom pairing.
The Canadiens left side has a few more question marks than the right side. Nathan Beaulieu started they year on the top pairing with Shea Weber, but has since been demoted to the bottom pairing with Pateryn. Alexei Emelin is a very robust physical player but has struggled with inconsistency throughout his career.
Want your voice heard? Join the A Winning Habit team!
Andrei Markov has been a stalwart defender over the years but he is now 37 years old. The Canadiens have and will keep managing his minutes throughout the season. The Habs will want to have Markov fresh for playoff time.
The Canadiens will likely be in the market for a rental player rather than a player with significant term left on their contract. There are few defensemen who would fill the Canadiens need on defense that could be acquired at some point during the year. Here are the top three defensemen that the Canadiens should consider trading for.
The Montreal Canadiens should consider trading for Dmitry Kulikov
The Canadiens could land Kulikov at a cheaper price than some of the other big name guys on the trade market. Kulikov isn't an offensive minded defensemen but he is a solid stay at home defender. He would be able to slide into a top four role if the Habs need him to do so.
What Kulikov Brings
Dmitry Kulikov would bring a gritty preference to the Canadiens. He isn't a player that is known for his aggressiveness but he can still be physical. Kulikov over the past three seasons has accumulated 361 hits, which averages out to 120 hits per year.
Kulikov isn't afraid to block shots either. Over the past three years Kulikov has blocked 318 shots, which averages out to 106 shot blocks per season. This shows the gritty defensive mind set that Kulikov has and you can always use extra grit come playoff time.
Want your voice heard? Join the A Winning Habit team!
Likelihood of a Trade
The Buffalo Sabres have been decimated with injuries to start the season. However, even before those injuries they were not highly considered to be a playoff team. If the Sabres continue to be inconsistent they will probably become sellers again at the NHL trade deadline.
The Canadiens will likely not have to give up to much to Kulikov. They may only have to give up a one or a couple of mid round draft picks. With Kulikov having only one year remaining on his contract it seems quite certain that he will be dealt at some point during the year.
The Montreal Canadiens should consider trading for Dennis Wideman
The Calgary Flames have sputtered out of the gate this year and may turn into sellers at the trade deadline. Wideman's contract ends at the end of this year and this could be a terrific add for the Habs. However, the Canadiens may have to wait until the deadline to make a deal because he currently carries over a 5.25 million dollar cap hit.
What Wideman Brings
Dennis is a very good puck moving defensemen who could also be used on the Canadiens Power Play. Wideman is just two seasons removed from a 56 point season which also included 21 Power Play points. Denis is also having a decent start to this season as he has four points in eight games.
Wideman also shoots right and could give balance to the Canadiens defense corps. The Canadiens currently have Emelin and Weber together on the first pairing. Both players are good solid defenders but play a similar robust style .
If Wideman were to join the Canadiens he could play the right side in the bottom pairing next to Emelin. Nathan Beaulieu could move back up to the first pairing and play with Shea Weber. The Depth Chart could loom something like this:
Beaulieu          Weber
Markov             Petry
Emelin              Wideman
Redmond         Pateryn
Having Wideman would add excellent puck movers and skaters on every pairing for the Habs.
Likelihood of a Trade
This trade could potentially happen if Wideman were to waive his no movement clause in his contract. So Wideman would have to want to play in Montreal or he would probably have to submit a list of teams he would be willing to play for.
Also Calgary is hoping that they can make a playoff push this season. Montreal would have to hope that the Flames would continue to be inconsistent down the stretch.
The Montreal Canadiens should consider trading for Brent Burns
The first two players on our list were great players in one specific aspect of the game. Kulikov is a defensive defensemen and Wideman is an offensive defensemen. However Brent Burns does it all and would be an outstanding add for the Canadiens who appear to be all in this year.
What Burns Brings
Burns would bring a ton of flexibility to the Canadiens lineup as he could play both defense and forward. Brent would also bring a great deal of size to the Habs as Burns is 6'5″ tall and weighs 230 pounds. Burns also plays with a ton of physicality, making really huge hits.
More from A Winning Habit
Brent has developed into a terrific offensive player as well. Burns scored a career high 27 goals and had a total of 75 points last season. Burns is also off to another terrific start this season as he has put up eleven points in twelve games.
With Brent Burns being a right hand shot, that would mean that he would probably bump Jeff Petry down to the bottom pairing. The Canadiens defensive depth chart could look something like this:
Emelin               Weber
Beaulieu            Burns
Markov              Petry
Redmond          Pateryn
On paper this looks like an absolute defensive juggernaut!
Want your voice heard? Join the A Winning Habit team!
Likelihood of a Trade
The San Jose Sharks have been inconsistent to start the season, but they posses a deep roster that went all the way to the Stanley Cup Finals last year. They will probably be looking to add to their lineup rather than trade away key pieces of their roster.
However, the Sharks are an older team and may want to try and get younger. Sharks players like Joe Thornton and Patrick Marleau are both 37 years old and have no movement clauses on their contracts. Brent Burns, 32, also has a modified no movement clause which is a little less restrictive than Thornton's and Marleau's.
If the Sharks were to go into tailspin they could look move Burns for top picks and prospects. However, Montreal Canadiens General Manager Marc Bergevin doesn't ordinarily like to give up top picks and prospects but you never know. Bergevin's off season moves show that he is all in this year.
Save
This article originally appeared on