Montreal Canadiens: Tomas Plekanec Stepping Up Offensively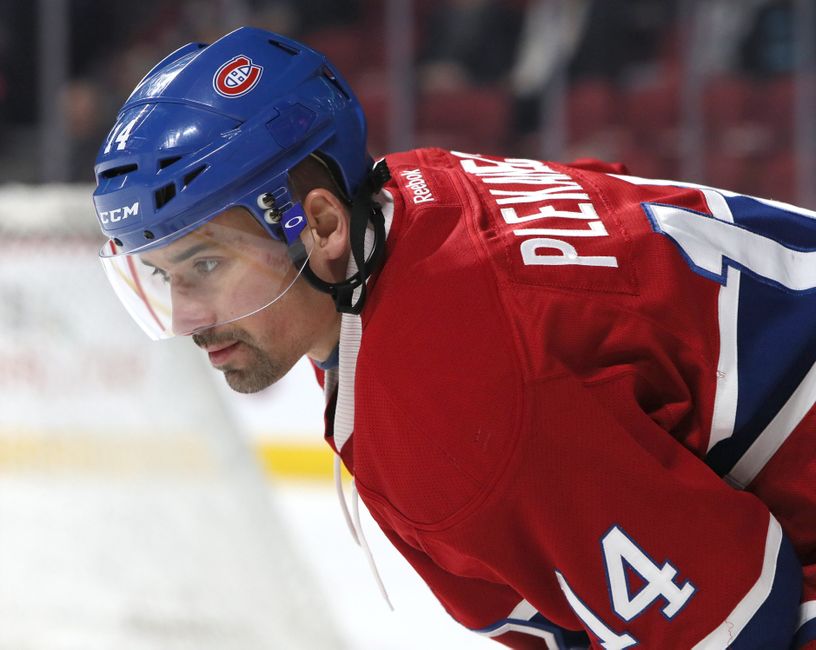 The Montreal Canadiens lost two of their Centers this week to injury, as Alex Galchenyuk and David Desharnais will both miss the next 6-8 weeks. However, in their early absence, Tomas Plekanec has stepped up his to fill the void left by the injured players.
For the last decade the Montreal Canadiens have depended on Tomas Plekanec to be their best Center, and he has delivered. Plekanec has had eight seasons with 40 or more points. Tomas has also had seven seasons where he has scored 20 or more goals.
The Canadiens not only count on Plekanec to be a point producer, but the Habs need him to be their top defensive Center. Plekanec takes most of his face-offs in the defensive zone and usually every season Pleky leads the team in Penalty Killing ice time. Tomas has had huge playoff match ups as a shutdown forward against Patrice Bergeron, and Sidney Crosby, and he has delivered awesome performances in that shutdown role.
Plekanec's Slump
However, this season has been a whole different story for Pleky as he has struggled for most of the season to score. It looked like he was also having difficulty trying to create offense for others with his terrific passing ability.
More from A Winning Habit
In fact, in Tomas first 25 games, he had only scored one goal and added five assists. Plekanec's point per game average was 0.2 and this put him on pace to score only 16 points for the year. His goals per game was even worse and was at 0.04 and this put him on pace for only three goals.
Since the Galchenyuk Injury
In the Habs first game without Galchenyuk against the St. Louis Blues, Plekanec was given a more offensive role and produced. In that game Pleky scored one goal and added an assist. This was a good sign that Pleky still had a little more left in the tank.
Flash forward to Saturday when the Canadiens played the Colorado Avalanche and Plekanec reminded us of the great play maker that he always has been. During that game Plekanec was able to produce four assists and showed off his tremendous passing ability. Plekanec also helped the slumping Captain Max Pacioretty out, as Max scored three of his four goals off Plekanec assists.
    Pleky's Production
                                          First 25 Games                           Since Galchenyuk Injury
Goals                                           1                                                            1
Assists                                        5                                                            5
Points                                          6                                                            6
Games Played                          25                                                          3
It's insane that Plekanec has matched his 25 games of production in just his last three games. However, it does give Habs fans some much needed hope. Galchenyuk was mostly a point per game player all season and now that he is gone, Pleky is showing he can hold the fort.
Final Thoughts
It's only three games, and that's what will be plastered all over the comments section, but Pleky's showing some production. He is also getting more opportunities in the offensive zone and this is because of the Galchenyuk injury. Hopefully, Pleky can keep up this production, because the Canadiens need him now ,more than ever.
This article originally appeared on