Montreal Canadiens Sven Andrighetto Not Taking Advantage of Opportunity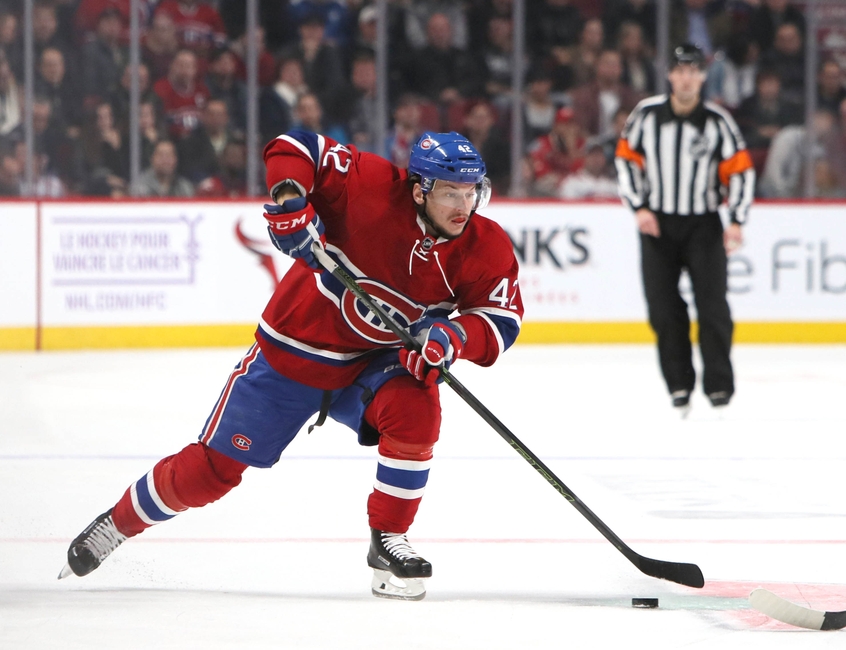 The Montreal Canadiens gave Sven Andrighetto a second chance last week after he got off to a hot start in the AHL. He hasn't taken advantage of that opportunity, at least, not yet.
The Montreal Canadiens made a controversial move according to their fans when Sven Andrighetto was placed on waivers. He finds himself back in the National Hockey League, but isn't making a great case to stay there.
Andrighetto was the Canadiens third round pick in the 2013 NHL draft. The product of Switzerland went undrafted the previous year. However, he scored 98 points in 53 games for the Rouyn-Noranda Huskies of the QMJHL and wasn't going to sneak through the draft again.
The Canadiens took him 86th overall and he immediately turned pro with the Hamilton Bulldogs. He is an offensively skilled, undersized winger and he scored 17 goals and 44 points in 64 games in his first AHL season.
Results were similar in year two but he really broke out in his third season with the Canadiens top affiliate. Last season, Andrighetto scored 23 points in 26 games before being called up to the big leagues. He suited up for 44 contests with the Habs last season.
Andrighetto had a disappointing training camp
Seeing that he had earned a full-time role with the Canadiens, it was expected Andrighetto would earn a job out of camp this season. That's why it came as a surprise when he was placed on waivers just a few days into the NHL season.
Andrighetto passed through waivers and was sent to the St. John's Ice Caps. He played well there, scoring 11 points in ten games and was then recalled by the Canadiens.
Want your voice heard? Join the A Winning Habit team!
Having been waived and sent to the minors, I thought Andrighetto would have a little extra motivation upon his return to the Canadiens. That simply hasn't been the case in his three games with the Canadiens thus far.
Andrighetto returned to the Habs lineup against the Los Angeles Kings on Thursday night. He was skating with Tomas Plekanec and Brendan Gallagher. Andrighetto played his best hockey last season when partnered with Plekanec, so it was an ideal role for the 23-year-old winger.
However, we haven't seen Andrighetto create much offence since he was recalled. He quickly found himself demoted to a fourth line role where he is skating with Torrey Mitchell and David Desharnais.
Andrighetto may be running out of opportunity with Habs
In last night's game against the Chicago Blackhawks, Andrighetto played the least among all Habs skaters. He produced just one shot on net and was never a threat to the Blackhawks. Young, offensive players need to be noticeable on the ice. Andrighetto was invisible.
Now, it's only three games, but the Swiss native is pointless and has been demoted to the fourth line. Last year, in his first three games after being recalled, he had scored a pair of goals. That's taking advantage of a small opportunity.
Andrighetto hasn't been able to do that this season. Yes, it's a tiny sample size, but when you are a young winger who couldn't make the team out of training camp, it may be the only sample you get.
Hopefully Andrighetto can start to produce offence soon, or else he may be doing it for the Ice Caps again soon.
More from A Winning Habit
This article originally appeared on