Montreal Canadiens Signing Alex Radulov Was Best UFA Deal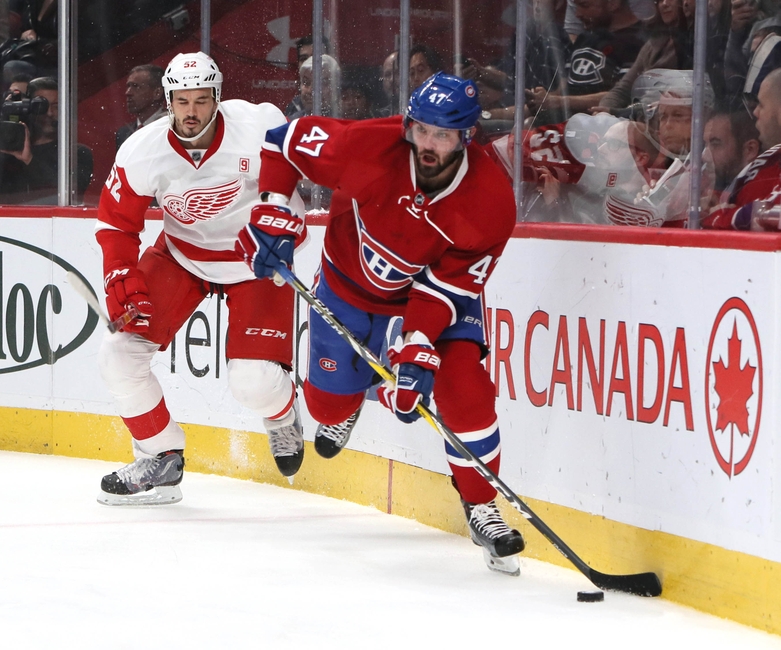 The Montreal Canadiens were laughed at for brining in Alex Radulov last summer. The Russian winger is proving to be the best UFA signing of them all.
The Montreal Canadiens hadn't made a big splash in the annual free agent frenzy in the Marc Bergevin era. They have added depth pieces, backup goaltenders, gritty wingers and penalty killers. That is, until this past summer. Bergevin made his biggest splash by acquiring Alex Radulov.
There is oodles of fanfare leading up to the annual chaotic day. However, there was very little ink used on the former Nashville Predator. It turns out, a quarter of the way through the season, Radulov has been the best signing of all.
Radulov had spent most of the past eight seasons in the KHL. He produced well over a point per game each season aside from his first one in his home country. There was no one doubting his offensive potential. But many doubted his desire to work hard, be a good team player and obey the command of any head coach.
There were often whispers that he may come back to the NHL one day. Much like there are whispers that Ilya Kovalchuk will be back. And hey, wasn't Vladimir Sobotka supposed to be back with the St. Louis Blues for years?
Much like the persistent rumours that Jaromir Jagr would return to the NHL each summer when he was a free agent in Russia, they eventually became true with Radulov. The Canadiens signed him to a one year deal at $5.75 million.
Bergevin was instantly mocked for signing Russian Radulov
Search up anyone who reported the deal on twitter that day and you will see a plethora of replies from hopeful, yet doubtful Habs fans. Mostly, you'll find non-Habs fans who were downright giddy. The comparison to Alex Semin made little sense but was thrown around like they were identical twins.
While Semin proved to be a slow winger who refused to back-check and had an offensive game that evaporated, Radulov has proven to be the opposite. He is the hardest working player on the Canadiens team, has 17 points in 19 games and plays a rough-and-tumble style that allows him to be a reliable defensive player as well as a persistent offensive threat.
Want your voice heard? Join the A Winning Habit team!
Not only have those who mocked the 30 year old and called it the worst signing of the summer been proven wrong by Radulov. He has shown he is a better player than every other free agent who signed this past summer, including the many who signed contracts for $35 million or more.
Many bigger signings, but none better than Radulov
The biggest signings of the day went to Milan Lucic who inked a seven year deal at six million per year. Kyle Okposo signed an identical contract with the Buffalo Sabres. Andrew Ladd also got seven years, but will take home five hundred grand less each year.
Loui Eriksson got $36 million over six years, David Backes will be a Boston Bruin until he can't stand up without help and Frans Nielsen will eat up more than five million in cap room from the Detroit Red Wings until he is 38.
Lucic has chipped in 15 points in 22 games this season. However, when you factor in that he plays on a line with Connor McDavid, one has to wonder how could he only have six goals? Didn't Benoit Pouliot look like a superstar while playing with McDavid last year? Radulov would have six points each game if he were on that line.
Okay, I may be exaggerating a bit, but would you be excited with Lucic for seven years? Consider that he is barely on pace for 20 goals in year one of the deal. Also consider he is the "sniper" on a line with the league's best player right now. Still want him?
None of the biggest signing are scoring like Radulov
Okposo has 13 points in 20 games with his new team, and will be there until he is 35. The deal isn't a killer for the Sabres right now, but how good will a broken down 33-35 year old Okposo be on the back half of this contract?
Ladd has two goals and three points in 20 games. He was quickly demoted from John Tavares line to the fourth line. That's in year one of a seven year contract. Is it too early to compare Ladd's contract to Rick Dipietro's? Okay. maybe a bit early yet.
Eriksson has eight points in 21 games and was supposed to be an ideal winger for the Sedin's. That hasn't worked in year one of a six year pact. Hard to fill the shoes of Anson Carter, I suppose.
Backes is 32, has eight points in 16 games and can't even lock down a position, yet alone a role on the Bruins. That's in year one of five at six million per season. Nielsen has been okay, scoring 11 points in 21 games and contributing on special teams, but that's not a lot of points for year one of a five year deal.
Radulov and others have been better than the "big fish"
Radulov has outperformed every one of the big-name free agents from the summer. Not only has he been better already, but the Canadiens don't have him signed until his late thirties like most of the other teams that inked who they thought would be a star.
In fact, I wouldn't even put any of the six biggest contracts above in the top three free agent signings of last summer. The only players comparable to Radulov in production received little fanfare on the day they inked their new deals.
Michael Grabner has been a revelation with the New York Rangers. He only trails Sidney Crosby in goals with 12, but has just four assists for 16 points in 22 games. If he keeps up this goal-scoring pace he will ultimately prove to be the best signing of the summer.
However, Radulov still has a higher points-per-game rate and Grabner is scoring on every fourth shot. Let's see how long that continues.
Jonathan Marchessault has just one less point than Radulov in one more game played. The Florida Panthers were wise to pluck him away from their State-rivals in Tampa Bay. The undersized forward signed a two-year deal at $750,000 per year. He'll be making eight times that if he keeps up this pace for two seasons.
Radulov still stands above them all. Marc Bergevin was laughed at and ridiculed when he signed the Russian winger. However he is certainly getting the last laugh now. He just has to be careful Radulov's next deal isn't as regrettable as the one's signed by his rivals.
More from A Winning Habit
This article originally appeared on