Montreal Canadiens Should be Patient in Resigning Alex Galchenyuk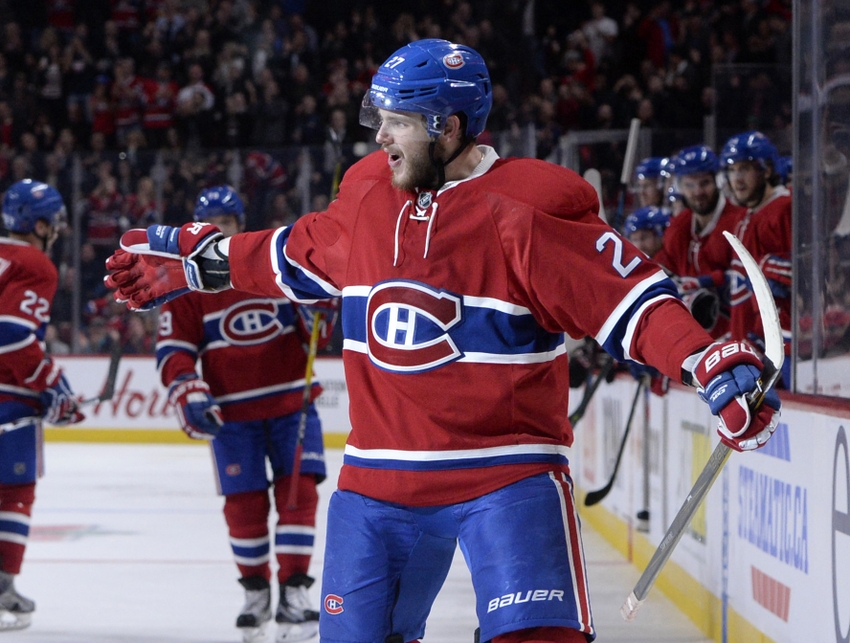 Examining why the Montreal Canadiens should resign Forward Alex Galchenyuk in the off-season and not during the current NHL season.
The Montreal Canadiens are off to a terrific start this season and Alex Galchenyuk has been a huge part of the teams success. For a few years the team and the fans have been waiting for Galchenyuk to develop into a number one center. However, after his late season run last year, and how he has played so far this year, he is proving that he's an elite offensive talent.
Galchenyuk's Emerging Offensively
At the end of the 2015-16 season Galchenyuk was moved to the team's top line centering Max Pacioretty and Brendan Gallagher. During the final 22 games last year when Galchenyuk was placed at center he was able to score 22 points. Also, during that span, Galchenyuk had 16 goals showing off his tremendous finishing ability.
More from A Winning Habit
This year Galchenyuk has picked up right where he left off from last season. So far this year Galchenyuk has 13 points in 13 games while being the teams number one center. He has also had a rotating door of wingers that he has played with but his performance has remained consistent.
This means that in Galchenyuk's last 35 games he has managed to be a point per game player. This is great news for the Canadiens, but it also means Galchenyuk is due for a big raise.
Galchenyuk's Contract
At the end of the 2014-15 season Galchenyuk signed a two year bridge contract worth an average of 2.8 million per season. The Canadiens hope was that he would emerge into the teams number one center which he is proving. Alex's current contract will expire at the end of the year.
Sportsnet's beat reporter Eric Engels discussed that the teams are talking to Galchenyuk's agent Pat Brisson about a contract extension, but both parties are in a wait and see mode (This was discussed during the Sportnet East Broadcast of the game). Eric Engels has also given a comparison last off-season of a contract that Galchenyuk could potentially get.
Filip Forsberg got done for 6 years at $6M AAV. In case you're wondering about what Alex Galchenyuk will earn on his next contract…

— Eric Engels (@EricEngels) June 28, 2016
Canadiens Should Wait
Galchenyuk could easily get more money if he could keep up his point per game pace. The Canadiens could get more of discount if they were to come to terms sooner. However, it would probably be very unwise to do so.
Want your voice heard? Join the A Winning Habit team!
Last year the Habs gave veteran Tomas Plekanec a two year extension and it seemed that his play dipped off soon after the deal. The Habs have also given an extension during the season to David Desharnais a few years ago and right after his play fell way off ever since. Obviously not every player's play dips off after a contract extension during the season but why not wait.
Alex Galchenyuk will only be 23 years old after this season. He has shown all the potential to be a top player, however, he has only shown this consistency for about 35 games. Also, Galchenyuk struggled in the 2014-2015 playoffs when the Canadiens needed scoring desperately vs the Tampa Bay Lightning.
The Canadiens should wait until after the season and after the playoffs to sign Galchenyuk to an extension. This would allow Galcheyuk to reach his full potential and an earn even a bigger contract. The Canadiens may have to pay extra in the long run, but they will have a consistent number one center.
This article originally appeared on