Montreal Canadiens Recall Daniel Carr and Joel Hanley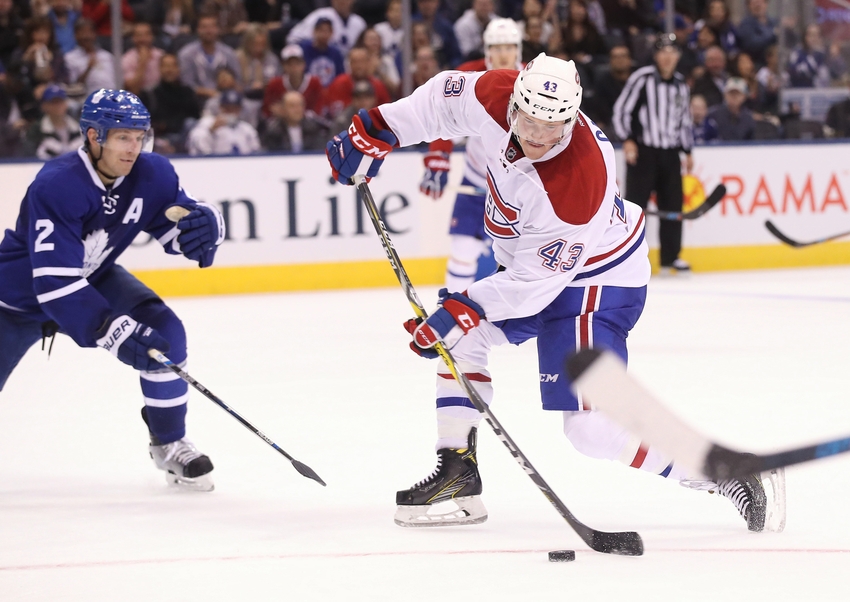 The Montreal Canadiens were running low on healthy skaters. They fixed that issue by calling up Daniel Carr and Joel Hanley from the St. John's Ice Caps.
The Montreal Canadiens have announced they are calling up Daniel Carr and Joel Hanley. The pair have been playing for the St. John's Ice Caps, and will join the Habs in time for their game against the Columbus Blue Jackets on Friday night.
Carr, a left winger had started the year with the Canadiens. The Sherwood Park, Alberta native had one assist in two games with Montreal, before being sent down. He scored two goals and three points in three games with the Ice Caps. Carr scored and added an assist tonight, in a 6-3 win for St. John's.
Carr, a 6'0″ and 190 pound winger, played the first two Canadiens games on a line with David Desharnais and Andrew Shaw. Though he played well, he was moved out of the lineup, and lost his spot to Paul Byron.
Carr played 23 games with the Habs last season, scoring six goals and nine points. He also put up ten goals and 21 points in 24 AHL contests a year ago.
Hanley had surprising stint with Habs last season
Hanley is a 6'0″, 193 pound left shooting defenseman. He has one goal and four points in ten AHL games with the Ice Caps this season. Hanley also scored 13 points in 64 games in 2015-16 with St. John's.
Hanley was called up by the Canadiens late last season when they were decimated by injuries. He scored an impressive six points in just ten games with the big club in his only NHL experience to date.
The Canadiens were down to just a 20 man roster. They had previously sent down extra forwards Sven Andrighetto and Carr. Also, they made the decision to return defenseman Mikhail Sergachev to the Windsor Spitfires. Zach Redmond is out with a knee injury and this left the Habs without a spare skater for tonight's game.
Where do they fit in the Canadiens lineup?
Carr earned this call up by playing well in his three AHL games. He played well enough in camp to earn a roster spot and did nothing in his two NHL games this season to suggest he wasn't ready for the role.
His physical play, ability to defend and scoring punch will allow him to fill in on any line. I could see him playing with David Desharnais and Max Pacioretty, but I could also see him on a fourth line with Torrey Mitchell and Philip Danault.
Hanley deserves the recall, but will be the extra defenseman on the roster. With the team currently 9-0-1 on the season, and having six capable NHL defenders on the roster, there is little room for Hanley to get action during a game.
More from A Winning Habit
This article originally appeared on