Montreal Canadiens Prospect Report: Nikita Scherbak Lighting the Lamp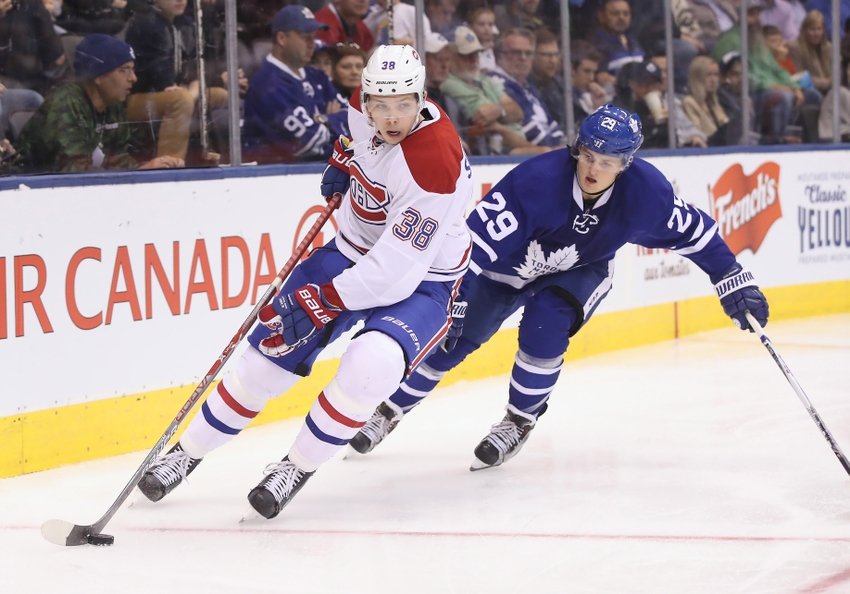 Examining one of the Montreal Canadiens top prospects Nikita Scherbak.
In 2014, the Montreal Canadiens selected skilled Forward Nikita Scherbak with the 26th overall pick. In that draft many thought the Canadiens got excellent value with Scherbak because of his upside as a future top six forward. The Russian forward definitely proved his offensive ability and potential in his junior career.
Scherbak's Junior Success
In Scherbak's draft year he played with the Saskatoon Blades in the Western Hockey League. There he was able to dazzle his offensive flare and showcase his play making ability.
More from A Winning Habit
In 65 games with the Blades Scherbak scored 28 goals and added 50 assists for 78 total points. Scherbak also proved to be an effective weapon on the Power Play that season. Nikita scored 8 goals and 22 assists for 30 total Power Play points.
His impressive play earned him the 15th overall spot on the North American Central Scouting list. He was notably ahead of Dylan Larkin who has already made the jump to NHL for the Detroit Red Wings. So Scherbak's potential was considered to be high and this is what one scout from Future Considerations thought of Nikita:
Scherbak is a skilled but gritty forward who has a strong shot and offensive senses plus the ability to evade would be checkers by using his quick agility and slick hands. He puts pressure on opposing defenses every game.
Nikita was traded from Saskatoon to the Everrett Silvertips, but he continued to impress with his new team. During the 2014-15 campaign Scherbak scored 27 goals and 55 assists for 82 total points. Scherbak also developed more defensive responsibility as his plus minus rating jumped from -6 the season before to a plus 33.
Want your voice heard? Join the A Winning Habit team!
Nikita's Stuggles in AHL
Many were anxious to see whether Nikita could make the Canadiens roster at the beginning of 2015-16 season because of his junior success. However, injuries plagued the youngster during Canadiens Training Camp and was later sent down to St John's. Scherbak's start with the Ice Caps didn't go that well either.
During that season Nikita struggled to make the leap from Junior to the AHL. Nikita scored 7 goals and had 16 assists for only 23 points in 48 games. Scherbak was also a minus 26 during that season.
Even though Nikita had a tough first year, Ice Caps Head Coach Sylvain Lefebvre had some positive things to say about Nikita and some constrictive criticism:
"Nikita's got lots of talent. He's easy to coach, he wants to learn. He does a lot of homework … he'll watch a lot of video. Where we want him to be more of a professional is practice habits, workout habits. He's improved a lot, but he needs to improve even more. Maybe it's not natural in him to go hard every time." – Montreal Gazette
Nikita has obviously took those comments to heart and has had a really strong start this season. In Nikita's first 15 games he has scored 8 goals and added 5 assists for 13 total points. Scherbak has already scored more goals this season than he did all of last year.
Nikita obviously needs some seasoning before he will be a steady contributor with the Habs but he is showing the Montreal Canadiens an important quality. He is showing his strong work ethic and a desire to improve. These are important traits for Nikita if he stick with the Canadiens someday.
Final Thoughts
Scherbak is flashing all the ability of a top six player right now with St Johns and especially his wicked wrist shot. He is also proving that his first year with St. Johns was a fluke and a desire to get a chance with the Canadiens.
However, the Canadiens have had a revolving door of left wingers on their second line next to Tomas Plekanec. Scherbak may earn a call up to the big club and get an audition on that second line. It may not be a permanent call up but it could be just to reward Nikita for his hard work in the minors.
This article originally appeared on