Montreal Canadiens Phillip Danault An Ideal Third Line Center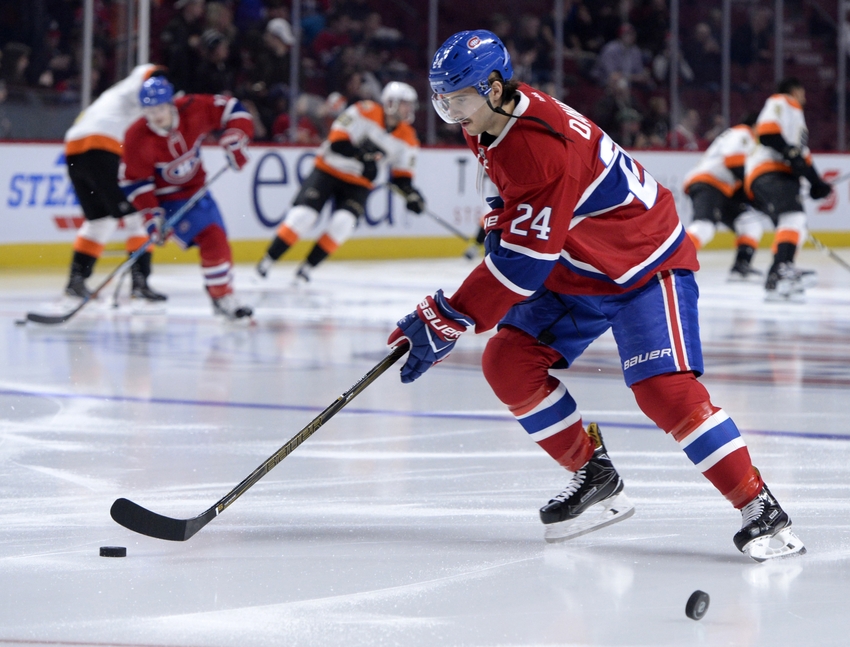 The Montreal Canadiens acquired Phillip Danault at last year's trade deadline. He slowly worked his way into the lineup, but is becoming a fixture down the middle for the Habs.
The Montreal Canadiens are off to a terrific start to the 2016-17 season. Much of the credit has been deservedly given to Carey Price, but there have been a few pleasant surprises as well. One of those surprises has been Phillip Danault's play in his first full season in Montreal.
Danault was brought to Montreal in a trade last March that sent Tomas Fleischmann and Dale Weise to the Chicago Blackhawks. Fleischmann is out of the National Hockey League and Weise signed a four-year contract with the Philadelphia Flyers. He currently has one assist in 12 games.
I think it is safe to say Montreal did not give up a lot to get Danault. However, they are getting a lot out of Danault already this season.
The 23 year old made the team out of training camp, but started the year on the fourth line. He has quickly earned himself a promotion, and looks great playing alongside Max Pacioretty, the Canadiens best goal scorer.
Danault far exceeding offensive expectations
Danault, a Victoriaville, Quebec native only trails Shea Weber and Alex Galchenyuk for goals. In fact, his five goals and nine points in 15 games are one more goal and one less point than he scored all last season in 51 games.
Want your voice heard? Join the A Winning Habit team!
It goes without saying, after scoring ten points all of last season, not a lot of offence was expected out of Danault. However, he was taken in the first round of the 2011 NHL Draft by the Blackhawks for a reason.
Danault scored 67 points in 64 games for the Victoriaville Tigres of the QMJHL in his draft year. He followed that up with 15 points in nine playoff games. The two-way center then had seasons of 71 and 85 points before turning pro with the Rockford IceHogs.
Still, not a lot was expected offensively from Danault. He began the year on the fourth line with Paul Byron and Torrey Mitchell. Byron was quickly promoted and how role was filled by Bryan Flynn.
Danault steals third line role from ineffective Desharnais
Though he was playing a limited role with players who aren't exactly known for their offence, Danault put up six points in 13 games. He was then promoted to the third line center role, vacated by David Desharnais who was made a healthy scratch.
In two games between Andrew Shaw and Pacioretty, Danault has scored twice, and chipped in an assist as well. He also plays a sound defensive game, which was what impressed management enough for him to make the team in the first place.
This combination of defensive speciality and bursts of offence make Danault an ideal third line center. I don't know how long Pacioretty will be on a third line, but Danault and Shaw could prove to be long-term fixtures together for the Canadiens.
It is unlikely that Desharnais will be able to usurp Danault again for ice time. The diminutive center has just four points in 14 games, while getting plenty of power play time each game. Danault has almost never seen the ice during a power play, yet has almost twice as many points as Desharnais.
It would be a complete change of heart for Michel Therrien if he is to permanently replace Desharnais in the lineup. Maybe he was just waiting for another Quebec native to take over down the middle for Desharnais.
If that is the case, the Canadiens have an ideal candidate to play third line center in Philip Danault.
More from A Winning Habit
This article originally appeared on