Montreal Canadiens: Paul Byron Not a Long Term Option on First Line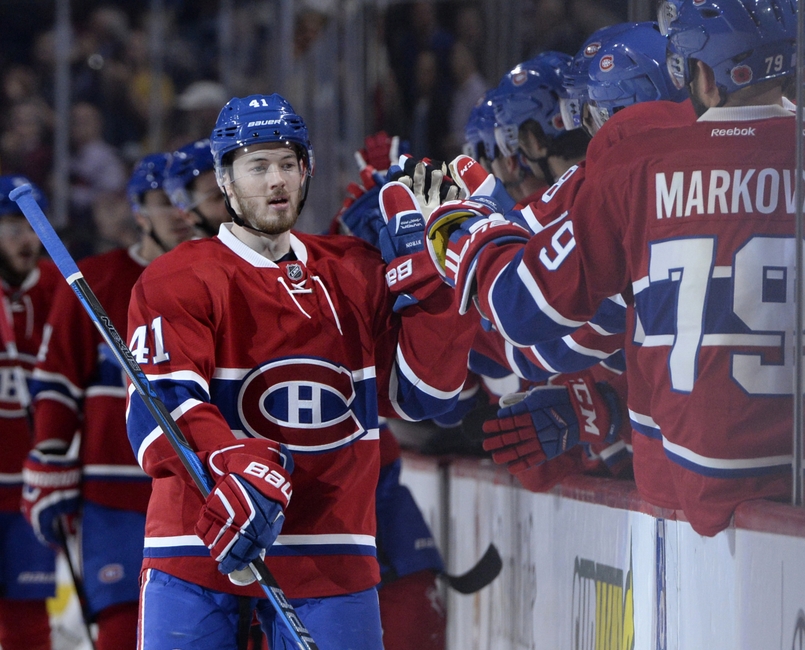 The Montreal Canadiens made a great move picking up Paul Byron off waivers a year ago. He finds himself on the top line thanks to a hot streak, but shouldn't be left there long term.
The Montreal Canadiens look smarter every day, thanks to the strong play by Paul Byron. The speedy, undersized winger was plucked off waivers from the Calgary Flames at the start of last season.
Don't ask me why the Flames decided they didn't need Byron when they had Brandon Bollig on the roster. At least it was the Canadiens who benefited from the stone-age-thinking (at least in the hockey world) of the Flames who wanted to keep an enforcer handy.
Today, Byron finds himself on the Canadiens top line. Playing with Alex Radulov and Alex Galchenyuk was not expected from Byron when he was on waivers 13 months ago. He is fitting in well there right now.
Byron is currently fifth on the Canadiens in scoring with ten points in 15 games. He is on quite a hot streak right now, taking full advantage of having the best linemates in his career. The Ottawa native has goals in three straight games and five points in his last four contests.
Hot streaks don't last forever, and Byron's role should change with production
It is an impressive spurt from a previously low-scoring winger. Byron's career high in goals is 11 and the most points he scored in a season is 21. He is on pace to blow by those totals, but let's not get ahead of ourselves and think Byron is suddenly a first line winger.
Sure, he is on a hot streak and the Canadiens are right to ride that as long as he can keep it up. Byron is on a great run and there is no reason to pull the plug on something that is working right now.
Want your voice heard? Join the A Winning Habit team!
What the Canadiens can't do, is keep expecting Byron to be a first line scorer for the rest of the season.
We saw a similar story last season with the Canadiens. Dale Weise and David Desharnais looked good at times while playing with Max Pacioretty. It couldn't last forever, and once the well dried up on Weise's offence, he continued to be trotted out on power plays and on the top line. There was no way to expect him to keep scoring like a first line player, but he continued to get the opportunity.
Byron hopefully won't get the Weise treatment
Some Canadiens fans have jokingly referred to Byron as the new Weise. Hopefully Michel Therrien has learned from past mistakes, and doesn't have the same ideas in mind for Byron long-term.
Let's ride out this hot streak, and then return Byron to the role he belongs. He is one of the fastest skaters in hockey and is an excellent penalty killer. He keeps opponent's power plays on their toes because he is so quick to get to loose pucks and forces defencemen to make lightning fast decisions.
He isn't a power play player, and isn't a great scorer. Once this hot spell ends, let's hope he returns to the role he excels in and isn't thrown out on the top line for the rest of the season due to a hot month.
The Canadiens have better options on the left side of the first line long term. Max Pacioretty is playing on the third line, and though he isn't scoring goals at his normal rate right now, one can assume he will score more goals than Byron this season.
More from A Winning Habit
This article originally appeared on