Montreal Canadiens Need to get Struggling Forwards Scoring Soon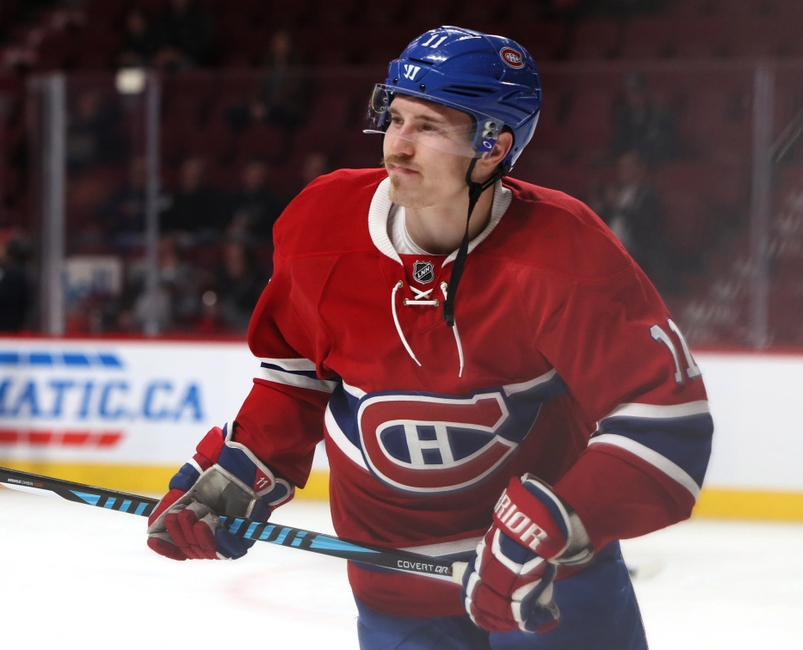 The Montreal Canadiens need goal support from the big name players.
The Montreal Canadiens have had so much success this season and it's hard to try and pick the team apart when they're so high in the standings. The Habs have had great goal tending from Carey Price and Al Montoya. Also the Defense has chipped in and have provided 16 goals in 20 games so far.
The Canadiens depth players have also done their part and have also provided some timely goals as well. Forwards Paul Byron, Torrey Mitchell and Phillip Danault have scored a combined 17 goals, and four of these goals have been game winners. These bottom six guys have performed much better than expected and deserve a ton of credit.
However, if there is one disappointment, its the lack of goals that have come from players who are supposed to score. The players who have struggled so much are Tomas Plekanec, Brendan Gallagher, and Max Pacioretty. The effort has been there, but for some reason these guys have just been snake bitten.
More from A Winning Habit
Plekanec's Struggles
Tomas Plekanec has always been a key defensive player for the Habs and playing a lot of minutes against teams top lines. Plekanec is counted on in the face-off circle as well, and currently Pleky is leading the team with 374 face-offs taken. Plekanec takes the brunt of these face-offs in the defensive zone which limits his chances to start in offensive zone.
Tomas Plekanec has always managed to find ways to produce offensively and he has had eight seasons of 40 points or more. In fact one of the years Plekanec hasn't produced 40 points was the lockout season in 2012-13. Even in that season Plekanec produced at a rate of 0.7 points per game and would have scored 57 points in an 82 game season at that pace.
Tomas career average for points per game coming into this season was 0.65 and this would translate into 53 points over an 82 game season. 53 points per season is awesome for a number two center with so many defensive responsibilities.
However, this season Plekanec has only one goal and five points in 20 games. Pleky is only producing 0.25 points per game and this means he is currently on pace for 21 points this season. This would be Plekanec's worst season ever if he continues at this rate.
Gallagher's Struggles
Brendan Gallagher is one of the most important players on the Montreal Canadiens because he so distracting for opposing teams. Gallagher is constantly going hard to the net, screening the goalie, and he never shies away from chirping with the opponent. With Brendan doing all of these things it makes the job of everyone else a lot easier.
Gallagher is still doing all of these gritty tasks but he just hasn't been able to score. The last time Brendan scored was 14 games ago, on October 24 against the Philadelphia Flyers, and that's an entire month without scoring. Since that game, Brendan has had only four assists and is a minus one.
Want your voice heard? Join the A Winning Habit team!
Last season Gallagher had two bad injuries that forced him out of the lineup but he still had a terrific season from a points per game perspective. Brendan scored 40 points in 53 games and averaged 0.75 points per game a which translates to a 62 point seaon over 82 games. Also his 19 goals in 53 games averages out to 0.36 goals per game which would have given him 30 goals in 82 games.
However, this season Brendan's numbers have dipped well below those averages. Brendan has scored only four times in 20 games averaging out to 0.2 goals per game.
Meaning he on pace to score only 16 goals this season. Much like Pleky, Gallagher's season is shaping up to be his worst season as a pro.
Pacioretty's Struggles
The Canadiens Captain, Max Pacioretty, hasn't fared that well either. Early on in the season Head Coach Michel Therrien took Pacioretty off the Habs first line to create a more balanced attack. Since then Max has had a revolving door of players around him but hasn't found chemistry with anyone.
Max could be missing the presence of P.K. Subban, who was traded to Nashville in the off-season (in case you didn't know). Subban and Pacioretty were often rumored to have had a falling out or some type of feud. However, on the ice they had chemistry, as Subban would often try to spring Pacioretty with long stretch passes.
Whatever is causing  Pacioretty's struggles, his goals per game averages are way off. In last 3 seasons, Max has scored 106 goals over 235 games for an average of 0.45 goals per game. Pacioretty has clearly been one of the NHL's best scorers during that time.
This season however has been very different. In 20 games Pacioretty has scored four goals and averages 0.2 goals per game, the same as Gallagher. This Means that Pacioretty is also on pace to score 16 goals, which would be his lowest total since 2010-2011.
Troubling News For Montreal
With these three players struggling to produce, the Canadiens offense is bound to start sputtering yet again. All the pressure to score will depend on the Habs first line and the Power Play. As a result, the Montreal Canadiens could start becoming very easy to defend.
Scoring Pace and Salary Cap Hit
Player                                     Goals/Game             Current Goal Pace                     Salary Cap Hit
Tomas Plekanec                        0.05                                     4                                    6.0 million dollars
Max Pacioretty                           0.2                                      16                                   4.5 million dollars
Brendan Gallagher                     0.2                                     16                                   3.75 million dollars
                                                     Totals:                                  36                                   14. million dollars
The above chart shows just how damaging these slumps could be if they were to continue all season. It was a reasonable prediction that Pacioretty could score 30 to 35 goals alone. However, it's just plain scary to realize that all three players could combine for only 36 goals all year.
Also these three players salaries are taking up 19.5 percent of the Canadiens Salary Cap. These players are paid to carry the Habs offense, not play a supporting role. The lower paid forwards like Byron, and Danault won't be able to score at the pace that they have for much longer.
Final Thoughts
The Habs are already a quarter through their season. They have an amazing record and are leading the Atlantic division. It's definitely not time to start panicking and wanting players to be traded away.
It could be just a slow start for 3 veterans who can catch fire at any moment. Hopefully this trio will snap out of it soon enough.
Save
This article originally appeared on