Montreal Canadiens Gameday Preview: Habs vs. Coyotes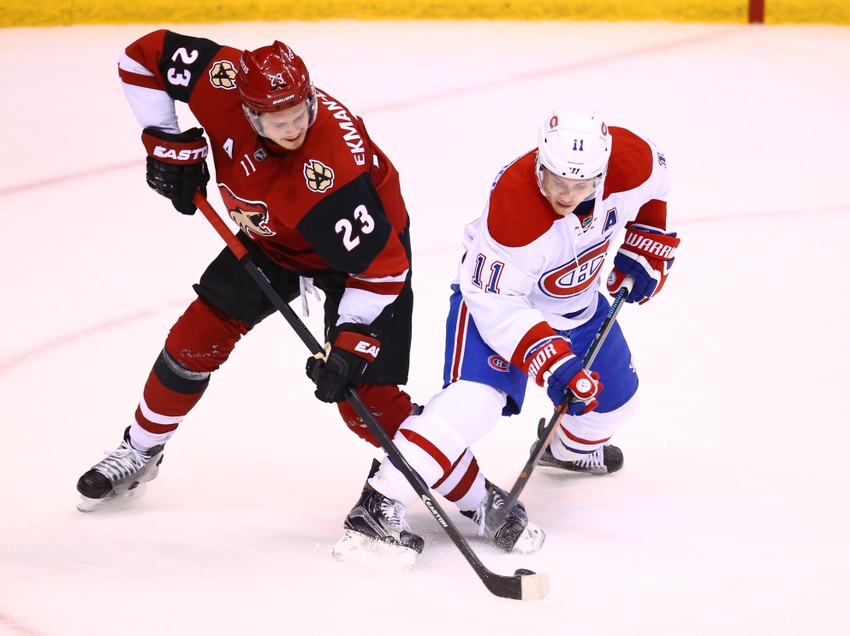 A preview of the Montreal Canadiens game versus the Arizona Coyotes
The Montreal Canadiens will host the Arizona Coyotes tonight at the Bell Center at 7:30pm. The Canadiens will try to build off of their big home opening win against the Penguins. A win tonight would give the Canadiens their first pair of consecutive wins this season.
Carey to Return?
The big story line heading into the game will be whether or not Carey Price makes his first start of the season. Price has been sidelined for the first 3 games of due to the flu, however he has been able to practice over the past 3 days, and it seems like he'll be back. Price's return will give the team a huge boost, as well as give the fans extra motivation to cheer.
However if Price is unable to return, Al Montoya will make his 4th consecutive start. Montoya has put together 3 solid starts for the Canadiens making 101 saves on 105 shots to start the season. Montoya's shutout against the Pens was spectacular, clearly he has proven himself capable in the early going.
Current Scoring Leader
Jeff Petry is the Habs current scoring leader with 4 points in two games. Petry's scoring spike has clearly come from an increased amount of Power Play time. Petry has also benefited from playing with Andrei Markov as the two have made a great second pairing and will look to continue their success.
Penalty Kill
Montreal has done an excellent job killing off penalties so far this year. The Habs have killed off 16 of 17 opposing Power Plays which is good for 94.1 percent. This area has been a real strength for the team, as they have been able to gain a lot of momentum from the PK unit.
Where to Watch
SN-360
RDS
FS-A
Where to Listen
TSN-690
Where to Stream
NHL GAME CENTER. *Subscription required.
Final Thoughts
The Coyotes have allowed 10 goals in their first two games, as well as their goaltender Mike Smith is out with an injury. I think the Canadiens will be able to take advantage of a young team on the road. I think Price will also return to the lineup, which clearly gives the Habs the edge.
Prediction: Habs win 3-0
More from A Winning Habit
This article originally appeared on