Montreal Canadiens Fans Should Be Optimistic About Season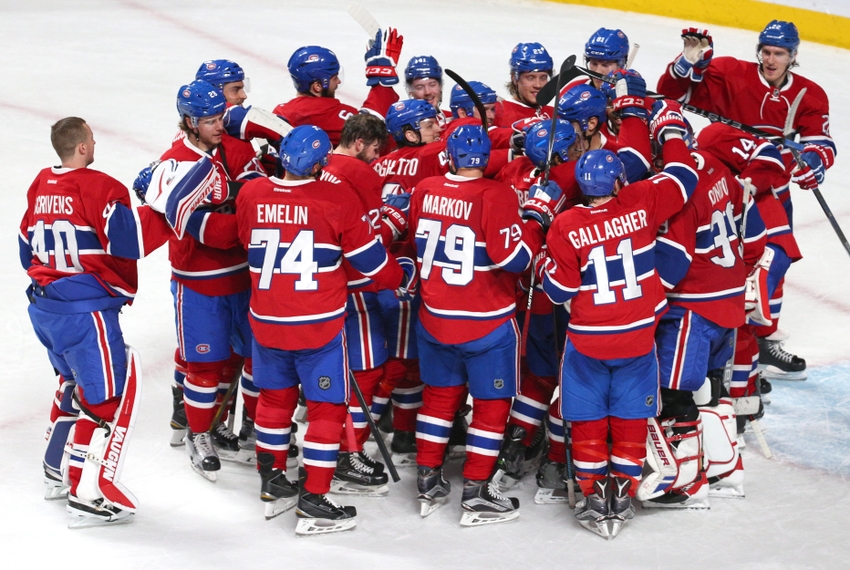 After a dreadful 2015-16 season, there are several reasons to believe that 2016-17 will be a much different story for the Montreal Canadiens.
The Montreal Canadiens 2016-17 season gets underway tonight when they take on the Buffalo Sabres. Montreal was off to a fantastic start a year ago, but by season's end they were far from a playoff spot and limped their way to a 21st place finish in the standings.
However, even after coming off a disastrous season, there are plenty of reasons for optimism with the new version of the Canadiens.
First of all, the Habs were the best team in the NHL last season when Carey Price was healthy and were dreadful without him. Well, they have to get through today's game without him, but he only has the flu and should be back very soon.
Having Price in goal was literally the difference between first and worst in the standings last season. Price played his final game of the year on November 25th and Montreal were first in the standings on that date.
From that point until the end of the season, Montreal accumulated the least number of points in the NHL standings. It normally doesn't bode well for next season when a team is the league's worst for nearly five months.
However, Montreal has a solid explanation for that, playing all of those games without the league's best player. Price is healthy again this year and looked great at the World Cup of Hockey where he helped Canada win a gold medal.
Simply adding a healthy Price back into the lineup for this season is enough reason for optimism for Canadiens fans, but there are many more when you look at the Habs lineup.
Up front, the first place to look at is Alex Galchenyuk finally taking over as the team's undisputed first line center. Fans were screaming for this move for several years, but Galchenyuk kept being pushed to the wing so David Desharnais, Lars Eller and Tomas Plekanec could play down the middle.
Galchenyuk was given the chance to prove what he can do as a top line center at the end of last season. He proved almost every single Canadiens fan right when he scored 16 goals in 22 games to end the season, dominating opposition's defenders while being flanked by Max Pacioretty and Brendan Gallagher.
Pacioretty didn't exactly have a bad year last season, but he struggled to score goals out of the gate after suffering a fractured tibia in July, 2015. He didn't miss a game all season, and scored 30 goals and 64 points. With a better start this year, he could be closer to his career high of 39 goals once again.
Gallagher complimented the line well late in the season, and had started with 20 points in 22 games before breaking his finger while blocking a shot in late November.
The trio were one of the best lines in the league to finish last season and should be able to seamlessly pick up where they left off.
The biggest reason for optimism this season is undoubtedly the depth of scoring that has finally arrived in the top six. Tomas Plekanec's list of linemates in the past include Mathieu Darche, Travis Moen, Rene Bourque, Paul Byron and Dale Weise.
With all due respect to the aforementioned pluggers and fourth liners, none of them belonged on a line with Plekanec. This season, the Czech center will be flanked by Alex Radulov and Artturi Lehkonen.
Radulov was one of the top two scorers in the KHL for the past three seasons. He is a terrific offensive player who can skate extremely well, pass as well as anyone on the team and score goals. He plays a feisty game as well, and will perhaps be the best winger on Plekanec's line since another former Russian, Alex Kovalev left town.
Lehkonen is just 21 years old but led Sweden's top league in playoff goals last season and led Frolunda to a championship. He showed in six preseason games that he is an excellent offensive player with an absolutely jaw-dropping wrist shot.
The addition of Radulov and Lehkonen give the Canadiens a second line capable of consistently producing offense for the first time in many years. With Price in goal, the Habs won't need to be a high scoring team, but with their new top six, they won't be able to help it.
Newcomer Andrew Shaw also brings a unique blend of physical play and scoring touch to a third line with Daniel Carr and Desharnais. There is no question Desharnais can't handle the role of first line center, but there is also no doubt he has excellent vision and can set up scoring chances for his linemates.
With Desharnais feeding the puck against weaker opposition and Carr and Shaw having absolutely no fear of crashing the net, watch for a lot of tap-in goals for the third line wingers this season.
On the blue line, P.K. Subban is gone. That's the bad news. The good news is he was replaced by Shea Weber. Canadiens fans were so blinded by the fact that Subban is gone, they seem to have forgotten Weber scored 21 goals last season.
Montreal's lousy powerplay is no more with Weber blasting his record-breaking 108 mile per hour slapper from the point.
Nathan Beaulieu will join Weber on the top pairing. The smooth-skating blue liner is a year more experienced and led the preseason in scoring. Exhibition game points don't mean a lot, but Beaulieu's play was clearly a step above where it has been in his career to this point.
Mikhail Sergachev is another shining light on the new version of the Canadiens. The 18 year old defender was drafted 9th overall in last June's draft and won himself a longer look with an excellent training camp. He adds more speed and puck-moving ability from the back end and doesn't look like he will be heading back to Junio anytime soon.
Zach Redmond was also brought in as a free agent and surprised with his solid play in training camp. He brings more depth to the blue line, an area where Montreal was absolutely decimated by the end of last season.
Of all the reasons to be excited about another Habs season, Price's return clearly stands out above the rest. However, a more impressive group of forwards than we have seen in Montreal in a long time will ensure this team can put the puck in the net as well as keep it out.
A much improved powerplay thanks to Weber and the new forwards, as well as some necessary depth on the blue line are encouraging signs as well.
As dawn breaks on the 2016-17 campaign, there are many signs that it could be a very successful year for the Montreal Canadiens.
More from A Winning Habit
This article originally appeared on