Montreal Canadiens: Determining Alex Galchenyuk's Next Contract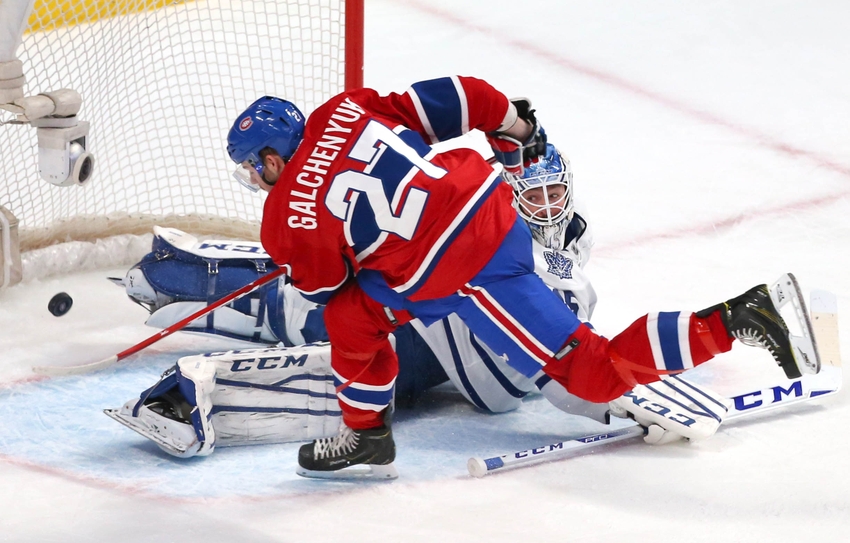 Examining what Montreal Canadiens Forward Alex Galchenyuk next contract could look like.
The Montreal Canadiens will have some tough choices in the next few months in regards to personnel decisions. Maybe the biggest move the Habs will make is extending or re-signing Forward Alex Galchenyuk.
Galchenyuk's Development
The Canadiens drafted Galchenyuk with the 3rd overall pick in the 2012 NHL entry draft and the club had high hopes he develop into a number one center. Since then, Galchenyuk has spent the majority of his career on the wing because of the Canadiens lack of scoring wingers. Galchenyuk would flash his tremendous skating and play making ability but couldn't make the full time move to Center.
More from A Winning Habit
Canadiens General Manager Marc Bergevin made the decision not to sign him to long term contract. Rather, Galchenyuk would sign a two year bridge deal worth 2.8 million dollars per season. This has made Galchenyuk want to prove he is worth the big time contract.
Galchenyuk's Impressive Stats
During the Canadiens regular season collapse last season, there was a positive development by the end of the year. Alex Galchenyuk started to play as a full time Center and he put up some impressive numbers.
In Galchenyuk's last 22 games of the 2015-2016 season, he registered 22 points. So far this season Galchenyuk has continued his point per game pace as he has scored 19 points in 19 games to start the season. Alex has produced 41 points in his last 41 games dating back to February 24 2016.
Since that same point, Chucky has scored 23 goals in his last 41 games. This is a scoring pace 0.56 goals per game which would put Galchenyuk on pace to score 46 goals over an 82 games span. If Chucky could keep up that pace it would put him in elite company as one of the NHL's best scorers.
Want your voice heard? Join the A Winning Habit team!
Last season Alex Ovechkin led the NHL in with 50 goals. However, since February 24 last year Ovechkin has scored 20 goals in his last 41 games and scoring at a pace of 0.48 goals per game. This is slightly less than Galchenyuk's pace of 0.56 goals per game and just shows how terrific Chucky has been over his last 41 games.
New Contract
It seems that Alex has really stepped up his game to another level based on his recent production. Galchenyuk as a very young player in his first few years still produced 0.61 points per game which is also solid. Based on this, and recent production, Galchenyuk seems to be in line for a big raise in the off-season.
Filip Forsberg got done for 6 years at $6M AAV. In case you're wondering about what Alex Galchenyuk will earn on his next contract…

— Eric Engels (@EricEngels) June 28, 2016
Eric Engles Sportsnet's beat reporter of the Canadiens weighed in on how much Galchenyuk could earn in the above tweet. This seems like a very good comparison between the two players but it seems like Galchenyuk has more upside than Filip Forsberg especially the way Galchenyuk has produced recently.
Final Thoughts
It seems that the two sides want to get a new deal done, but both parties realize that it could be best to wait until the off-season. Waiting to resign Chucky would ensure that he continues to produce at the same high level. Also, if Galchenyuk could produce at his current pace, he will end up making more money.
Prediction: Galchenyuk resigns in the off-season for a 7 year 49 million dollar contract worth an average of 7 million dollars per season.
This article originally appeared on