Montreal Canadiens Charles Hudon Has Broken Sternum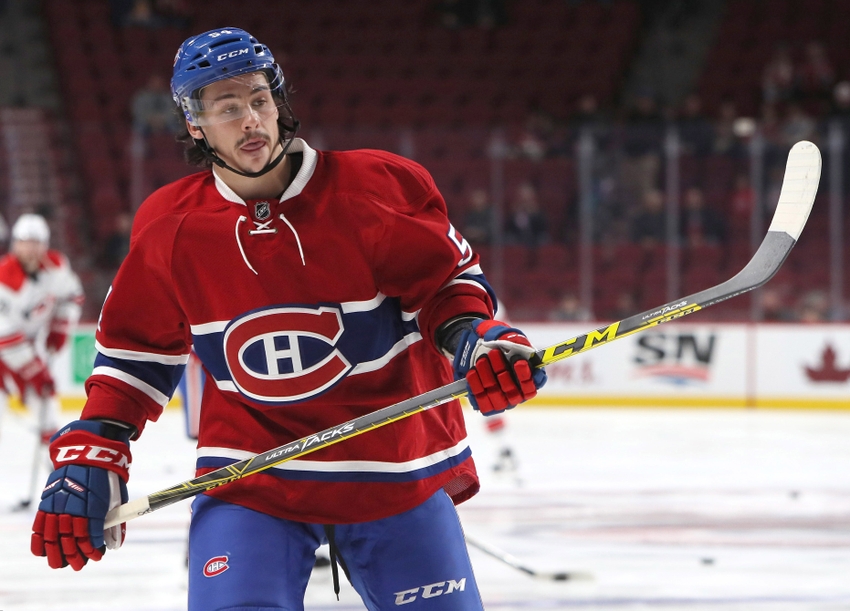 The Montreal Canadiens will be without impressive young winger Charles Hudon for the foreseeable future as he suffered a broken sternum in practice.
The Montreal Canadiens announced this morning that Charles Hudon is out with a broken sternum. The organization also mentioned there is no timeline for his return, just that he is out indefinitely.
Hudon has mostly played with the Canadiens top American Hockey League affiliate for the past three seasons. He earned a call up to the Habs for just three games last season and has also played three contests in the NHL this year.
In both cases, the 22-year-old winger scored two assists, and looked good in creating offence for the Habs. Though it is a very small sample size, the Alma, Quebec native gave reason to believe he has a future in the Canadiens top nine.
Last season, he was among the AHL's leading goal scorers with 28. He had 53 points in 67 games with the St. John's Ice Caps. Hudon was even better this season, scoring nine goals and 14 points in 15 games on "The Rock."
He was leading the AHL in goals when he was recalled by the Montreal Canadiens.
Recovery Timeline is Still Uncertain
It's difficult to pinpoint how long a broken sternum will keep Hudon out of the lineup. If serious it could be a few months. However, Nathan Beaulieu suffered a broken sternum on a hit by Erik Karlsson of all people.
Want your voice heard? Join the A Winning Habit team!
This injury occurred during the first round of the 2015 NHL Playoffs. Beaulieu actually returned before the end of the second round. It only kept him out of the lineup for three weeks. Again, there is no indication of how serious the injury is compared to Beaulieu's, so we don't know if the recovery time will be much longer.
It was mentioned that the injury occurred when he was hit with a puck at practice yesterday. He left the ice and didn't travel with the team to Detroit tonight where they will face the Red Wings.
It's unfortunate timing for Hudon. The young forward has been battling in the AHL for years and finally earned a call up to the Canadiens. He played well in his limited time and deserved a long look. It will have to wait now as he will be out of the lineup for the foreseeable future.
More from A Winning Habit
This article originally appeared on