Montreal Canadiens Charles Hudon Deserves Larger Role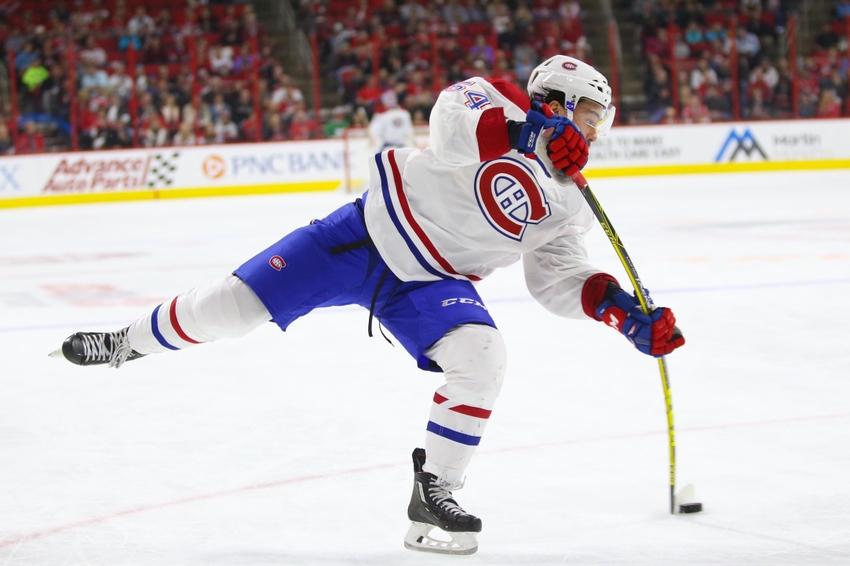 The Montreal Canadiens made the right call by bringing up Charles Hudon. However, in order to see what he can offer, the offensive winger needs to play on an offensive line.
The Montreal Canadiens made a wise decision last week when they called up Charles Hudon. The 22-year-old winger was brought up after a great start to the American Hockey League season with the St. John's Ice Caps.
The Alma, Quebec native had scored nine goals and 14 points in 15 AHL games before being recalled. His nine goals were the most in the entire league at the time. The 5'10" winger was just continuing an upward trajectory offensively that started years ago.
When he first turned pro in 2014-15, Hudon scored 19 goals and 57 points in 75 games as a rookie AHLer. He followed that up last season with 28 goals and 53 points in 67 games last season. This placed him in a tie for fourth in the league in goals.
Once again, Hudon was able to up his goal-scoring pedigree this season. It finally earned him a shot with the Habs, after a short three game stint last season where he chipped in with a pair of assists.
Hudon given little chance and short leash at NHL level
He was then unceremoniously sent packing, apparently needing at least a point-per-game pace to earn a long look at the NHL level. Who needs a young two-way player who scores a point in two out of three games while averaging less than ten minutes per game?
This season, though it has just been a pair of games, Hudon is in a similar role. He played 13:39 against the Carolina Hurricanes in his debut. He set up one of the two Canadiens goals in the 3-2 loss. Hudon was then gifted with 11:35 against the Toronto Maple Leafs, which was 11th most among the Habs 12 forwards.
Today at practice, Hudon was placed on a line with David Desharnais and Chris Terry. Desharnais is an overpaid center with six points in 18 games this season. Terry played 68 games with the Hurricanes last season and scored 11 points.
Suffice it to say Hudon is not on a line with offensive juggernauts.
Putting offensive player on fourth line is pointless
It makes little sense to bring a guy up to the NHL because he is leading the AHL in goals and then play him with your two worst offensive forwards. With all due respect to Desharnais and Terry, they can't be counted on to carry this team offensively.
Most teams will give a young kid an offensive role when they earn a promotion from the minor leagues. If they are brought up because they are offensive players, you can only expect them to thrive if they play a similar role in the world's best league.
Want your voice heard? Join the A Winning Habit team!
When the Leafs brought up William Nylander last season, they didn't pin him on the fourth line with Zach Sill. David Pastrnak made the Boston Bruins as an 18 year old and was slotted alongside David Krejci. Dylan Strome was just sent back to Junior by the Arizona Coyotes, but in his seven games he was playing a top nine role, not hacking away on the fourth line with Ryan White.
Heck, just today Jake Guentzel made his NHL debut with the Pittsburgh Penguins. He was put on a line with Evgeni Malkin and Phil Kessel and rewarded the team by potting a pair of goals.
With more ice time, we can find out if Hudon can score at NHL level
It's just common sense to put offensive players on lines with other offensive players. The Canadiens could form an excellent fourth line with Mitchell centering a pair of Paul Byron, Philip Danault, Daniel Carr or Terry.
It doesn't make sense to put Hudon on that line. Being one of the AHL's best goal scorers for more than a year should earn a player at the very least a top nine role in the NHL. I'd like to see Hudon play on the top line with Alex Galchenyuk and Alex Radulov.
However, with Byron still riding a hot streak on that line, Hudon could be playing with Brendan Gallagher and Tomas Plekanec or Philip Danault. Really, anyone would make for better than linemates than Desharnais and Terry.
Hudon has shown promise at every level below the National Hockey League. At 22, it is time to give him a real look in the Canadiens lineup to see what he can bring. We will never know if he can score goals in the NHL if he if left on the fourth line and playing less than every other Habs forward.
More from A Winning Habit
This article originally appeared on