Montreal Canadiens Atop NHL, But Have Holes To Fill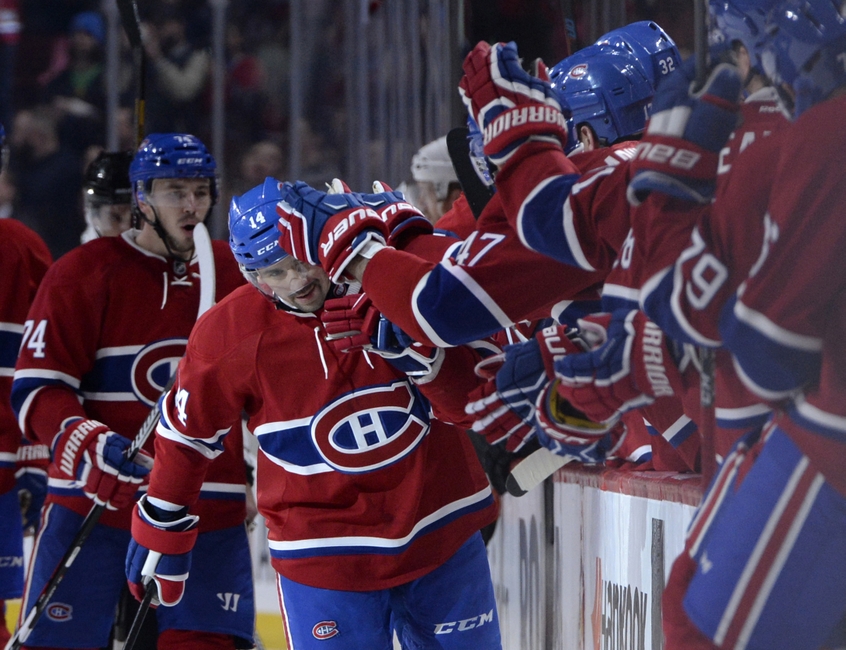 The Montreal Canadiens are on top of the NHL standings. That's the good news. They have many holes to fill in their lineup before they become a true Stanley Cup contender.
The Montreal Canadiens are the number one team in the National Hockey League standings. They have started the year with a 10-1-1 record. The Habs currently have a three point cushion on the second best team in the league.
The Canadiens are fortunate to have the best player in the league in Carey Price. Price won every award imaginable two seasons ago and carried the Habs to the top of the standings. He began in that same vein last season, but when he was injured the team completely fell apart.
To show how valuable he is to the team, they were the best team in the league before his injury and the worst team in the league after the injury.
The Canadiens also have a stud number one defenceman in Shea Weber. They have an excellent second pairing guy in Jeff Petry. They have put together a great third pairing in Nathan Beaulieu and Greg Pateryn.
Canadiens have many players playing great up front
Up front, Montreal has Alex Galchenyuk who is blossoming into a great first line center. They have an excellent goal scorer in Max Pacioretty. Brendan Gallagher and Alex Radulov are providing scoring and gritty play on the top two lines as well.
They also have what has been one of the best fourth line in hockey early in the season. Torrey Mitchell and Philip Danault have combined for eight goals and 12 points in 12 games.
That's the good news. Sure, there is quite a bit of good news. However, it fills up less than half of the roster. They have four defenceman slotted correctly and four top six forwards in the right spot. A good fourth line is a nice bonus but isn't going to carry a team very deep into the postseason.
This leaves the team, even though they are atop the standings, with a lot of holes to fill.
Canadiens lacking a true second line center
First off, the Canadiens do not have a second line center. They have tried David Desharnais and Tomas Plekanec in that role. However, after 12 games this season, both Desharnais and Plekanec have four points. If you combine their point totals you have an okay second line centre's production.
Desharnais is in the last year of a contract that pays him $3.5 million. Plekanec will earn $6.0 million this year and next. So they are being paid like productive NHL players, they just aren't producing like them.
Want your voice heard? Join the A Winning Habit team!
Plekanec has the defensive acumen to be a solid third line center. At 34 years old, he appears not to have the offensive acumen anymore. He is also not being paid to be a low scoring third line defensive specialist.
Desharnais on the other hand is a lousy defensive player who can't produce offence either. His $3.5 million cap hit is an anchor that he is carrying with him for the fourth straight year. He doesn't fit in this lineup and represents a black hole in the Canadiens lineup.
Lehkonen getting long look in top six, but not scoring
Montreal is also using Artturi Lehkonen in the top six. He played alongside Galchenyuk and Radulov recently on the first line. Lehkonen, a 21-year-old rookie winger has just three points in 12 games.
Lehkonen was great in the Swedish Elite League last season and has a lot of potential. However, he is not bringing first line production, while playing with the team's best offensive player. The only excuse he may have is the Michel Therrien is not using him on the power play very often.
Lehkonen is usually replaced on the power play by Andrew Shaw. Shaw plays in front of the net on the power play and though he has had success there in the past, he doesn't have the offensive talents of Lehkonen.
I'd like to see Lehkonen rewarded with PP time before making final conclusions about his ability to score at the NHL level right now.
However, he is still playing with great offensive players at even strength and not scoring many points.
The Canadiens third line last night was Desharnais with Byron and Shaw. We already talked about Desharnais. Byron is playing extremely well and Shaw is properly slotted in a third line role. If Plekanec were centering this line, it would be a great third line.
However, this would leave the Canadiens with a hole in the middle of the second line. It would also have Lehkonen on the first line and he just isn't scoring enough to be put in the role.
Who is slotted correctly in current lineup?
So, to sum up the Canadiens forwards, here is how they are currently slotted, with those who can handle their role bolded.
Lehkonen – Galchenyuk – Radulov
Pacioretty – Plekanec – Gallagher
Byron – Desharnais – Shaw
Danault – Mitchell – Flynn
This Canadiens could move Plekanec down to third line and he could handle that role. This still leaves the team, the best team in the standings, needing two top six forwards. The most important role that needs to be upgraded is the second line center.
Montreal has a few options in the American Hockey League that could fill the roles. Charles Hudon is leading the AHL in goals with eight and could fill either the second line center, or the first line winger role.
Defence lacking an ideal partner for Weber
On defence, the biggest hole is who can play with Weber? He started with Beaulieu but Beaulieu was moved down to the third pair. Alexei Emelin is now playing on the top pairing, but every Habs fan knows that Emelin is better suited in a second or even third pairing role.
It was rumoured last week that the Canadiens are in the market for a defenceman and it makes sense. They need a top pairing left shot defender who can play with Weber. This would mean he has to play against the best player's on the opposition, so it would have to a reliable defensive player who can move the puck well.
This would also ensure that Andrei Markov is not overtaxed before the end of the season and that Emelin is in a role more suited to his abilities. However, it is a tough role to fill this early in the season. There are no internal options that can help out immediately and no teams out there that are willing to sell a top defender this early in the season.
Canadiens outscoring opponents while being outshot
The Canadiens also have some problems when looking at the team's statistics this season. They are fourth in goals-per-game but are actually 27th in shots-per-game. This would suggest it is going to be difficult to keep scoring at the same rate they have so far this season.
Montreal is 5th in the league in goals against. This includes an absolute debacle when they allowed ten goals against the Columbus Blue Jackets. I'll say that again. They allowed ten goals in one game, but are still 5th best in goals against per game.
These stats hold true, even though the only team allowing more shots than the Canadiens are the Arizona Coyotes. So basically, Montreal is getting drastically outshot and still dominating their opponent's on the scoreboard.
Habs have been lucky in several of their ten wins this season
This is hardly sustainable long term and they are lucky they have managed to keep winning this long. Last night they were outshot 37-17 by the Philadelphia Flyers. Still, they managed to squeeze out a 5-4 win.
I don't have to explain that a team outshot 37-17 is going to lose far more games than they win. The Canadiens will do so more than others because they have Carey Price in net, but they won't be able to do it often.
In order to reverse this trend, the Canadiens are going to need to fill the role of second line center and first pairing defenceman. It's a lot easier to defend when you have the puck in the other team's zone for more than half of the game.
Even if the Canadiens can keep the possession battle even, Price will outplay the opposing goalie and tip the balance of power in the Canadiens favour. The problem is, these can be expensive holes to fill and teams aren't looking to sell this early in the season.
I'd like to see Montreal try Hudon in a top six role to see if he can score at the NHL level. If he can be a second line center that scores and drives possession, like he does in the AHL, this team would be in much better shape.
Right now, the Canadiens are relying very heavily on Price to win games for them. This has them on top of the standings right now, but isn't a recipe for long-term success. If the Canadiens want to stay on top of the NHL standings and be real contenders, they are going to have to fill some major holes in their lineup.
More from A Winning Habit
This article originally appeared on