Montreal Canadiens: 5 Potential Habs Trades To Upgrade At Center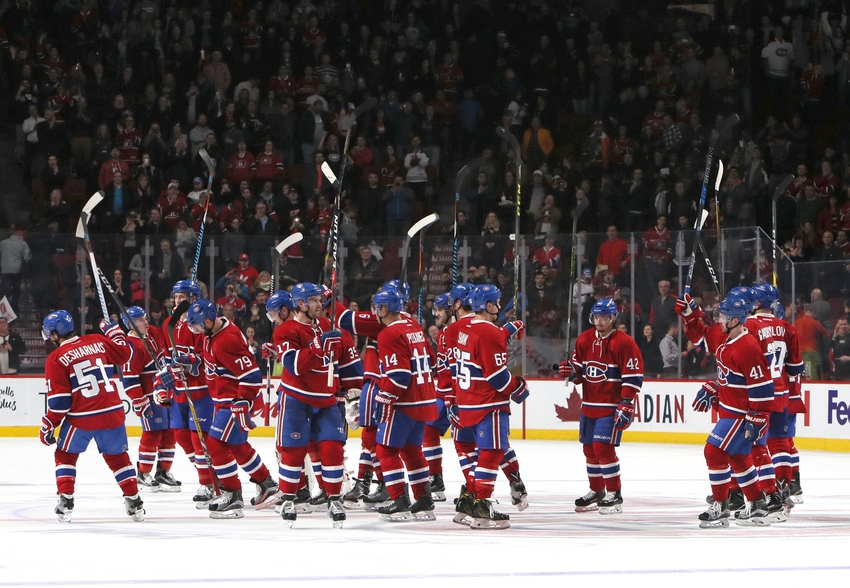 The Montreal Canadiens have some needs to focus on in order to upgrade the team before the postseason. One of those is a second line center and here are five players they will target before the trade deadline.
The Montreal Canadiens are one of the top teams in the National Hockey League standings after 25 games. They are leading their division and continue to battle the New York Rangers and Chicago Blackhawks for top spot in the league. However, one thing the Canadiens are in need of is an upgrade at center.
The Habs currently have Alex Galchenyuk leading the way down the middle. He is scoring at near a point-per game pace. He is certainly not a concern. However, behind Galchenyuk things get very thin, very quickly.
Tomas Plekanec is the second line center, yet he has just one goal in 25 games. He remains a great defensive player, can kill penalties and would be fine in a third line role. However, his offensive game has evaporated to the point he can not play a second line role any longer.
David Desharnais is next behind Plekanec. In 24 games, he has three goals and six assists for nine points. Again, not the type of production you want from the second line center on a Stanley Cup contender. In fact, I just don't know if Desharnais fits anywhere on a true contender.
No answers internally, Habs must find help elsewhere
Philip Danault has proven to be a valuable member of the Canadiens bottom six. After coming over in a trade late last season from the Chicago Blackhawks, Danault earned a role and is showing his versatility by moving from center to wing and bouncing between the third and fourth lines. He's been good, but with nine points in 24 games, he's not ready for a second line role.
This means the Canadiens are going to have to go outside the organization to find someone to fill that need. It's still early in the season, so buyers and sellers aren't set in stone just yet. Most trades happen in the two weeks leading up to the trade deadline which isn't until February 28th.
However, that shouldn't stop the Canadiens from starting discussions and trying to pry a second line center away from another team. Let's take a look at the top five centers that general manager Marc Bergevin should be making inquiries about bringing to Montreal.
#5: Mike Ribeiro – Nashville Predators
Ribeiro would be a bit of a controversial addition to the Montreal Canadiens. That's mostly because he once played for the organization and was unceremoniously cast aside. There were rumours he wasn't exactly being the best teammate.
Well, that was more than ten years ago, and the only players still in town who were teammates with Ribeiro are Plekanec and Andrei Markov. You would have to imagine the 36 year old center has matured since his last stint in Montreal.
Ribeiro was dealt on the eve of the 2006-07 season to the Dallas Stars for defenceman Janne Niinimaa. It was a trade that made little sense on the ice, so the off-ice rumours must have had a lot to do with the deal.
Ribeiro had become a solid top six center with the Canadiens before the trade. Since the deal, he has gone on to play 775 games and score 630 points. He's had stops in Dallas, Washington, Phoenix and Nashville and continues to be a decent point producer.
This season, the Montreal native has 15 points in 23 games. That would be a major upgrade offensively on Plekanec's seven or the nine Desharnais has scored in one more contest.
Why would Nashville make the deal?
Of course, any trade has to make sense for both sides. This trade becomes less and less likely with every Predators win, and they've been doing a lot of that lately. The Preds started the year a little slow and currently sit tied with three other teams for the last wildcard spot in the west.
However, Nashville has played at least three less games than each team they are tied with. They are also tied with the Minnesota Wild for third in their own division which would put them in a postseason spot. The Wild have played the same number of games.
If the Predators fall out of the race, a 36 year-old Ribeiro who is a pending unrestricted free agent would be an ideal rental player. It's possible the Preds are unable to keep the pace in a tough western conference, but for now they look like they will be keeping their second line center.
What would it cost?
If the Predators fall out of the race before the end of February, Ribeiro will surely hit the market. As an offensive center, averaging 0.65 points-per game, Ribeiro wouldn't be acquired for nothing. Although at the age of 36 and being a pure rental, the Habs wouldn't be moving any of their top prospects either.
The closest comparable from last season's trade deadline was the trade that sent Eric Staal from the Carolina Hurricanes to the New York Rangers. Staal was 31, and is a better defensive player but was a UFA center expected to play a second line role.
The Rangers gave up a pair of second round picks and a low-level prospect in Aleksi Saarela for Staal. If the Habs want to acquire Ribeiro, it would likely come at a similar price.
Predators get
Montreal Canadiens 2nd round pick (2017), Chicago Blackhawks 2nd round pick (2018)


Canadiens get
C, Mike Ribeiro
#4: Ryan Strome – New York Islanders
Strome was a highly touted prospect when he was selected fifth overall by the New York Islanders in the 2011 NHL Draft. Coming off a 106 point season with the Niagara Ice Dogs, he looked like a future NHL star.
Things have not gone according to plan thus far for the 23 year old center. Upon turning pro in 2013-14, he scored 49 points in 37 American Hockey League games and 18 points in 37 NHL games. The next season, his first full year in the NHL, Strome scored 50 points in 81 games with the Isles.
This placed him third on the team behind only John Tavares and Kyle Okposo. It appeared he was ready to take off and became an elite level point producer, but things haven't worked out that way in the past season and a quarter.
Last season, Strome scored just 28 points in 71 games. This season, he continues to struggle offensively with six points in 21 contests. He was recently made a healthy scratch by Islanders coach Jack Capuano.
Why would the Islanders make the deal?
Due to his low scoring, the Islanders may be looking to move the fifth overall pick before he loses more value. The once highly touted prospect is not going to gain value while sitting in the press box as a healthy scratch.
The Islanders have not been using Strome in much of an offensive role either. His most frequent linemates are Shane Prince and Alan Quine. No offense to those two players, but Strome was playing with much better players when he put up his 50 point season.
If others, such as Andrew Ladd, Anthony Beauvillier, Casey Cizikas. Anders Lee and Jason Chimera have passed Strome on the Isles depth chart, they don't have a lot of use for him. With Michael Dal Colle and Josh Ho Sang pushing for a promotion from the AHL, maybe Strome's time has come to an end in Brooklyn.
What would it cost?
The Canadiens could still hold interest in Strome, as he once showed he was capable of scoring 50 points. There are no centers behind Galchenyuk with that type of potential on the Canadiens roster.
Maybe if he is given preferential ice time with productive players, he gets back to playing better hockey. A second line role with Max Pacioretty and Brendan Gallagher isn't a bad spot for a young center.
The Isles won't give Strome away, but they can't be expecting a ton back in a trade either. The team actually has a lot of recent experience in trading away young top five picks who haven't reached their potential.
In 2013, three years after taking Nino Niederreiter fifth overall, the Islanders sent him to the Minnesota Wild for Cal Clutterbuck and a third round pick. In 2015, three years after taking Griffin Reinhart fourth overall, the Edmonton Oilers acquired him for the 16th overall and 33rd overall picks in the draft.
If the Canadiens are going to entice the Islanders to move Strome, there would have to be a decent amount of value going the other way. If it were draft day and the Canadiens held one of the last five picks in the first round, I would suggest they use that pick. It's a little early in the year to make that determination.
If not, a good young prospect who was recently a late first round pick would also be enough to get the Islanders to move Strome.
Canadiens get
C, Ryan Strome


Islanders get
D, Noah Juulsen
#3: Martin Hanzal – Arizona Coyotes
Hanzal is a hulking center at 6'6″ and 226 pounds. The Canadiens have long been looking for a big center to add to their roster, and the Coyotes middle man would certainly fill that need. He is a strong two-way center who kills penalties, plays a great defensive game and is excellent at face-offs.
His size, net-front presence, two-way game and overall talent would be a huge upgrade on Desharnais in the lineup. However, with just nine points in 18 games this season, Hanzal wouldn't represent a big upgrade offensively.
He has been a decent scorer in the past. As recently as last season, Hanzal scored 41 points in 64 games which is a 53 point pace in a full season. At 29 years of age, it's not like Hanzal has lost his scoring touch altogether. Perhaps he is just off to a slow start and playing with Gallagher would lead to a spike in production.
Why would the Coyotes make the deal?
Hanzal is a UFA at season's end and the Coyotes are once again at the bottom of the standings. As one of their few free agents with value, Arizona will look to move Hanzal for future pieces. The huge Czech Republic native is an ideal rental candidate.
At 29, it is possible that the Coyotes look to re-sign Hanzal instead of trading him. However, if they can get a younger player who is nearly ready for NHL duty, they will pull the trigger on the transaction.
What would it cost?
The Coyotes are already on the record saying they want a young, NHL ready forward in exchange for Hanzal. This was reported weeks ago on Sportsnet by Eric Engels who covers the Canadiens among other insiders.
The Canadiens could try to wait it out and dangle a package of picks instead of moving a top prospect. However, if they want to make sure an upgrade is made at center, the Habs would be wise to meet the demands of the Coyotes. With his size and defensive ability, Hanzal will be coveted at the trade deadline.
Montreal does have a plethora of second round picks in the coming years. Between trades with the Chicago Blackhawks and Washington Capitals, Montreal has an extra second round pick in the 2017 draft and two extra second rounders in 2018.
However, if the Coyotes want a young NHL ready forward, that's what the price will be to acquire Hanzal.
Canadiens get
C, Martin Hanzal


Coyotes get
LW, Charles Hudon
#2: Ryan Nugent-Hopkins – Edmonton Oilers
If any team is willing to move a first overall pick it's the Edmonton Oilers. One, because they have them all and two, because they dealt two of them already in the past six months.
In all seriousness, the Oilers have a lot of depth down the middle of their lineup. There isn't a player in the world better than Connor McDavid and Leon Draisaitl has blossomed into an excellent center as well.
This leaves Nugent-Hopkins as the third best center on the team. It's not an ideal role for the first overall pick in the 2011 draft, and his $6.0 million salary isn't ideal for the team to pay it's third line center.
Nugent-Hopkins most frequent linemates this season have been Benoit Pouliot and Zack Kassian. That's two former Habs castaways who aren't exactly Alex Ovechkin and Brett Hull when it comes to goal scoring. This puts "Nuge" at a serious disadvantage as a pass-first center.
Pouliot and Kassian each have five points in 23 games this season. Nuge has put up 12 in 26 which is the lowest production of his career. He scored 52 points in 62 games as an 18 year old rookie that weighed less than one of Zdeno Chara's arms.
His production has decreased since McDavid arrived, but there is no doubt Nuge is an excellent two-way player who is capable of scoring between 50 and 60 points with the potential to go far above 60. Playing with excellent possession players and goal scorers like Pacioretty and Gallagher would bring out the best in the playmaking pivot.
Why would the Oilers make the deal?
The Oilers are one of the few teams in the league with too many great centers. McDavid-Draisaitl-Nuge is incredible depth that most general managers would give up their first born to have. So why would the Oilers want to break that up?
Well, they have other holes to fill, and like I said, other general managers will line up to have any of the three centers. Moving Nuge would open up a hole at third line center, but the Oilers could fill that internally with Tyler Pitlick or even Drake Caggiula.
Even with Nuge taken off the roster, the Oilers boast a deep crop of forwards. They have improved their defence over the past few years, but could still use some work on the back end. That's where they would be looking to upgrade if they were to agree to move Nuge.
What would it cost?
The Oilers are in a playoff chase at the moment, but will have a hard time holding off the three California teams. Their vision is still long-term, though not as long term as it has been in the past.
They would want a young defenceman who can help now and in the future. They would also want some futures to sweeten the pot as they really are not in a rush to move their first overall pick from 2011.
It's not going to be an easy trade for the Canadiens to make. They are going to have to part with several pieces of what they currently believe to be their future. Nuge is a 23 year old center with five years left on his contract $6.0 million. He's not exactly a bargain, but he's worth every penny he's earning.
Canadiens get
C, Ryan Nugent-Hopkins


Oilers get
D, Nathan Beaulieu, C Philip Danault, Montreal Canadiens 1st Round Pick (2017)
#1: Matt Duchene – Colorado Avalanche
Duchene is one of the fastest players in the league and is an excellent two-way center. He made Team Canada at the recent World Cup and the 2014 Olympics. Those were two of the deepest teams ever assembled, so it tells you what kind of a player we are talking about here.
Duchene was the third overall pick in 2009 and has been with the Avs since. He has scored 391 points in 514 games with the team, and can be counted on to excel in literally every situation. Power play, penalty kill, face-offs, up a goal, down a goal, are all situations where you want Duchene on the ice.
The 25 year old center has career highs of 30 goals and 70 points. He is signed for two more years at a cap hit of $6.0 million. Putting him on a second line behind Galchenyuk would give the Habs one of the best one-two punches down the middle in the league.
Why would the Avalanche make the deal?
Well, they're awful. They've been terrible pretty much every year since Duchene was drafted and don't appear to be on the upswing. Colorado is in last place in the NHL and are not likely to rise far before Duchene becomes a UFA in just over two years.
Also, the Avs just got word that their most used defenceman, Erik Johnson will be out of the lineup for several months with a knee injury. It doesn't look like they will be able to get out of the Western Conference basement.
May as well trade him now when his value is as high as it will ever be. Plus, the Avalanche already got rid of Paul Stastny and Ryan O'Reilly, so they just don't mind moving on from great centers. The Avs could still build around Nathan MacKinnon who is a franchise center and is five years younger than Duchene.
With goaltender Semyon Varlamov likely to be gone in either the expansion draft or a trade before then, it's time for the Avs to start selling and push the reset button on the organization.
What would it cost?
A lot. Players don't often represent Team Canada internationally and then find themselves on the trading block. Colorado is in no rush to move their center because he is signed for two more years after this one.
The Avs did recently trade a similar player when they sent O'Reilly to the Buffalo Sabres. In return, they got recent first round pick Nikita Zadorov, J.T. Compher who was a second round pick two years prior to the trade, Mikhail Grigorenko who was a 12th overall pick but was having a difficult time getting his career off the ground and a second round pick.
The Canadiens are going to have to put together an even better package if they want Duchene. Plus, they may need to shed a little salary as well. Not necessarily in the same trade, but with that cap hit the Habs would have to do some maneuvering to make space.
Canadiens get
C, Matt Duchene, D, Patrick Wiercioch


Avalanche get
D, Alexei Emelin, D, Mikhail Sergachev, C, Michael McCarron, Montreal Canadiens 2nd Round Pick (2017)
More from A Winning Habit
This article originally appeared on