Montreal Canadiens: 3 New Lines Could Spark Struggling Scorers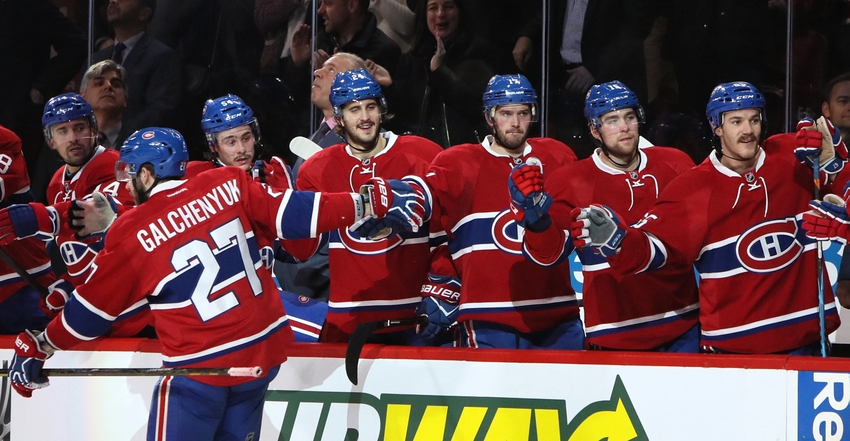 Examining the effect that the Montreal Canadiens new Forward line combinations could have offensively.
Today, at Montreal Canadiens practice in Brossard Quebec, Head Coach Michel Therrien made some new adjustments to his teams Forward groupings. The bottom three lines for the Canadiens have all changed but the teams top line will remain the same.
The Canadiens have done well in the beginning of the season in having a well balanced attack. However, the Habs have gotten excellent play from their top line which has carried the offense for the last couple weeks. The Canadiens new look lines could help players on the Habs roster who have been struggling to score.
New Look Lines
Here are the Canadiens new line combinations:
  LW                                             C                                                RW
Paul Byron                        Alex Galchenyuk                   Alexander Radulov
Phillip Danault                 Tomas Plekanec                   Brendan Gallagher
Max Pacioretty                Torrey Mitchell                      Andrew Shaw
Charles Hudon                 David Desharnais                 Chris Terry
13th Skater: Daniel Carr
The Canadiens defensive pairings have all stayed the same.
Line 2
More from A Winning Habit
Tomas Plekanec who is arguably the Canadiens best defensive forward has only one goal this season in 19 games. Brendan Gallagher has also been snake bitten as he hasn't scored in a goal in his last 13 games. Plekanec and Gallagher were both playing alongside each other before the change but now Danault will join them.
Phillip Danault has had a great season so far and has produced far more than has been expected. Danault has had five goals and nine points so far this season and plays a very strong defensive game. However, Danault hasn't been able to register a point in his last four games.
This trio will have had chances to score but they have been unable to find twine. With the good amount of speed and great defensive ability of all these players, they should be able to produce some offense. At the very least this will be the Canadiens best defensive line.
Line 3
Max Pacioretty has been adequate but not like his usual self. Pacioretty's shooting percentage is at 8 percent which is lower than his normal average of 11 percent. Max is also on pace for only 17 goals this year which would be a huge drop from the last few years in which Max has been able to hit the 30 goal plateau.
Want your voice heard? Join the A Winning Habit team!
Andrew Shaw has been up and down this year in terms of his offensive production. However, Shaw is at his best when he is getting under his opponents skin and he has done a terrific job of that all year. Shaw's strong net presence and his willingness to go into the corners could really benefit Pacioretty shooting.
Mitchell has also never shied away from going into the corners to win puck battles. Mitchell is a very underrated passer and he could really help getting the Captain back on track. If this doesn't work, expect the Habs to move Max back up to the top line with Alex Galchenyuk.
Line 4
This is the line that will definitely have the shortest leash and should get the least amount of ice time by far. David Desharnais has been so inconsistent and it's finally becoming clear that the coaching staff doesn't have the same trust in him that they used to. Desharnais was even made a healthy scratch only a few games ago.
David's partners on the wing will be two players who were recently called up from the St John's Ice Caps. Charles Hudon has done well offensively in St Johns but hasn't seemed to have earned the coaching staff's trust as he rarely logs much ice time when he plays for the Habs. Hudon has three assists in five career games with the Canadiens and should be given more of an opportunity.
Final Thoughts
The Montreal Canadiens new look lines will hopefully provide a much needed offensive spark. The Canadiens need to get Plekanec, Gallagher and Pacioretty going soon. However, it seems likely that it may only take a period or so until Therrien juggles the lines up again.
This article originally appeared on