Minnesota Wild: With Brodin Out Wild Still Have Options
Danny Lambert/FanSided via Gone Puck Wild

Fansided
Jonas Brodin has a broken finger and will be out for about a month leaving the Minnesota Wild without one of their top defenders for a while. Still with strong defensive depth the Wild will look to be in good shape to weather this storm with minimal effects to their season.
The Minnesota Wild were dealt a bit of bad news today as it was determined that stalwart defenseman Jonas Brodin will miss up to a month with a broken finger which he suffered in last night's hard 4-3 loss to the Devils at the X. Brodin left the game early in the second period and left a noticeable hole in Wild who have not really had to deal with the injury bug much lately.
The fear last night was the uncertain nature of just how extensive the injury was and if surgery would be required forcing a longer time on the IR for Brodin. Today Michael Russo is reporting that the Brodin will more than likely will not need surgery so the break is not that bad.
Still this is a blow for the Wild as Brodin has been part of the bedrock of an outstanding defensive unit. He's been enjoying a bit of a power boost this season as he's improved over the disappointment of last season's 7 point performance. As of last night Brodin had 16 points (3 goals and 13 assists) through 43 games played and was on pace for career numbers in points and assists.
If Brodin does miss the expected four weeks, he'd miss 15 of the Wild's next tilts even with the upcoming All-Star break at the end of the month. That's a lot of games for the Wild to be without one of their top 4 defenders especially when they are battling game-to-game for the Division and Conference lead with Chicago.
But luckily for the Wild they are deep enough with defensive talent that they can weather this storm. Nate Prosser will be the immediate stand-in as he's actually done a strong job this season in the 17 games he played this season. When Christian Folin was down last month Prosser filled in well and played in the first 6 games of the Wild's 12-game winning streak.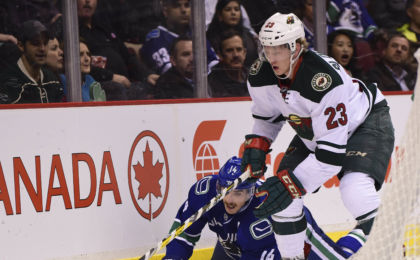 The options to call up Mike Reilly or Gustav Olofsson are there too and expect that Minnesota will give the call down to Des Moines for one of them for depth. Which one it will be is really up to the preference of Bruce Boudreau and Scott Stevens as they size up what kind of defender they need/want.
Reilly is a speedy offensive minded player who is of course very familiar with the NHL with 38 contests under his belt. But he's only played 9 games this season with no points, and his last NHL game was on the 13th of November. In the AHL he's faired a bit better with 15 points in 28 games, but still not lighting the league on fire by any means.
My thought is Olofsson is a better replacement for Brodin. He's more of a defense first player like Brodin and like his fellow Swede shows good responsibility with the puck and strong decision making. But like Brodin he is not going to light the scoresheet up with no points at the NHL level yet in his 3 game sample, and this season is at the 14 point mark in 37 games in Iowa. Also when sizing him up against Reilly he doesn't have as much NHL time, so there's some consideration needed there.
Whoever the Wild decide on initially to replace Brodin in the lineup also doesn't have to be the final answer for the month Brodin will miss. The great part about having depth at a position is that if one player doesn't cut it then you have a good option to replace him with.
So over the next month the Wild will miss and be affected by the loss of Brodin. Still the depth they have on defense will pick up a lot of that slack and we could see the Wild still come out with strong defensive showings. The nice part is the Wild have options and they will be able to get through this bump and get Brodin back well in time for the playoffs, which is where this team is headed even with this injury.
This article originally appeared on