Minnesota Wild: Wild Players Seem to Lack Drive and Focus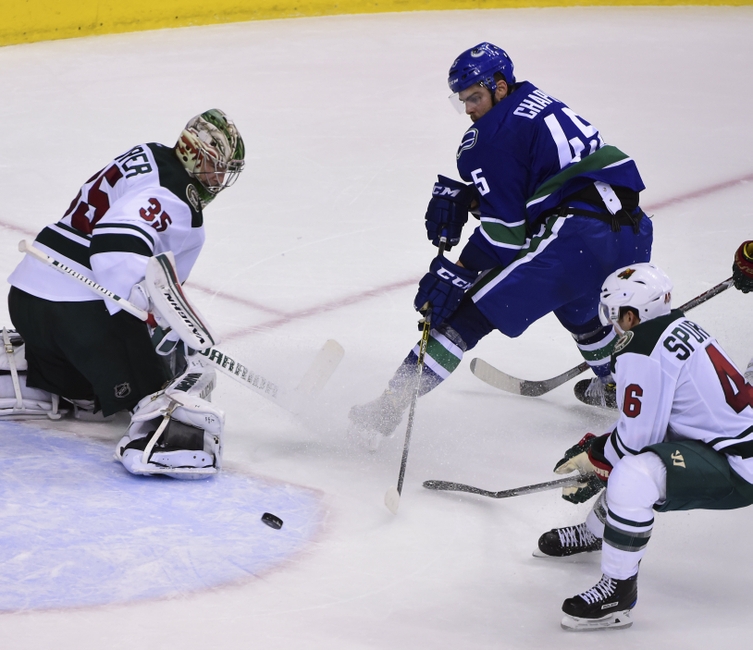 The Minnesota Wild had what can only be described as a tough loss last night in Vancouver.  Looking at the effort on the ice and the epic lack of focus, is it fair to say that the Wild's issues might lie on the shoulders of the players and not their coach?
Last night's loss in Vancouver was tough.  The Minnesota Wild were up 2-0 on the mightily struggling Canucks at the half way mark of the second period and looked to be on their way to a solid road victory.  Then the wheels fell off and the Wild surrendered two quick goals to leave the second period tied 2-2.
In the third their demise was came quick in the form of goals by Eriksson and Horvat a minute apart from each other in the first two minutes of the period.  The Wild tried to battle back with two more tallies, but the Baertschi goal at 17:23 sealed the Canuck win.
According to Michael Russo of the Star Tribune Head Coach Bruce Boudreau described his team's play as "Let's see how many points we can get instead of playing the game the way it's supposed to be played. We don't have any right to be able to play like that. We're not leading the league by 20 points or anything like that."
Very astute observation from the Wild's bench boss and one that really defines what might be wrong with the team.  It's an effort and discipline problem.  Everyone wanted to know during last year's epic slide was it the coaches or the players?  Right now the narrative seems to be the players.
The Wild hired one of the most successful regular season coaches and declared their lineup a winner this offseason.  So, which one is the underperformer?  Right it doesn't seem to be Boudreau who we know has a great work ethic and is working hard to find the chemistry this group needs.
It's telling that the Wild are about where they normally are in the middle of the pack in the Western Conference and really struggling to stay there.  Playing a struggling team like Vancouver is an opportunity to get points and spark something, so losing to them in this kind of effort is baffling.
It just seems there are excuses after every loss that suggest that this team might have a lot of responsibility or care for the results of the game.  Darcy Kuemper after the game last night said that "It wasn't a game where I felt bad. Crazy goals, tips, weird bounces. Yeah, not a fun one.  Even though we fought back, it'll be tough to talk to somebody that was happy about this one."
The problem with what Kuemper said was that he didn't feel bad.  You should feel very bad, and seek to never have it happen again.  Weird bounces and tips happen and sure there might not be much you can do, but when Ben Hutton buries a loose puck you should have covered…that one is on you.  Oh and add to that the difference in the game was one goal, maybe feeling good isn't the right thing to say about your performance.
Also the top line of Staal, Parise, and Coyle needs to consistently be the top line.  Boudreau explains it best.  "They're supposed to be a pretty good line. We need them not just once in awhile. If we don't have our best players being our best players, it's like any other team, nobody's going to succeed."
That's a huge callout and a correct one by Boudreau.  The Wild will never get to an elite level if their "elite" players keep playing this way.  Most teams count on their top line and right now their coach is doubting if he can count on them.
The bottom line here is that last night's game exposes something that might be inconvenient, but needs to be addressed…the players need to make sure their efforts are consistent game-in and game-out.  Nobody is doubting the Wild's talent, right now it seems to be a drive and focus thing.  Is the team okay with the middle, or do they want to be the best?
This article originally appeared on