Minnesota Wild: Wild Are Letting Dubnyk Down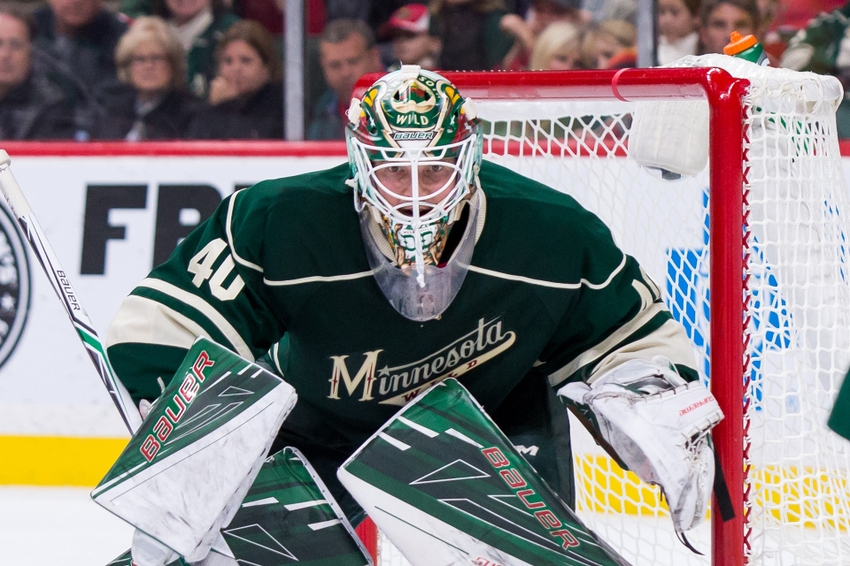 The Wild are having trouble scoring and of course it's hurting them in standings. Almost as important though is that lack of scoring is hurting their goaltender who is quietly taking his place as one of the best in the league.
Devan Dubnyk is playing outstanding hockey lately.  The Minnesota Wild netminder is has only given up 8 goals in his last nine games, and is taking his place as one of the best netminders in the NHL.  As of this morning Dubs is top in the NHL in Save Percentage, tied for the lead in shutouts, and second in goals against average.  An impressive stat line and dare I say makes him a close second as best goaltender in the NHL to Montreal's Carey Price.
Then you look at Dubs' wins and he's only got 6 and is tied for 14th in the league.  That's a pretty big outlier considering his other numbers.  So what's the explanation?  Simple…the Wild are not giving him enough scoring to win.
In last night's loss to the Flames this lack of scoring has seemed to hit a fever pitch.  After the game Bruce Boudreau voiced his frustration over his team's scoring woes.  "We practice that every day, so it's frustrating.  1-0 is a game if we do certain things we're going to win the game. So we've got to learn from the loss."  He's right and their goaltender is reason they have the chance to win that game.
In Dubnyk's 6 losses he's only lost by one goal and has not given up more than 3 in any of those contests.  In two of his last three losses the team has lost 1-0, which means that if the Wild simply scored two goals they would have won the tilt.  The pure fact of the matter is that Dubnyk is doing his job and the rest of the team is not.
Dubnyk seems to be the most consistent and valuable player for the Wild thus far this season.  The rest of the team needs to take notice of his accomplishments and hard play and step their game up to get him some wins.  It's an important stat for a goaltender and could keep Dubs out of a possible Vezina bid if he can't crack the top ten or even top five in victories.
If I'm Bruce Boudreau and I'm searching for motivation about how to spark more scoring, I just point to my goaltender and his efforts.  He's out their killing it every night and deserves more effort to get him the win.  I think he has the chops to do it, and this year's Wild will listen.  Also don't let Boudreau completely off the hook as it will be his burden to solve this power outage.
So the Wild have the rest of the day and tomorrow morning to figure this one out.  There's little doubt that Dubs will be ready for the Bruins and will give a huge effort…that's what he does.  Now it's up to his teammates to match that effort.
This article originally appeared on