Minnesota Wild: Slow and Steady Winning the Race for Staal
Danny Lambert/FanSided via Gone Puck Wild

Fansided
Eric Staal has proven to be the most consistent point producer in the Minnesota Wild lineup this season. It's no coincidence that with a slow and steady pace he's climbed back into the ranks of elite scorers in the NHL.
Consistency, it's a hard thing to find in the NHL. The idea that you can go into any give game and be a contributor on the scoresheet is a huge ego booster for any player. To rack up points in a predictable and reliable manner can directly affect the success of your team.
In the case of Eric Staal his consistency seems to correlate with the huge success the Minnesota Wild have enjoyed over the last two months. In the 18 games played starting December 4th against Edmonton on the road, Staal has registered a point in all but three of those games, and put together a string of 9 games straight making it onto the Wild's scoresheet.
That's huge for a team that thirsted for this kind of production from a player at this time last season. The consistency that Staal has shown makes the top line of the Wild viable and dangerous on every night. There's a reason Staal is the only Wild player who has played every game on the top line, he can be counted on to put up a top line performance every game.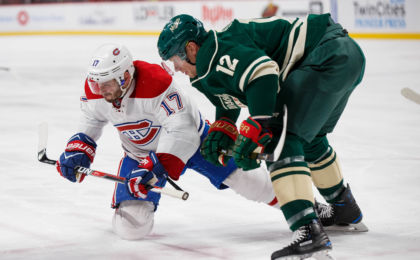 Many doubted that Staal could find this consistent game after a dismal season in Carolina and New York. As a matter of fact to compare the two seasons, last season Staal had a season high scorless streak of 7 straight games and could only muster a 3 game point streak at various points in the season.
So many wondered before the season started if Staal was worth his price tag, and if he could actually play in the top line role. The State of Hockey wanted to believe that he could bounce back, but it just seemed like we just trying to look on the brightside of another Wild free-agent miss.
The Star Tribune's Michael Rand describes this best in his column from last Friday. Rand explains that "A player who used to be good for 30 goals and 70 points a season had tailed off into the low 20s … and then bottomed out with a 13-goal season split between Carolina and the Rangers last year. Staal, who turned 32 early in this season, looked like the classic declining veteran. I tried to argue otherwise — saying in early July that Staal was not Heatley or Vanek, primarily because he's a better two-way player — but even then it felt like I was talking myself into something."
No need to talk yourself into to anything now as Staal's numbers and consistency speak for themselves. It's that ability to take it one game and just get points that has made this season a rebound season for Staal. Rather than stress out about the big bites of multiple games, he's taking the small bites of one game at a time and making a dominantly consistent brand of hockey.
If Staal keeps this consistency up he'll look to make his highest point total since 2010-11. So as they say slow and steady wins the race, and Eric Staal seems to have figured that out right out the gate this season. Expect big peaks and small valleys as Wild's most dependable scorer keeps moving along.
This article originally appeared on