Minnesota Wild: Scandella's Injury Could Impact His Future With The Wild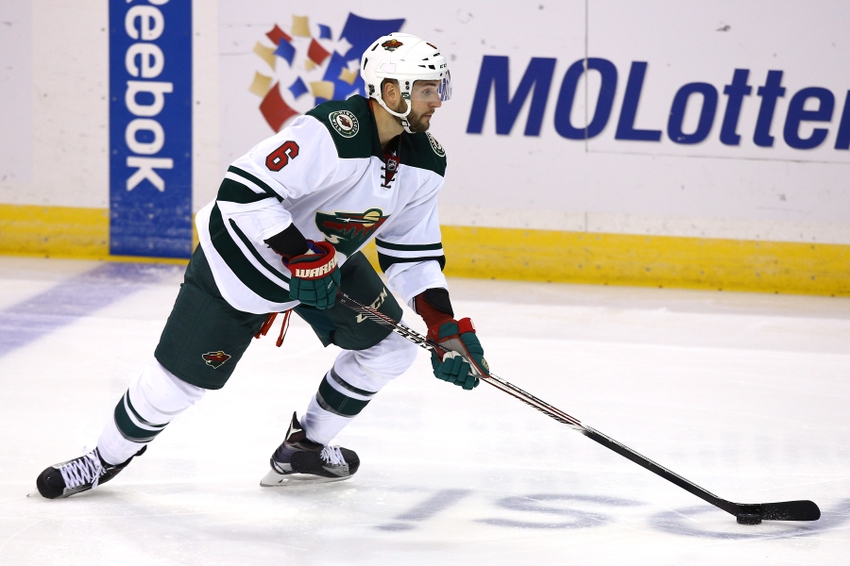 Marco Scandella's injury is a setback for the Minnesota Wild and could have effects on their success this season.  But peel it back and you can see that his injury could have a big effect on his future with the team.
It's been a tough stretch for Minnesota Wild defender Marco Scandella.  The young talent from Montreal had what many described as a down year last season.  The death of his father in November seemed to loom larger and certainly effected his play.  Now he's suffered another setback in the form of a high ankle sprain that will keep him on injured reserve till at least the end of this month.  It's just another unfortunate event in a string unfortunate events for a talented player.
Sure, Scandella may not be in a contract year like some of his other teammates, but the need to produce to stay with the Wild is every bit as urgent for him.  With the surplus of defensive talent waiting in the wings and the impending expansion draft, Scandella certainly had to show that he was someone the team needed to retain.
The Wild will only be able to protect three defenders under the rules of the expansion draft.  Due to the provision that players with no-movement clauses in their contracts must be protected Ryan Suter takes one of the three protected spots for defensemen.  The second spot almost certainly will go to Jared Spurgeon, which leaves one more protected spot.  The third protected spot is thought to be very important because most of the good money is on the idea that Vegas will have no choice but to take that top unprotected defender.
That last spot is a three-way race between Jonas Brodin, Matt Dumba, and Scandella.  At the end of last season that the clear leader was Scandella, who despite the popular sentiment didn't have too bad of a season with 21 points, he seemed to show more skill and poise than his competitors and was signed to a long-term deal.  The thought was that Scandella only needed to play another solid full season to earn a spot in the protected realm.
But this season hasn't really gone that way for Scandella.  He's only got one assist in seven games played and dead last on the team in plus minus sitting at a minus six.  Now he's going to be out till almost December and will not have as much chance to right that ship anytime soon.
Add to that fact that Brodin has decided to up his point game with four tallied thus far (1 goal 3 assists), and you can see where he might be starting to make is own case to be the third protected defender. It complicates the decision for sure to know that Brodin is adding back more of an offensive game that he seemed to lose last season.
Scandella does still have a huge chance to be with the Wild as the final protected, player but it just seems like his position to do so has been weakened.  When he returns from injury he'll need to up his game and show the all-around gritty two-way game that has gotten him this far.  He can do that, but the worry is that if he plays like he did in his first seven games he could be looking at being unprotected and thus not be a member of the Minnesota Wild next season.
This article originally appeared on