Minnesota Wild: Eriksson-Ek Might Be Headed Back to Sweden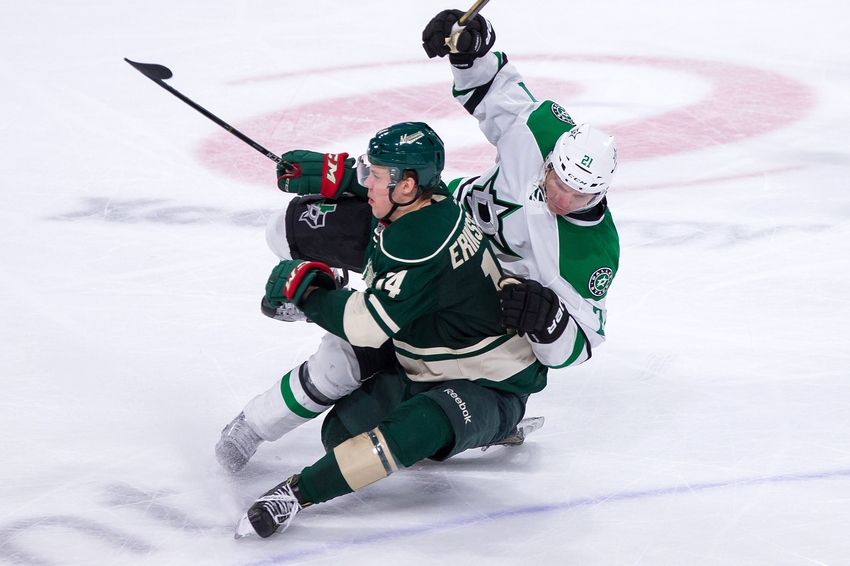 Last night's game ended in a big overtime win for the Minnesota Wild, but one thing was missing from the lineup.  The Wild decided to leave out rookie Joel Eriksson-Ek to give a little more time to decide his future with the team, and it looks like that question might be tougher to answer than you think.
NHL Daily: Fantasy Hockey, Jakub Voracek, St. Louis Blues
The Minnesota Wild did something they very rarely do, they won in overtime against the Senators in Ottawa.  After promptly checking the temperature in Hades and breaking down the win, my thought promptly turned to something that was missing from the Wild's starting lineup.
Before the game it was announced that rookie Joel Eriksson-Ek would be scratched from last night's lineup.  The initial thought was that Eriksson-Ek was unable to play because of the deep cut he got on his chin the night before in Philadelphia.  Actually, he was good to go health wise, the issue was actually that the Wild did not want him to play his tenth game yet which would activate the first year of his three-year contract.
The young Swede burst into the consciousness of the State of Hockey by posting an impressive goal in his debut game last month against the Devils.  He quickly added to that total with an impressive three assist night three nights later against the Bruins, and continued with a goal against the Sabres on the 1st of this month.  An impressive start that looked to almost cement his place in this Wild lineup.
Fast-forward to Saturday night and you see an Eriksson-Ek who is scoreless in his last five games and has seen his ice time dwindle from its peak at 12 minutes to just 6 minutes against the Flyers.  It seems that the luster has worn off and now Eriksson-Ek is performing more like a 19 year-old call-up rather than a NHL ready phenom.
When pressed by the Star Tribune's Michael Russo as to what the plan is, Wild Head Coach Bruce Boudreau explained that "If he doesn't play tonight it gives us another 24 hours to think about what we want to do. He's done really well. But again, in the long term, it's what's best for him that we're thinking of.''
That says to me the once thought to be foregone conclusion that Eriksson-Ek would stay in Minnesota might not be such a safe bet.  The last five games probably are making the Wild management think twice about if Eriksson-Ek is indeed ready.  If the team was 100% sold on him staying with the NHL club this pause would not be executed.
Sure he's shown huge promise in 3 of his 9 games played, but there are so many developmental opportunities for him to be gained if he is returned to Sweden.  Traditionally Boudreau is a huge proponent of the classic model of a year or two of seasoning in the AHL or equivalent ranks to fully develop a player, so that makes me think he is going to be in favor of returning Eriksson-Ek to the Swedish Elite league.
There's an outside shot that the Wild keeps him in North America and assisgns him to Iowa.  My thought is that Iowa is not the best place for him, because if he wants to improve on the game he showed in his NHL trial he needs to be in Sweden.  The game he plays now has a place in the Wild lineup and the best way to make it better is to make sure Eriksson-Ek is place in a system and league where it can grow further.  There's no doubt he's got the game and the smarts the Wild need, he is just going to need to make them a bit better.
I know that many have said that Eriksson-Ek is ready and the Wild have a place for him after his first four games (include myself in that tally), but it just seems that the goose egg he's laid in the last five games has changed that narrative.  Also add to it the fact that there is a movement to give Graovac and other Iowa forwards more playing time, you can see where Eriksson-Ek might not be needed as a lineup regular just yet.  So I really get the feeling the Wild are leaning towards sending him back to Sweden.
It's nothing to be a ashamed of and it's certainly not a failure.  Eriksson-Ek will be a part of the Minnesota Wild and that time will most likely come next season, but for now like Boudreau said "it's what's best for him that we're thinking of.''  It just seems like the best thing for this young player is to develop just a tad more.  No need to rush him in this season, we all know he'll be a good player if he stays but if he develops a bit more he could be a great player.  Let's see what the Wild think.
This article originally appeared on