Minnesota Wild: Carter Is Still Just Playing His Game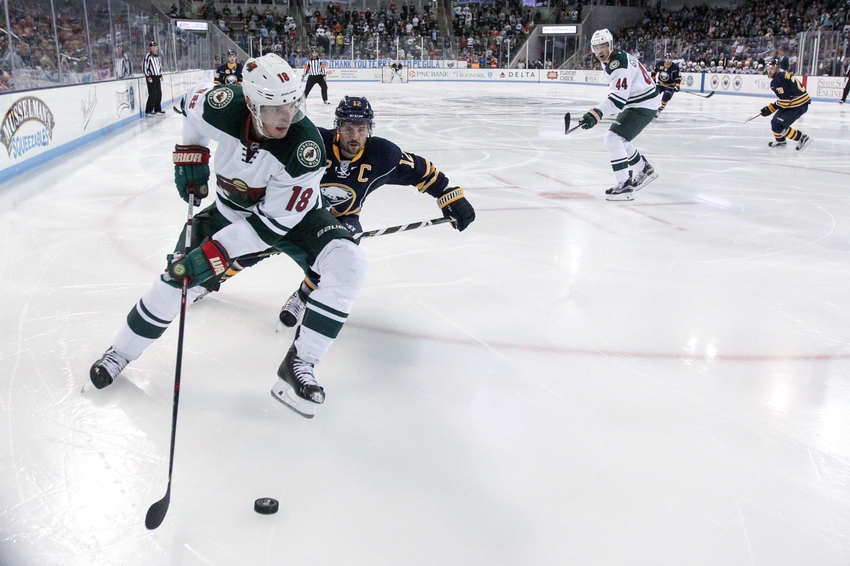 Ryan Carter has spent the last two seasons with the Minnesota Wild playing his game and doing it well for his hometown team.  Now even though the White Bear Lake native may be on a tryout playing for his spot on this team, he's still just playing his game.
Nine-year NHL veteran Ryan Carter has found himself in a position that he's never been in before during training camp, he's having to play for his job.  Going from a roster player last year, to being on a tryout this year Carter has had to accept the fact that things have changed.  He's playing for a spot on a team that may have the same logo on the sweater, but certainly will be a different team this season.
The coach is new, his system is new, but the location is the same and the teammates are almost completely the same as well.  He just feels at home here because it is home.  He's played the last two seasons here and he's felt fortunate to do so, and now even though he's not guaranteed a spot on the team he still feels fortunate to be here.
"I'm at home. I'm playing. I'm just trying to make the team. It's like I'm a kid again" he told Dane Mizutani of the Pioneer Press.  Carter is just happy to be here and continue his hockey journey in the same place where it started.
He's certainly taking a hockey journey right now that seems to have left him with one simplified goal…make the team but that's something he's done all his life.  He knows that all the details of his game that he's normally been working on to fit into the Wild teams of the last two years are might not be what the team needs him to be now.
"I've got to make sure I do what I can do to my best ability with Bruce coming in here. I have to be good at what I do in these couple of games" – Wild Forward Ryan Carter via Dane Mizutani of The Pioneer Press.
But Carter's been around the block and he knows that after his nine seasons, he is the player he is.  "I've got to make sure I do what I can do to my best ability with Bruce coming in here. I have to be good at what I do in these couple of games" he told Mizutani.  That's the key for Carter like he said he needs to be "good at what I do".
For him to try play like a scorer when we all know he's not that does, or go too far and be a bruiser could be the distraction that keeps him from showing the solid game he's cultivated over his career.  Carter is a player who has stayed in the league by being the player who will do anything the team needs by killing penalties, blocking shots, and being physical and hitting people.
That's what they like to call determination and it's something that Bruce Boudreau knows and appreciates.  When asked by Mizutani about Carter, Boudreau explained that "I'm not looking for a 40-goal scorer. A guy that competes. He's a good teammate. He knows what to do defensively. You chip in about 10 goals and that's a pretty good player."  That's a huge endorsement from a coach that could easily have dismissed Carter as a player that was forced on him by the old regime.
With only ten NHL forwards on this roster there's three more forward spots up for grabs, two more starting spots and a depth/extra spot.  To give all the open spots to the younger players seems like something that Boudreau, and even Chuck Fletcher would not do.  Playing time for these young guys is important, and so Carter fills a need for a depth player that can sit outside the lineup and still be ready when called on and not be negatively affected.
What makes him the best choice to fill that slot is all the things mentioned earlier.  He's a player who just wants to "do what I can do to the best of my ablity".  He's just happy to be here and knows if he makes this team that he's been given a gift to do what he loves in the place that he loves.  That's old time hockey, and that's why Carter has a good chance to be on this team when camp breaks.
This article originally appeared on