Minnesota Wild: Beleive That They Should Be Here
Danny Lambert/FanSided via Gone Puck Wild

Fansided
The Minnesota Wild are flying high atop of the Western Conference today after their great weekend of back-to-back road wins. Considering where the Wild were last season at this time, the turnaround seems to be coming from a resilience and the lessons their new bench boss brought with him on how to handle the lows hockey can bring.
When asked about his team's recent success after Sunday's 3-2 win over the Blackhawks, Minnesota Wild Head Coach Bruce Boudreau explained that "They just refuse to lose at this stage, and I hope we can continue to have that feeling for the rest of the season."
That refusal to lose was huge this weekend as the Wild faced an uphill climb to reach the top of the Central Division having to win back-to-back road games, but in the end powered through two huge wins in Dallas and Chicago. Under normal circumstances it would be completely acceptable to walk away with only one win in those two games, but the Wild didn't want to settle for acceptable they wanted to win both games and they did.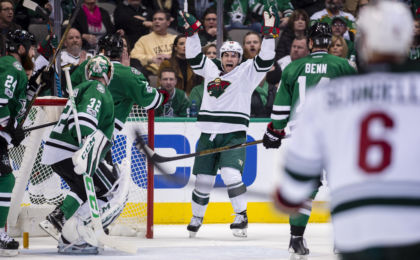 This is a new Wild folks. The fact that the team is not folding an accepting mediocrity is the difference between past squads and this one. So many reasons seem to go into the equation that has made the Wild a winner this season, it hard to put your finger on exactly one reason for the recent successes of team.
It's that feeling they all have like their coach said they are just refusing to lose. The culture of the team has been changed by Boudreau and he's built a bench of players that he is getting the best performance possible from. His ability to challenge them and get their best has been the difference.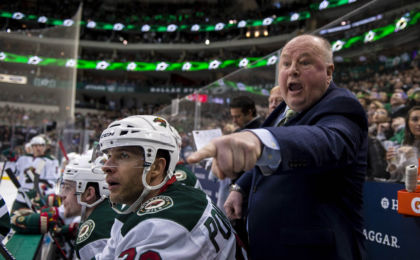 Sure, Mike Yeo was a touted excellent nuts and bolts hockey coach, but why couldn't he get the same results from a Wild team that is largely same? The numbers speak for themselves as there a plenty of examples of players that are on pace to set personal bests this season in points, goals, or assists. You can't motivate players if you can't reach them.
Boudreau is getting the best out of the Wild because he's teaching this team the lessons of his 20 seasons of playing, and 25 more years of coaching. Boudreau only played in 137 NHL games in that span and fought for the playing time he did get in leagues much lower, and in the process built a wit and vast expanse of stories that he's sharing with this group to relate to them on an individual level.
Since he's seen the other side of success and facing that adversity has been something he helped the Wild do much better this season…deal with lows. This is a team that can comeback from in-game defects and shake off losses. As Boudreau himself says it's about "winning the week".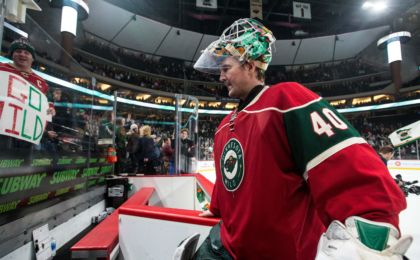 "With this team we just believe that, eventually, even if we're not playing the way we're supposed to, we're going to with what we're doing," Devan Dubnyk said to Michael Russo after last night's game. "And when we are, we're a tough team to play against. And we don't think about needing to change things to come back. We just worry about playing our game, and knowing that we're going to have a good chance if we do that. And we've shown that every time and the more you can do that the more you believe in it."
That confidence and resilience that Dubs is eluding to in that quote is why this team is different and will continue to be special for the rest of the season. With Boudreau's culture and the leadership of vets like Staal, Parise, and Dubs the Wild seem to have found a groove where they can win the close games and unlike seasons past find the motivation to overcome some adversity.
Still come what may for the second half of this season, it's a pretty good feeling looking at the standings this morning and seeing the Wild on top. Some of us have waited quite a while to see that sight.
This article originally appeared on