Martin Jones Shutout Lifts San Jose Sharks Over New Jersey Devils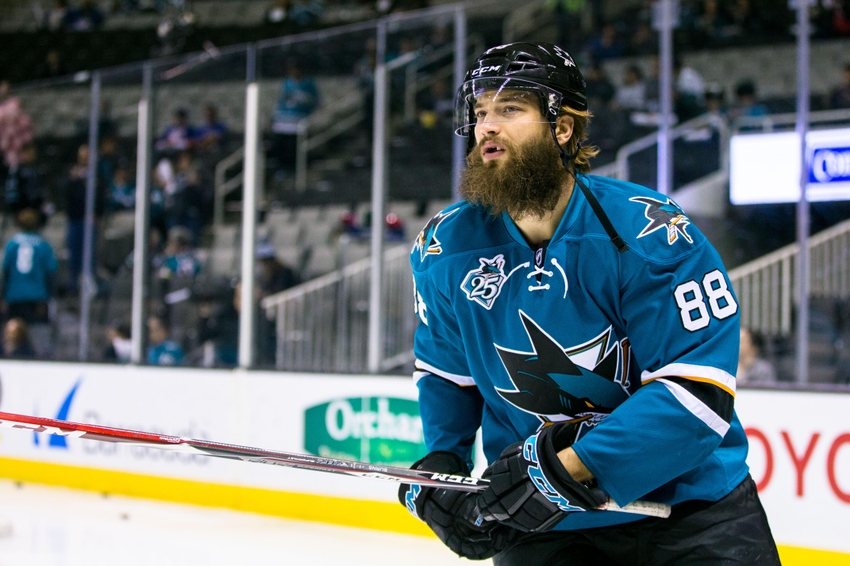 The San Jose Sharks start their Thanksgiving homestand with four goals and a Martin Jones shutout Monday, Nov. 21…
The San Jose Sharks played a complete game in every sense against the New Jersey Devils Monday, Nov. 21. A Martin Jones shutout and the best offensive output of the 2016-17 NHL season produced a 4-0 victory.
San Jose's two-way game was 60 minutes long despite holding a multi-goal lead for almost 90 percent of it. New Jersey was outshot by at least four in each period.
That complete game is evident in the scores themselves. The Sharks notched at least one goal in all three periods and all three situations: 5-on-5, power play and penalty kill. That ended their three-game losing streak and raised their home record to 5-2-0.
San Jose responded to its last losing streak with a 3-0 win over the Washington Capitals. They turned that into a winning streak.
This is a great time to start a run. The Pacific Division is soft. Three more home games this week present a chance to take the lead.
The most important thing the Sharks must improve is scoring consistency. They cannot count on a Martin Jones shutout every week. Monday was just the second time in 19 games this 2016-17 NHL season they scored four against a goalie.
Worse, they have only beaten a goalie more than twice in six of those 19 games. They are also the only team yet to score five even including empty-net goals.
Clearing Hurdle Without Hertl
That production was especially welcome after the announcement Tomas Hertl had sprained his right knee again. San Jose must replace his scoring.
Hertl will miss significant time. General manager Doug Wilson released the following statement about 40 minutes before the puck dropped against the Devils:
Hertl will undergo a minor procedure (Tuesday and) following…will proceed with his rehabilitation schedule in San Jose. No timetable has been set for his return to game action.
The Sharks are already shorthanded at forward. Melker Karlsson has not played since the Tampa Bay Lightning Nov. 12. His injury opened the door for Matt Nieto.
Thursday's injury to Hertl gave birth to two NHL careers. Kevin Labanc played well in his first six games. Daniel O'Regan played his first game Monday.
O'Regan returned to the AHL San Jose Barracuda Tuesday. San Jose announced no move to fill his roster spot. Wilson has three very qualified candidates.
Barclay Goodrow and Nikolay Goldobin have experience and could be next for a trial run. Timo Meier was nearly a lock to make the team until contracting mononucleosis and could be ready.
Quick Start, Strong Finish
The Sharks scored on the penalty kill in the first two minutes of the game. Chris Tierney seized a fortuitous bounce. He then raced into the offensive zone with Joel Ward against only one defender.
Tierney used Ward as a decoy and fired the puck into the corner. It was his first goal of the 2016-17 NHL season.
San Jose took over with another score 6:43 in. Long-time captain Patrick Marleau buried the loose puck. It was the 486th goal of his career.
Current captain Joe Pavelski assisted Marleau after they became line-mates Monday. They are now on either wing of another former captain, Joe Thornton.
The power play joined the scoring in a dominant second period. Thornton threw the puck toward the crease and it bounced to Logan Couture wide of goalie Keith Kincaid.
Couture scored 10:33 into the second. The Sharks kept the pressure on in the third period and scored their final goal with 12:22 to go. Brent Burns carried the puck to the net and Kyle Quincey put it in his own goal while falling.
Story of Numbers
The event summary shows that San Jose dominated on the attack (41-26 shots and 83-55 attempts) despite a narrow edge in possession statistics (34-37 faceoffs, 11-14 giveaways and 12-7 takeaways). That extra time defending is why New Jersey's 17-13 edge in hits and 27-17 in blocks are unimpressive.
Jones was not the only Shark to have a big night. Burns finished with a goal and assist. Yet it was where that put him the following day that meant the most.
Burns leads the team in the former (seven) and the blue line in the latter (nine). He is just one behind Justin Braun for the team lead in blocks with 36.
Burns is still improving at 31 years old. The Norris Trophy finalist last spring is even stronger so far this 2016-17 NHL season. That is why the Sharks had to sign the pending free agent.
Wilson penned him to a massive extension Tuesday. The San Jose Mercury News reported the deal is for eight years and $64 million. That makes Burns the highest-paid player on the team. That is only fair given he is its best player.
There is one downside to the deal. San Jose now has another defenseman to protect in the expansion draft next summer. Paul Martin is almost certain to be exposed but could be passed over because of his age (he will be 36). Now David Schlemko or Braun must be exposed, as well.
Nevertheless, the Sharks know Burns will be there. Next summer they can work on extending defensive ace Marc-Edouard Vlasic to solidify an elite blue line.
More from Blades of Teal
This article originally appeared on