Mark Scheifele: Is the Winnipeg Jets Centerman Elite?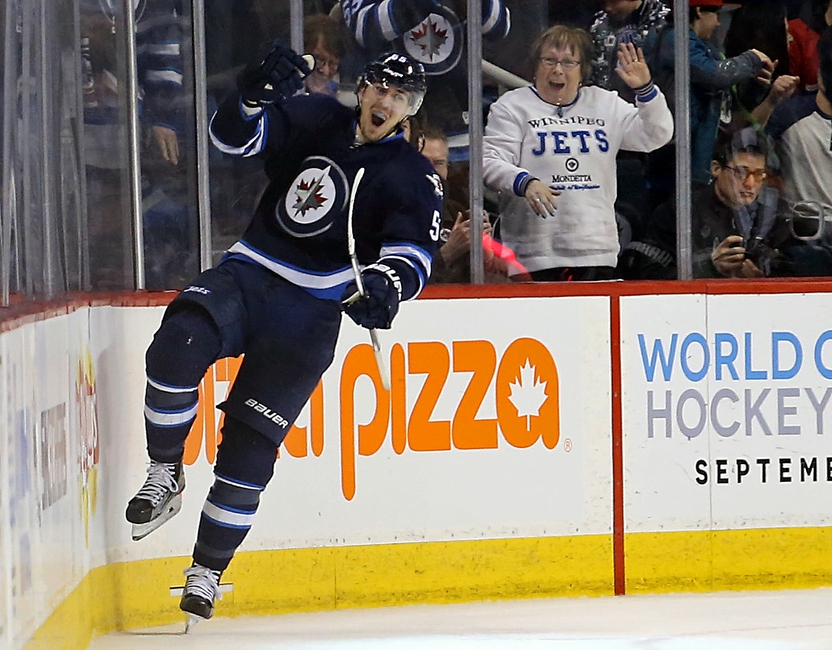 Having the third most points out of every NHL player this season, and the most since February is one thing, but being an elite centremen is something completely different. It's always talked about how every competitive team, especially in the Western Conference has that one big, elite, two-way, yet scoring center. Where does Scheifele fit in? We will take a look at which teams number one center Mark Scheifele is superior of right now, and ultimately rank the Winnipeg Jets star against the worlds best.
Central Division:
Jonathan Toews in Chicago. Not much to argue about here. Scheifele may be the better offensive player already, but "Captain Serious" three Stanley Cups speak for themselves. His Selke finalist seasons, and his international success set him a bar above Scheifele.
Paul Stastny/Alex Steen in St. Louis. These are two players who have far more experience in the league than Scheifele, but I couldn't rule either one as a true number one center like I can to Scheifele. Steen's drop off in goal scoring drops him below the former.
Tyler Seguin in Dallas. No question here either. Seguin is one of the brightest stars in the modern game, and when he stays healthy can be one of the greatest finishers as well. Scheifele doesn't have that notch to his game that Seguin does, where no matter how his team is playing, or what the circumstances of the game are, he's still one of the better players on the sheet of ice.
Eric Staal/Mikko Koivu in Minnesota. Eric Staal was forgotten about the last season, especially in his stint with the Rangers, but has re-established himself as a top six center who's size is hard to play against. Koivu has been in decline offensively the last few seasons, and despite being the captain of the Wild, Scheifele is far superior to him, and Staal.
Ryan Johansen in Nashville. Scheifele, chosen a year after Johansen, and three draft slots lower, has established himself as a first line centre, Ryan hasn't. He had shades of it when he played for the Blue Jackets, but when traded to the Predators, he didn't, and still can't find his old scoring self. Scheifele's consistency, reliability on the defensive side of the puck, and leadership makes him the obvious choice here.
Nathan MacKinnon is an interesting one in Colorado. Remember, we are talking about who is the better player right now, not in two, or four years. MacKinnon was a first-overall-pick, but I might take Scheifele. He will never match MacKinnon's blazing speed, but Scheifele has a better shot, and has produced better stats in the NHL so far. For now Scheifele, but not for long.
Rank: 4/6
Pacific Division:
Connor McDavid is no competition for any other center in the NHL in terms of intelligence offensively, let alone Mark Scheifele.
"Jumbo Joe" is still the NHL's greatest set-up man, and potentially the best of all time. His visit to the Stanley Cup final may have been his last hurrah as an elite centremen though. He's scoring at a pace just over a point every second game. Until Joe finds his elite status again, Scheifele is my pick.
Anze Kopitar was named the second best player in the world by Wayne Gretzky during the 2014 Stanley Cup playoffs, and his ten million dollars he earns a year shows exactly why that comment was no hoax. Kopitar by a mile.
Ryan Getzlaf in Anaheim. Getzlaf was at one point one of the best centers in the league, but his last two seasons have not only been awful on his team, but also on his goal total. Getzlaf is still an incredibly hard player to play against, especially defensively, but his scoring droughts make Scheifele my pick.
Martin Hanzal is a first-line center. Not an NHL first-line center, Arizona's first-line center. Nowhere near Scheifele.
Henrik Sedin is another Hall of Fame destined player, who's play has dropped off substantially over the last two seasons. His unreal chemistry with his twin brother is still there, but his overall foot speed, shot, and overall game is not where Scheifele's is.
Sean Monahan is part of the Calgary Flames core going forward, but lots of his success may just be coming from his linemate Johnny Gaudreau. Less than ten games after Gaudreau went down with an injury, Monahan was found skating on the Flames fourth line. Not as dynamic of a player as Scheifele yet.
Rank: 5/7
Atlantic Division
Alex Galchenyuk has finally become the Montreal Canadiens first line center, and has done an avid job of it on the NHL's best team. Galchenyuk just doesn't have the scoring ability Scheifele has yet.
Steven Stamkos could be the NHL's best scorer if Alex Ovechkin didnt exist, and if he could stay healthy. Stamkos is one of the leagues most dynamic players, and Scheifele isn't at his level.
Kyle Turris is a fringe number one center in Ottawa. He hasn't found an offensive mold yet. Scheifele has.
Patrice Bergeron is the NHL's best defensive forward, and all his Selke Trophies speak for themsleves. Scheifele is the better offensive player, but Bergeron's ability to make every player around him better sets him above Scheifele.
Toronto has a dual-act. Nazem Kadri has turned into a really good second line center who can be a pest against other top players. Auston Matthews showed promise as an elite center after a first game of four goals. Since he's hit quite a slump offensively. Scheifele is my pick for now, but not for long.
Henrik Zetterberg was once an elite player in this league, but his time in the NHL may be done after this season as the Wings go into a transition period. Zetterberg no longer has the scoring touch he used to. Scheifele is my pick.
Jack Eichel's rookie season was quite impressive, but he hasn't even made his sophomore debut yet due to injury. Eichel needs more experience to be in the same league as Scheifele.
Aleksander Barkov was one of the more hyped up players coming into this season, but since his two linemates fell to the injury bug, Barkov has been disappointing. Two-goals on the season is not enough to beat Scheifele.
Rank: 6/8
Metropolitan Division
Derek Stepan is another Kyle Turris-type player who isn't a great first-line center offensively. Scheifele is better than him in almost every aspect of the game.
Sidney Crosby is the worlds best player. No harm done.
Alex Ovechkin wouldn't be Alex Ovechkin without Nicklas Backstrom. Backstrom has assisted on almost half of Ovie's goals. His offensive creativity, and defensive instincts are far superior of Scheifele.
Adam Henrique is looking like a one-trick pony from what he achieved last season. Scheifele has a much bigger impact in his teams success than Henrique.
Claude Giroux has the most points out of any NHL player in the last five seasons combined. No big competition as Giroux is the face of the Flyers franchise.
Victor Rask is still a young player finding his way in the NHL. Scheifele is a more complete player in every aspect of his game.
John Tavares' team has been awful this season, and even he has been disappointing, but he's still one of the NHL's best players, one far better than Scheifele
Alexandre Wennberg is more of a third-line center, and so are the rest of Columbus' centers. No controversy here.
Rank: 4/8
All-in-all, Mark Scheifele is better than 19 other number-one centers. That leaves him just outside the top ten. Elite? I'd have to think so.
More from Jets White Out
This article originally appeared on