Maple Leafs: The Overreaction To Auston Matthews Goal Drought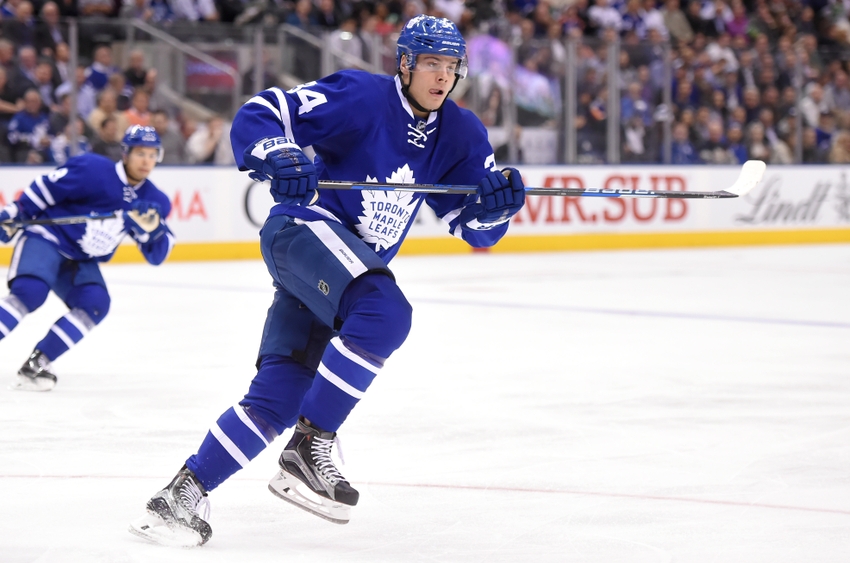 "What's wrong with Auston Matthews?" That has been the narrative for the past couple of games as the Toronto Maple Leafs rookie endures his first goal drought of his career.
With the lack of scoring over he's done over the past few games and the hot streak Patrik Laine is on. It has some second-guessing the Toronto Maple Leafs selection of Matthews with the first overall pick.
Also, with Laine recorded his second hat trick of the season versus the Dallas Stars. It has caused a debate as to who the better player is.
Going into the draft there was no debate that he could score. Laine drew comparisons to Alex Ovechkin, that's the highest comparable a goal scorer can receive. Thus it shouldn't surprise anyone of the scoring touch he is having.
Auston Matthews has leaned on veterans for advice amid 1st lengthy NHL goal drought; mentions JVR as someone he's chatted with

— Mark Masters (@markhmasters) November 12, 2016

However, now that Laine has become the flavor of the month. There are some that are taking it a bit too far with their hot takes. For instances, saying that he is a better player than Matthews, which is far from the truth.
TSN's Overdrive in Toronto actually discussed a hypothetical trade involving the Maple Leafs and the Winnipeg Jets. The guys discussed as to whether or not the Jets would trade Laine for Matthews, which would undoubtedly make some fans want to pull their hair.
It's radio talk, which in itself shouldn't be taken too seriously, but still, it's ridiculous and it's getting out of hand.
Look, goals are a sexy stat. Plus it's easy to look at them and say Laine is having a good season. However, just because Matthews isn't racking up goals it doesn't mean he's not having a good season so far.
Auston Matthews has played 14 NHL games, his career low in shots on goal in a game is 2, done twice. For a 19 year old that's bonkers.

— (((Corey Pronman))) (@coreypronman) November 12, 2016
First of all, Matthews can score goals, but that's not his number one obligation. As a center, he has a lot more responsibilities than Laine. He must be defensively responsible and cannot just have a shoot first mentality.
Furthermore, it's not like he's not finding the net. The shots are simply not going in, but this doesn't mean it will last. He just needs one puck to go in for him and the floodgates will open.
Nonetheless, the stats will argue that Matthews is right there with Laine when it comes to scoring. Except he's not experiencing the puck luck that Laine is.
For example, when it comes to his goals per 60. Mathews is averaging 1.66 while Laine is averaging 1.41 thus far. In addition, his points per 60 are also higher, but the reason that he has fewer goals than Laine is the difference in their shooting percentage.
In 15 games Laine's shooting percentage is 25% while through 13 games Matthews has a percentage of 11.36%. This right here explains the difference in scoring between the two. Since Laine is shooting at a higher rate and thus seeing the results as the puck is finding the net.
In addition, it's not like he's not creating chances for himself or others. He's picked up plenty of assist during his goal drought. Again, he's just experiencing some bad puck luck, but eventually, that will change.
Key factor in rookie scoring race: Patrik Laine is shooting 25%. Marner, Nylander and Matthews hovering at a more sustainable 11%.

— Scott Wheeler (@scottcwheeler) November 9, 2016
Matthews is cut from the same cloth as Anze Kopitar. In the sense that he could easily get more points if he wants to. However, he decides to pay attention to all aspects of his game and has a Selke to prove it.
Personally having Matthews find that balance in which he can score, but be sound defensively and able to play in all situations is more important than competing with Laine in the goal department.
As the season moves along Matthews will undoubtedly have his share of scoring highlights. Nonetheless, there will be more of Laine's, which is to be expected. It means that there will be people fawning over him and saying how he's better than Matthews.
However, a number of goals and points scored should not be the end all be all, so if Matthews can play a sound offensive and defensive game, he should have no problem being nominated for the Calder Award. Hopefully that will put an end to discussion as to whether or not the Maple Leafs made a mistake in drafting him.
Hopefully, that will put an end to the discussion as to whether or not the Maple Leafs made a mistake in drafting him.
This article originally appeared on