Line Change: Risers and fallers after one week of NHL action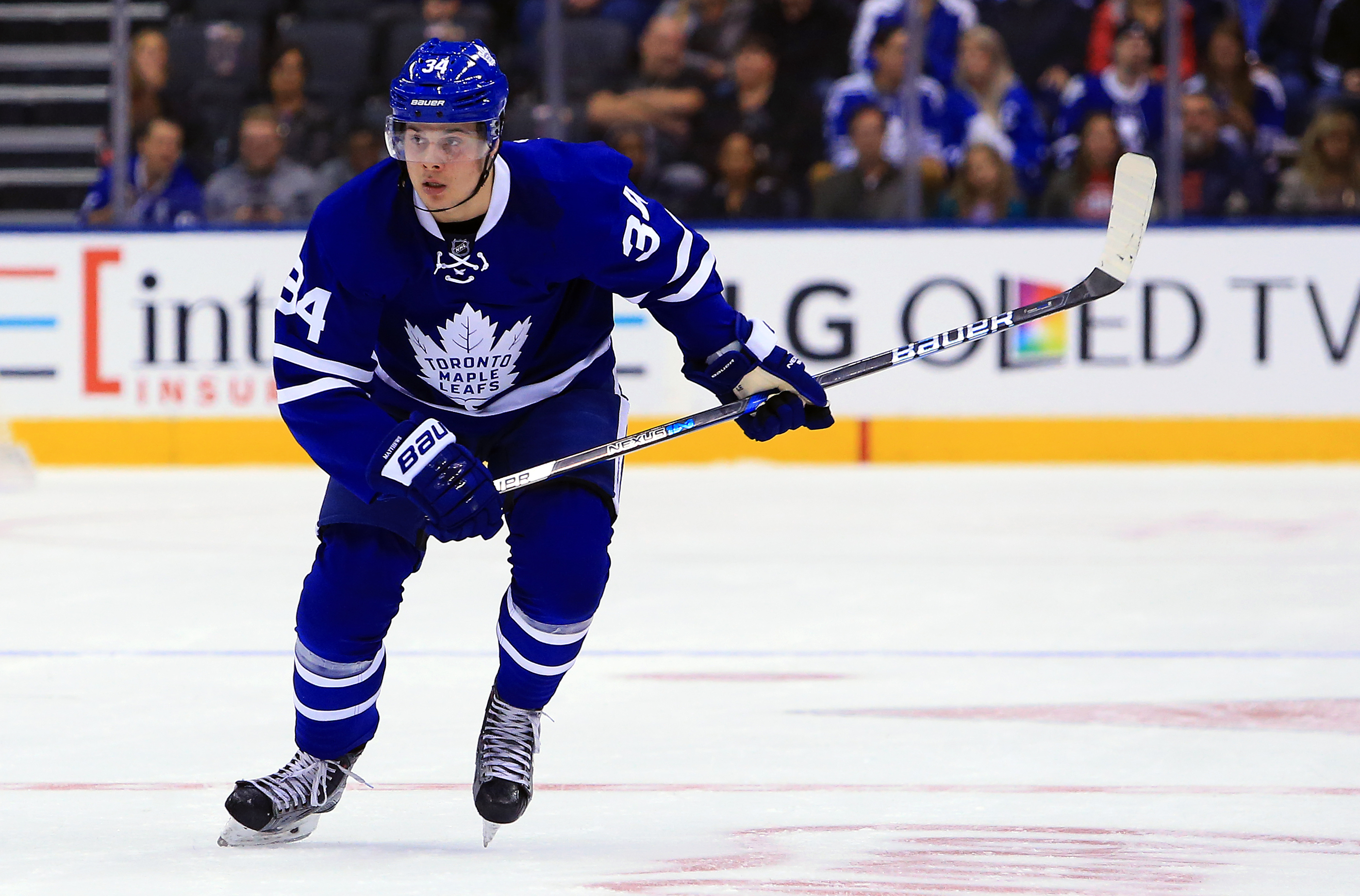 Who's up and who's down in the NHL after one week of action?
Hockey fans across the globe rejoiced this past week, as the NHL dropped the puck on its 2016-17 season.
The league's centennial season is still incredibly young, and it's way too early to tell for certain who will rise and who will fall by the end of the season. Nevertheless, certain players, teams, and coaches have already begun to distinguish themselves, while others have started the season on a sour note.
This week, after seven days of hockey action, let's take a look at who has started strong, and who would like to start over.
The Risers
These guys aren't messing around this year.
Auston Matthews
This one really shouldn't come as a surprise to anyone. After scoring four goals in his NHL debut, Auston Matthews is most definitely on this week's (and likely this season's) list of rising stars. The Toronto Maple Leafs' No. 1 pick in the 2016 Draft became the first-ever NHLer to score four goals in his debut, proving he was definitely worth all the off-season hype.
Toronto isn't out of the woods yet, and Matthews isn't going to be able to lead this team to a Cup by himself, but this certainly is a huge step in the right direction for the Maple Leafs and their 19-year-old skating sensation.
Connor McDavid
Not to be outdone, Edmonton Oilers' wunderkind Connor McDavid is off to a pretty solid start, as well.
The youngest captain in league history started his season by scoring three goals and three assists, helping the Oilers to a 2-1-0 record after three games. McDavid might not have scored four goals in his NHL debut, but this kid is definitely on the rise this season.
I mean, come on; if The Great One says you're one of the best players he's ever seen, you're probably a pretty good hockey player.
The Boston Bruins' Top Line
The Boston Bruins' top line of Brad Marchand, David Pastrnak, and David Backes is one of the hottest lines so far this season.
Marchand, Pastrnak, and Backes have scored a combined eight goals and eight assists, and are a combined plus-21 throughout the Bruins' first three games. But this line's domination doesn't stop there. Pastrnak currently leads the league in goals (4), while Marchand leads the league in points (7).
They may have only played a handful of games together, but these three clearly already have some serious chemistry.
P.K. Subban
Former Montreal Canadien P.K. Subban seems to be enjoying his new hockey home in Nashville.
Despite rumors that Subban was shipped out of Montreal due to attitude issues, the Predators haven't seemed to have a problem with their new addition. "He's an instant, smash hit. He's terrific. He's just so energizing. He's so comfortable being himself," former NHLer Stu Grimson said in an interview earlier this week.
Subban is fitting in just as well on the ice, as well. The 27-year-old scored on his first regular-season shot in a Predators sweater and tallied an assist one game later. Nashville still has many games to play, but so far this blockbuster trade seems to be working out well for Subban and his new team.
Joe Louis Arena
One of hockey's most historic arenas kicked off its final year this past week, as Joe Louis Arena hosted its final home opener for the Detroit Red Wings.
The Red Wings, on the verge of starting the season 0-3 for the first time since 1991-92, managed to find a way to win Tuesday night, making the Joe's final home opener a night to remember in the best kind of way. Clearly, this arena still has a little bit of magic left. Hopefully, this season won't disappoint.
The fallers
Luckily there's a whole season for these guys to get back on track. Better luck this week.
The Buffalo Sabres
The Buffalo Sabres never seem to be able to catch a break.
The Sabres' dreams of a big season recently came crashing down after losing star players Jack Eichel and Evander Kane to injury. Now don't get me wrong; there's lots of hockey left to play. But the Buffalo Sabres have had a rough start, and there's no denying that. The battered Sabres already have one win under their belt, but it's going to take a lot more than that to rise to the top of the league.
Carey Price
Is Carey Price even still alive?
Rumor is yes, he is, although he's been suffering from a nasty illness for the past week or so. Montreal has played fairly well in Price's absence, but this team could certainly use its star netminder back.
Price has a long season ahead of him to recover, but an illness like this could become a serious setback if the Canadiens goalie is unable to regain the weight and energy he's lost during his bout with the flu.
Jonathon Quick and the Los Angeles Kings
The league seems to be suffering some sort of goalie plague this season.
Much like the Montreal Canadiens, the Los Angeles Kings have struggled to succeed without their star goaltender. Quick suffered an injury in the opening period of the Kings' first game. He now faces up to four months of recovery. That's a huge blow to the Kings, who have relied heavily on Quick over the past few years.
Quick's injury is clearly taking its toll, as Los Angeles has yet to win a game this season. Throughout three games, the Kings have combined for only six goals, and have allowed far more. This looks like it might be a long season for LA.
Loui Erikkson
Loui Erikkson's first game with the Vancouver Canucks is probably one he'd like to forget. In the Canucks' season opener, Erikkson attempted to pass the puck to one of his teammates. Let's just say his pass didn't exactly go as planned. Instead, Erikkson ended up scoring on his own team.
Luckily for Erikkson, teammate Erik Gudbranson was there to help. Or at least alleviate some of Erikkson's embarrassment by diving into the Canucks' empty net in an attempt to save the goal.
The Canucks are a joy pic.twitter.com/9uaONR2fbO

— Pete Blackburn (@PeteBlackburn) October 16, 2016
Oh well. Everybody makes mistakes. Erikkson's awry pass hasn't stopped the Canucks from having a pretty solid start to the season, so there's that.
Mitch Marner's Mom
The only thing worse than scoring on yourself is missing your son's first NHL goal. That's what happened to Mitch Marner's mom, Bonnie, this past week.
Marner, the Maple Leafs' fourth overall pick in the 2015 NHL Draft, scored his first NHL goal Saturday, with his parents in attendance. Unfortunately, Marner's mom was in the bathroom while her son was making history.
No worries, though. Bonnie's son likely has many more goals in his future.
So there you have it: your risers and your fallers after one week of hockey. The season is long, and these teams and players have a long way to go, so take these risers and fallers with a grain of salt. It's impossible to truly analyze who will rise and who will fall after only a handful of games. So for now, sit back, relax and enjoy some hockey.
This article originally appeared on