Line Change: NHL rookies proving the future of hockey is bright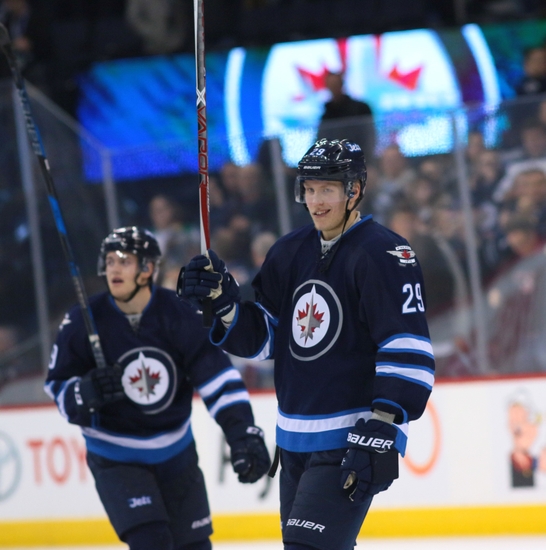 This week, I've heard way too much about politics and not enough about hockey. Come on people, get your priorities straight. Unless you voted for Phil Kessel, I don't want to hear you talk about the election.
Get out and vote tm you don't want the wrong person elected! #pk2017 pic.twitter.com/XV4R1LyJYJ

— Phil Kessel (@PKessel81) November 8, 2016
So now let's move onto more important things, and instead discuss who is up and who is down around the league this week.
Rising:
NHL Rookies
It's pretty safe to say this is the Year of the Rookie. From Auston Matthews to Jimmy Vesey, rookies across the NHL have taken the league by storm.
I really can't say enough about this year's crop of newcomers. Patrick Laine currently leads the league in goals scored (11) and points (15) after an impressive night against the Dallas Stars, while fellow rookies Vesey and Matthews (both with 6 goals thus far) are close behind. William Nylander sits close to the top of the league in points (12), and teammate Mitch Marner is rapidly gaining ground (10).
It's not just about the points, though. These rookies are incredibly talented, and they've already demonstrated an astonishing amount of skill only a month into the season. Every year there's always a prospect or two to watch, and we all like to keep an eye on the No. 1 draft pick, but this year's rookies are more than that.
All I know for certain is that it's a great time to be a hockey fan. The next few years are going to be exciting.
Patrick Laine
Speaking of rookies, let's talk about Laine in particular. The Winnipeg Jets' No. 2 draft pick in the 2016 NHL Draft is quickly making a name for himself, despite being surrounded by an exemplary group of young players.
At the beginning of the season, Auston Matthews was the marvel of the league. Yet, somehow, Laine has managed to outshine the No. 1 pick. The 18-year-old Finn leads the league in goals (11) and points (15) after a hat trick Tuesday night. Not only does Laine lead the league and his team in goals, but he also leads all rookies. Don't get me wrong: Matthews, Vesey, Nylander and company are all incredibly talented young players. Laine just happens to be taking the spotlight away from some of his fellow rookies.
Nikita Kucherov
Former NHLer Michael Rupp once referred to Nikita Kucherov as "the poor man's Patrick Kane." I'm pretty sure that's no longer the case for Kucherov. He's not a poor man's anything. He's the real deal; an elite, top-notch NHLer. Kucherov's play throughout the first month of the season is proof of that.
Kucherov, the NHL's First Star of the Week, tallied three goals and four assists over the Lightning's past three games, helping to push his team within the top ten in the standings. Kucherov is nothing less than a highly skilled player. He's an incredible asset, and a huge reason Tampa Bay is surging.
The Chicago Blackhawks
After a tepid start, the Chicago Blackhawks are finally heating up.
Over the past week, the Blackhawks have won six in a row, outscoring opponents 22-8 in the process. Jonathon Toews has 10 points in his past five games. Artem Anisimov leads the league in points (17) and is on track to have a career year. Patrick Kane is Patrick Kane, and Corey Crawford has one of the best save percentages (.936) in the NHL. Chicago doesn't yet have everything figured out, but things are starting to look up for the Hawks.
Sergei Bobrovsky
Things are also starting to look up for Sergei Bobrovsky.
Bobrovsky's team isn't exactly the best in the league, but somehow, the Russian netminder is managing to keep the Columbus Blue Jackets in the fight.
The Blue Jackets had an atrocious season last year, and this season, so far, isn't anything phenomenal. Yet Bobrovsky has been one huge consistent in a myriad of uncertainties.
While the Blue Jackets currently sit in the middle of the pack, Bobrovsky is near the top of the league. He currently has the fourth-best save percentage in the league (.947), and is among the top 10 in goals against average (1.79). Those stats are impressive enough on their own, but even more so when you consider Bobrosvky hasn't had much help. Who knows where the Blue Jackets will end up, but one thing is certain: Bobrovsky is definitely on the rise.
Falling:
Jack Capuano & The New York Islanders
It hasn't been a great week for the New York Islanders. Isles head coach Jack Capuano would probably agree.
The Islanders finally won a game Monday night after previously dropping three straight, but the win didn't come in time to stop Capuano from speaking some harsh post-game comments.
Last Thursday night, New York blew a lead in the third period, forcing overtime against the Philadelphia Flyers. The Islanders, who could've ended the game in sixty minutes had they not allowed the Flyers to score with less than two minutes left in the game, ended up losing in a shootout. After the game, Capuano voiced some of his frustration, saying: "The level of concern for me is that we got a power play goal from Casey [Cizikas], Clutter [Clutterbuck] and Johnny [Tavares], and Seidenberg had a goal. That's my concern. Where are we gonna get point production from? We took 134 points out of our lineup that we lost. Now we gotta find a way."
To be fair, Capuano is right. The New York Islanders do need to find some more offense. But calling out players probably isn't a great way to do that. The head coach's comments also caused many Islanders fans to call for a coaching change, though Capuana's job is supposedly safe for the moment.
Michel Therrien
While Capuano called his players out, Montreal Canadiens coach Michel Therrien left his players in. Well, one player, in particular: Al Montoya.
This past week, the Canadiens suffered their worst loss in 72 years, falling 10-0 to the Columbus Blue Jackets. In this historical loss, Therrien left his backup goalie Montoya in for the entire game.
Every. Single. Goal.
Talk about throwing your players under the bus.
Despite having superstar Carey Price on the bench and ready to go, Therrien refused to pull Montoya. Price stretched multiple times, as if expecting to enter the game at some point, but that never happened. Instead, Therrien left Montoya out to dry.
Postgame, Montoya said he was fine with his coach's decision, but what was he supposed to say? I understand Therrien didn't want to use Price on the first night of a back-to-back, but come on. That's just unnecessary. Therrien's on this week's list of fallers because leaving your goaltender in a game like that is just heartless.
Minnesota Wild
After shutting out opponents for three consecutive games last week, the Minnesota Wild is now the one being shut out.
Last week, Devan Dubnyk and his team made history. The Wild sat at the top of the league and was one of the best teams in hockeyt. This week, things are looking a little different.
Minnesota has fallen from third in the league to twelfth after dropping two consecutive games to the Buffalo Sabres and Colorado Avalanche. The Wild didn't just lose, though. They lost miserably. The previously high-scoring team managed to score only one goal throughout the two losses. I expected more from this team this season, but in classic Minnesota Wild fashion, what goes up, must come down.
The Vancouver Canucks
The Minnesota Wild might be a bit of a rollercoaster, but the Vancouver Canucks are just plain stagnant.
Monday night, the Canucks were handed their ninth straight loss. That's right. Nine consecutive losses. Ouch. Vancouver finally managed to end the skid Tuesday night, but one win doesn't erase nine straight losses.
The Canucks' biggest problem here is the team's inability to produce offense. Throughout those past nine losses, Vancouver was shutout four times, and managed to score only a combined 12 goals. That's just not going to cut it. Vancouver needs to step up the scoring, or the losses are just going to keep piling up.
Loui Eriksson
Part of Vancouver's biggest problem is its big-name players and their lack of offense. Loui Eriksson, the Canucks' big offseason acquisition, has scored only once in 14 games. In fact, Eriksson's put as many pucks in the opponent's net as he has his own.
Eriksson was a 30-goal scorer with the Boston Bruins, and was brought to Vancouver to help this low-scoring team put up some big numbers. That's not really working out. The Canucks are the lowest-scoring team in the league, averaging just 1.78 goals per game. Now that's not all Eriksson's fault, and there are other players on the team that need to step it up, but really now. Nine games and no goals? That has to change.
In the world of hockey, one week you're up, the next you're down. But hey, that's what keeps things interesting.
This article originally appeared on