Lightning vs. Red Wings live stream: Watch online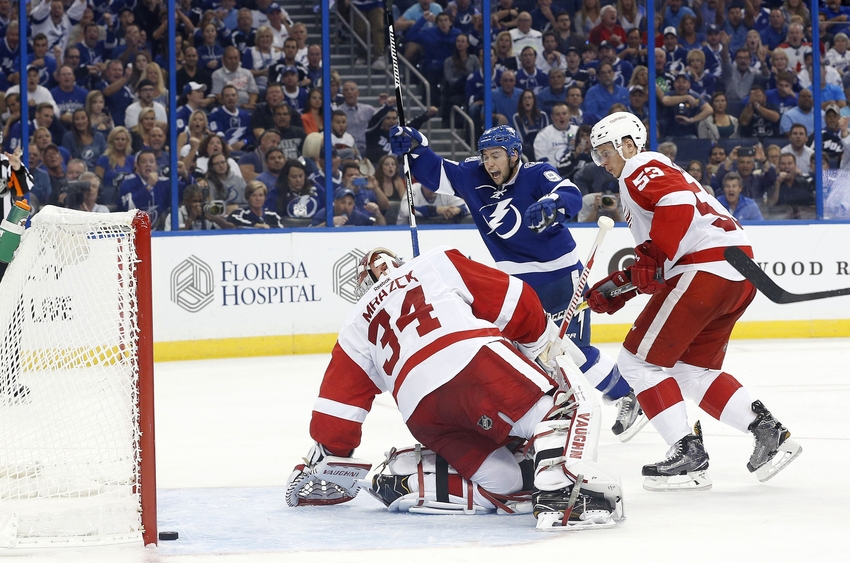 The Detroit Red Wings will host the Tampa Bay Lightning for a faceoff on Tuesday night. Here's how you can watch this NHL game via live streaming. 
One of the most underrated rivalries in the NHL will be on display on NBCSN on Tuesday when the Detroit Red Wings (8-7-1) host the Tampa Bay Lightning (9-6-1) at Joe Louis Arena for a 7:30 p.m. ET faceoff. This game will be aired nationally on NBCSN.
Even though it's just November, this game is quite meaningful. With a regulation win, Detroit would move into a tie with Tampa Bay for the second wild card spot. Both teams would have 19 points in 17 games. Pending the results of tonight's games, the Lightning could move into second place in the Atlantic Division with a win.
Tampa Bay enters tonight fresh off a 4-0 win over the New York Islanders on Monday. Because backup goalie Andrei Vasilevskiy started last night, it's likely Ben Bishop will start against Detroit. In their first meeting this season, Tampa Bay beat the Wings 6-4. Nikita Kucherov and Steven Stamkos have been leading the Lightning's recent push.
On the other side of the ice, Detroit is 4-5-1 over their last 10 games. In their last game, they lost to the Montreal Canadiens 5-0 on Saturday. Detroit is trying to continue their epic playoff streak, which is at risk of being broken. Currently, the Wings do not have a spot in the Stanley Cup playoffs.
Date: Tuesday, Nov. 15
Time: 7:30 p.m. ET
Location: Detroit, Michigan
Venue: Joe Louis Arena
TV Info: NBCSN, Fox Sports Detroit
Live Stream: NBC Sports Live Extra
Both teams need a win going into tonight. With the Lightning having played on Monday, the slight advantage goes to the Red Wings. However, Detroit has struggled against Tampa Bay in recent years. Expect a great rivalry game between two teams who have grown to hate each other.
More from FanSided
This article originally appeared on