Lightning at Islanders live stream: Watch online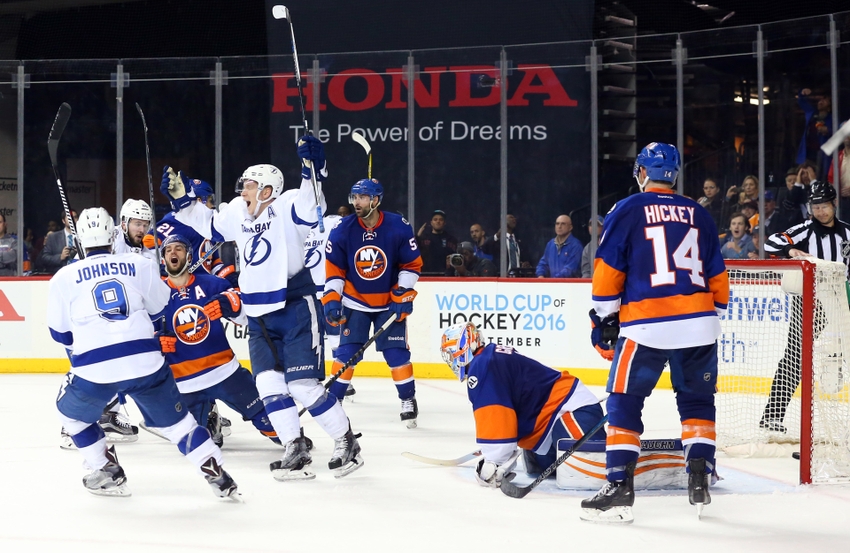 The New York Islanders will host a familiar foe in the Tampa Bay Lightning at Barclays Center for a Tuesday night game. Here's how you can watch this NHL game online via live streaming. 
In the 2015-16 Stanley Cup playoffs, the Tampa Bay Lightning defeated the New York Islanders in five games. The two teams will face each other for the first time this season as Tampa Bay (5-4-0) travels to the Barclays Center in Brooklyn to take on the Islanders (4-5-0). This game will be aired on NBCSN beginning at 7:30 p.m. ET. If you have NHL.tv, you won't be able to watch the game on it because it's a nationally televised game.
Tampa Bay enters Tuesday night having lost three consecutive games. They have been outscored 12-3 during the losing streak, dropping games to the Canadiens, Devils and Rangers. Steven Stamkos leads the team in goals (six) and points (10). Tampa Bay has a 2-3-0 record on the road this season. Tonight is about as close to a must win for them as possible for a November game.
On the other side of the ice, the Islanders have only won more than one game in a row once so far this season. After picking up a 5-1 win over the Toronto Maple Leafs, they look to start a winning streak with a win over Tampa. Brock Nelson leads the Islanders with nine points while captain John Tavares has seven points. They look to advance their home record to 5-2-0 tonight.
Date: Tuesday, November 1
Time: 7:30 p.m. ET
Location: New York, New York
Venue: Barclays Center
TV Info: NBC Sports Network
Live Stream: NBC Sports Live Extra
The Islanders will be out for revenge against the Lightning. Meanwhile, Tampa Bay will be trying to get themselves out of a huge slump.
This article originally appeared on