Leafs: Comparing Mitch Marner's Rookie Season To Other Small Wingers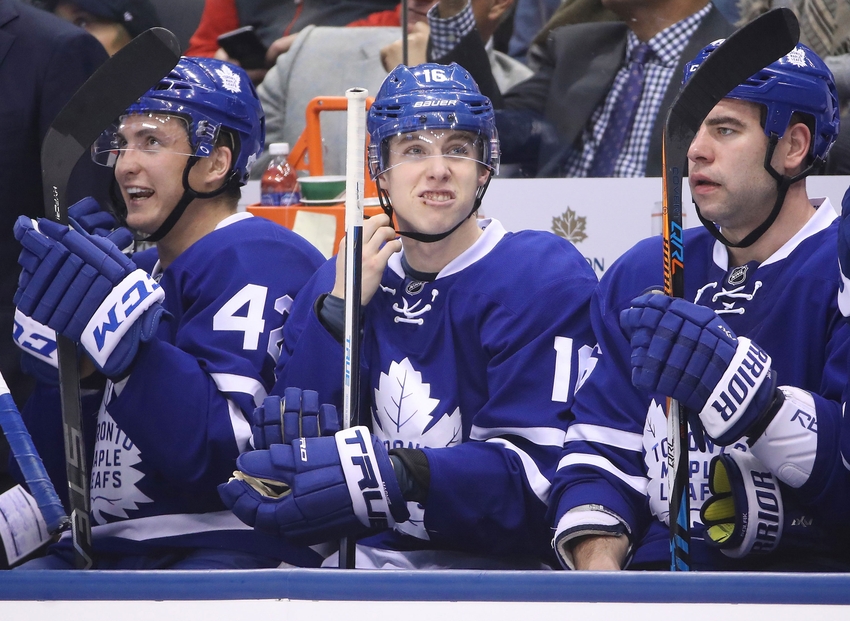 The "wow" moments have come in bunches for Maple Leafs rookie Mitch Marner. In 18 games this season, the 19-year-old has shed his "too small" stigma. As a result, he has become one of, if not the top rookie for the Calder Trophy.
After winning several individual awards and championships, Marner had nothing left to prove at the junior level. However, coming into his first Maple Leafs season there were questions about his size and whether he could sustain the physical punishment that comes with playing in the NHL.
Nonetheless, with two months under his rookie belt, there's no doubt that the concerns of his small stature have disappeared. Since the first game in Ottawa, Marner has shown that he belongs with the Toronto Maple Leafs.
Mitch Marner's transition to the NHL has come with ease. Take his hockey IQ; for example, whenever he hops over the boards for his shift, he seems to make something out of nothing.
It can be setting up his line mates or showing off his skill to score a highlight reel goal. Marner has put the league on notice with his offensive skill set.
Johnny Gaudreau Comparison
Due to his stature, he has drawn comparisons to other small wingers like Patrick Kane and Johnny Gaudreau. Aside from the size, how does Marner stack up stat wise to Kane and Gaudreau when they were rookies?
Well let's take Gaudreau first; here are his numbers during the 2014-2015 season and how they compare to Marner's:
Not a full sample size, but as of right now Marner has posted a more impressive rookie season than what Gaudreau did two years ago.
Furthermore, it doesn't mean he will keep up this pace and have a better rookie campaign than the Calgary Flames winger. However, it should give a realistic expectation to where he might finish when the season concludes.
Patrick Kane Similarities
Onto the next winger Marner draws comparisons to, Patrick Kane. The Chicago Blackhawks star is one of the poster children for the elite, yet smallish winger. Whenever an under-size winger talks about their game, they reference Kane as someone they model their game after.
Marner would be no different, aside from both playing for the London Knights, their games are very similar. For one, they are both playmaking wingers who will make their linemates better. Also, they could just forego doing that and just undress the goalie when the opportunity presents itself.
Here's a comparison of Kane's rookie numbers during the 2007-2008 season to Marner's:
| | | | | | |
| --- | --- | --- | --- | --- | --- |
| | CF60 | CF% | ShPct | Goals/60 | Pts/60 |
| Mitch Marner | 61.79 | 48.00 | 16.67 | 1.47 | 3.18 |
| Patrick Kane | 47.9 | 52.40 | 10.00 | 0.61 | 2.27 |
Aside from his Corsi For%, Marner's advance numbers are much better. Again, take these numbers with a grain of salt since the sample size happens to be 18 games. Whereas Kane's stats are over an 82 game season.
In the end, the Maple Leafs winger's stat lines are still impressive when compared to Kane since the Blackhawks forward won the Calder Trophy that season.
The Outlook
All the advanced stats point to Marner putting up a similar rookie campaign to that of Kane and Gaudreau, which could mean that he will at least get a  nomination for the Calder Trophy. 
These three play a similar game and face the same disadvantages due to their small frame. Nonetheless, with the way their careers have unfolded. Expect Marner to possibly share the same individual success as Gaudreau and Kane. 
However, for now just enjoy every moment that he provides because every night he outdoes himself. Whether it be a pass to set up a goal or undressing the opposing goalie, it's been awhile since Maple Leaf fans have seen a talent that can take us off our seats.
This article originally appeared on