Las Vegas NHL team: Picking which team name is the best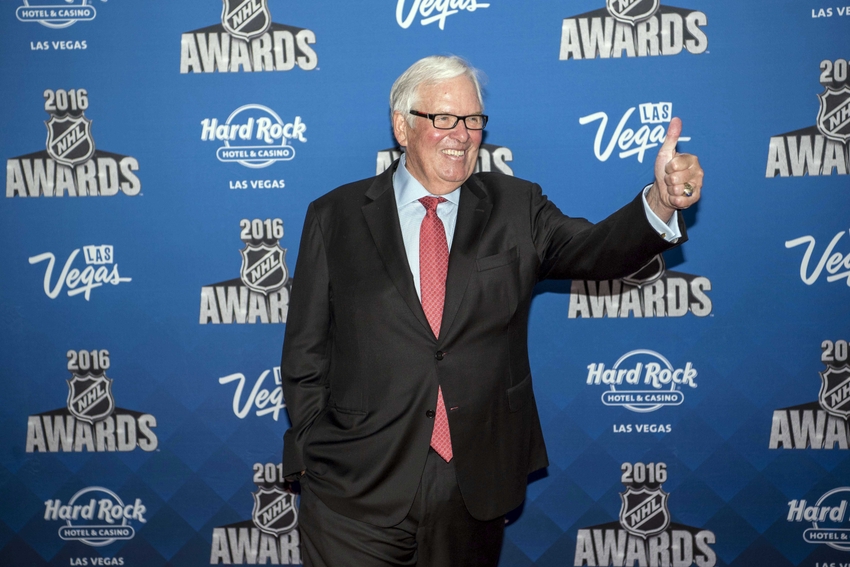 As the hockey season continues to kick off, the countdown to hockey in Las Vegas is getting smaller and smaller.
That being said, the NHL's newest team already has a staff and a brand new hockey arena. All they need now is a team name and color scheme. As word has it, the franchise name will have something to do with "Knights," and they are choosing between the Golden Knights, Silver Knights and Desert Knights.
While the team plans to announce their name and logo Nov. 22, we have some suggestions for their new look as they join the ranks of the league.
Las Vegas Golden Knights, Blue and Gold
The Golden Knights is an elite name that could make the team memorable to start its NHL career. The reason I enjoy this one so much is because the title allures not only to greatness (given the "golden" aspect of the name, but also, to the state flag. Nevada's flag contains gold, and the desert sand can also be classified as having a golden tone to it.
While the Golden Knights would be good candidates for black and gold, it is too similar to Pittsburgh's look, and the fact of the matter is, a cobalt blue and gold would look a lot better for this team. Those are the colors of the Nevada state flag and stand out enough to truly live up to the Golden Knights name. With these colors, they get a scheme that fits well, and will make for a beautiful uniform on the ice. Of course, blue would be the dominant color; we wouldn't want another mustard-yellow jersey (looking at you, Nashville).
Las Vegas Silver Knights, Purple and Silver
This option is of course, similar to the first name, but would have a bit more sleekness and shine than the gold. In my opinion, the "Golden" part of the team should represent a more yellow color, but with silver, having that shine and genuine glow would work out. There would also be more of a variety with the jerseys, considering silver is a more neutral color that can go with a lot more than gold.
Given that the silver is usually strong when complimented with neutral colors, this would look great with a royal purple. Given the eliteness associated with the name like the Knights, using a purple would indicate something fierce, and combining that color with silver creates an even more intense and powerful combination.
Las Vegas Desert Knights, Gold-Sand and Gray
Nicknaming the team "the Desert Knights" has become something of a favorite for fans around the league and in Vegas. The city has been thirsty for a new nHL team for years (no pun intended… or was it) and this name just indicates that excitement of bringing hockey to the desert.
Thanks to the fact that they are the only team joining Arizona in the Western, dry region, the name is fitting and would absolutely catch on. Given the presence of the desert in the name, this team would look great if their jerseys resembled some kind of gold-sand color.
With this in mind, the neutral color of gold, a grayish color would look great here, or perhaps even a silver. With these colors, you get the desert and knight aspects, and a combination that is flattering to the eye. If they want to give a "dark knight" kind of look to these jerseys, the gray would work in the sense that they can make it darker and have that further compliment the desert color.
Las Vegas Flying Aces, Red and Black
When early speculation hinted at the chance of Vegas getting an NHL team, this name immediately came to mind. Not only does it centre around gambling and cards, a huge part of what Vegas is known for, but it's a creative and tough team name. It would indicate speed, intensity and high stakes, which is exactly what fans are destined to find with these new franchise.
Red and black are the two colors split between the four suits of cards, and they present a unique combination that would look great as an NHL uniform. While it could somewhat be similar to Chicago's style, there could be more a saturated red and a lighter black to change things up. Having the repetitive card suits around the waistline of the jersey wouldn't look too shabby, either.
Las Vegas Jokers, Green and Purple
Why so serious? That's the question I ask when it comes to the Vegas jerseys. While Knights are a bold theme to add, what would really be fun is to have a humorous, strong team name that represents a pop-culture idea. The Joker is just one of them, but also has to do again with card-playing, a huge part of the Vegas-culture (at least for tourists).
A green and purple color scheme is something that would also stand out on the ice. It is definitely an idea that we haven't seen before in past jerseys, and could be worth while to at least try out on the ice. Imagine a court-jester logo as well, and you get a uniform that has a chance of being one of the top choices in the NHL.
This would be a legitimate team name and something that would look great. These two colors are unique, and having a crazy, eye-catching jersey may benefit the new team for the best.
This article originally appeared on