Korean hockey players attend Stars' camp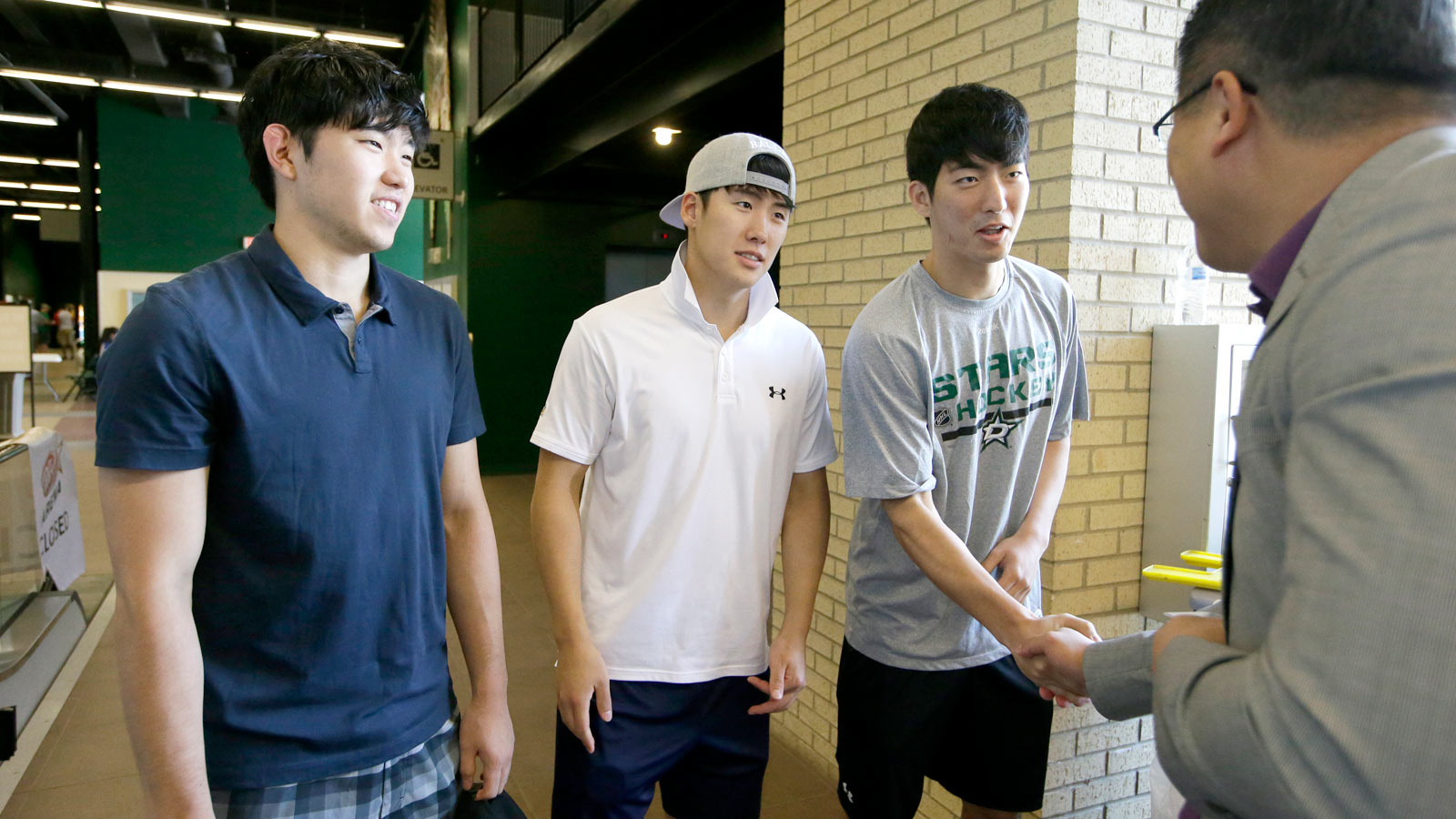 For many players, an NHL development camp is an entirely new experience where players from all over the world get to meet all sorts of players, all trying to impress the coaches on hand.
But for forward Jinhui Ahn, defenseman Wonjun Kim and goaltender Kye Hoon Park, there was a little bit more emphasis on that entirely new experience.
The three young players are from South Korea, and they were invited to participate in the Dallas Stars development camp alongside the Stars' prospects.
Stars GM Jim Nill invited the three players at the request of Jim Paek, the director of hockey for the Korean Ice Hockey Association and a coach on the South Korean National Team. Paek, a former Stanley Cup-winning Pittsburgh Penguin, debuted in 1990 as the first Korean to play in the NHL.
Paek worked as the assistant coach for nine seasons for the AHL's Grand Rapids Griffins, where he developed a relationship with Nill, then the assistant GM for the Detroit Red Wings. When Paek asked Nill for a favor, Nill was happy to oblige.
"It's a great story. Jim Paek gave me a call back last November," Nill said. "They have the Olympics that they're hosting (in PyeongChang 2018), and it's his task to get them into the Olympics. So he gave me a call and said, 'I've got three kids I'd like to bring to camp. They need to get the experience, learn what it takes to make the next step.' So I said, 'Hey, we'd love to help you out.'
"They're great kids, great people off the ice. But on the ice, they've been as good as everybody else and played very well."
Both Ahn and Kim, who are both 24, are teammates on Anyang Halla in the Asia League Ice Hockey, and Kim sees the experience as a confidence booster.
"It was like an amazing experience for us. It's nice to be here," Kim said. "This gives us a lot of confidence, improves our skills and makes us better players, I hope."
Park, 23, had participated in a goalie camp for the Buffalo Sabres earlier this year. One of his teachers suggested he should play hockey, and it stuck with him.
"My elementary teacher used to be a hockey manager," Park said. "I used to get in fights all the time in elementary school, so my elementary school teacher was like, 'If you're going to get in fights, just play hockey.' That's how I got started."
Kim played three seasons of junior hockey in Finland.
"When I was young, my apartment was nearby the ice rink, so I had a chance to skate," Kim said. "It was nice to skate, so I started to play hockey. It was a lot of fun."
Nill was happy to have the three on board at camp, because the three players showed the Stars prospects a different style of play.
"It's good for them and, I think on the flip side, for our prospects they get to meet some other people and see a little culture change," Nill said. "That's good for everybody."
And the three players were introduced to American culture, something they definitely weren't used to.
"At first, the cultures are different, so it was very difficult for me. But I've made a lot of friends here," Park said. "It's been quite an adventure and a lot of fun. I did goalie camp in Buffalo first, and that's where I had a chance to really learn the culture and make a lot of friends."
The three players are eager for the 2018 PyeongChang Olympics. All could play should South Korea participate in Olympic hockey, but each are taking baby steps, and the camp was one of the steps.
"It really motivates me and it's like reaching the sky," Ahn said. "I'm just so excited. I haven't pictured (being in the Olympics) yet. I'm just more focused on being out there first.
"It's very important for Korea to be in the Olympics because (hockey) is not a big deal in Korea. For Korea to have hockey in the Olympics, it's kind of a big deal to raise awareness."
(h/t NHL)
Photo Credit: AP Photo/LM Otero