Jonathan Quick injury update: Kings star suffers lower body injury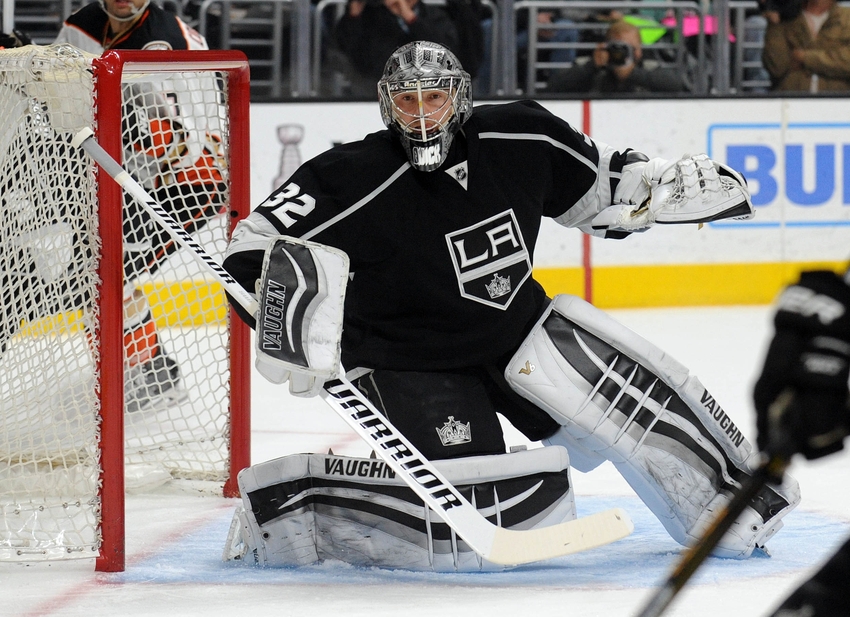 Jonathan Quick left the Kings' game against the San Jose Sharks with a lower body injury, but how long will the netminder be out? 
The Los Angeles Kings are looking to reclaim the Pacific Division crown. So far, they've had to endure some injuries. You can add another one to the list, as star goaltender Jonathan Quick went down against the San Jose Sharks. He left the game with a lower body injury after the first period.
Nobody knows for sure what caused the lower body injury, but it could have been the result of this play:
or here pic.twitter.com/UL4lQzcuhG

— Stephanie (@myregularface) October 13, 2016
It happened towards the end of the first period and Quick is visibly hurt. He didn't return after the first period. In relief of Quick, former Pittsburgh Penguins goaltender Jeff Zatkoff was solid, stopping 14 of the 15 shots he faced. Zatkoff will likely be the starter moving forward if Quick is out for an extended period of time.
Kings general manager Dean Lombardi was not optimistic about Quick's condition. He will have an MRI on Thursday to see what the extent of the damage is.
Kings trainers said he hurt it while sliding, so while nobody knows precisely what's wrong with Quick, it sounds like it might be his groin. Of course, NHL teams are usually very secretive about players and their injuries.
Without Quick, the Kings will most likely call up a backup goaltender. Expect Zatkoff to get most of the starts. In the past, they have been fine without Quick thanks to quality backups like Jonathan Bernier and Martin Jones. Zatkoff will have to follow in their footsteps if the Kings want to remain solid without Quick.
This article originally appeared on