John Gibson's 39 saves propel Anaheim Ducks to victory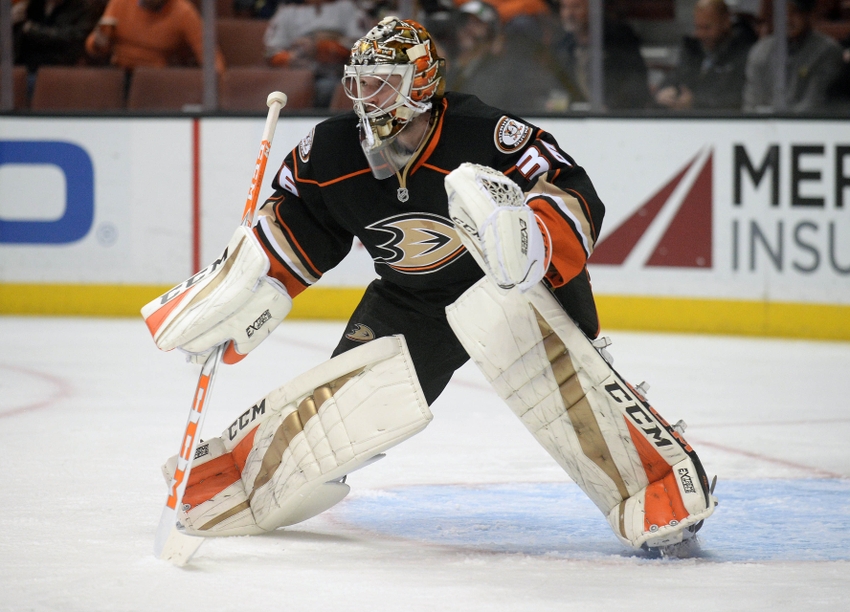 2

1
Anaheim Ducks goalie John Gibson, along with the rest of the team, escaped with a win last night at home.
John Gibson and the Ducks faced a tough team in the Montreal Canadiens, who they fended off until the last minute. Their defense came through despite allowing one goal and their offense gave them just enough to win the game by scoring two goals.
If anything, John Gibson was the star of the game making 39 saves off of his opponents 40 shots on goal. He was a busy man all night.
This game alone proves to fans that Gibson is the leader on defense and it all starts with him.
Even if and when the defense breaks down he makes plays and helps his team correct the mistakes they all make including him self.
He was one save away from a perfect game.
Anaheim has had an escalator of games this season thus far.
It is as if one game they're unstoppable, then the next they have major problems.
In every game, however, there have been glimpses of what this team will be when all the pieces are working together as one unit.
This may happen sooner than quicker or even the latter. If it happens in the latter it will be just in time for the playoffs.
They have proven by defeating the Montreal Canadiens the top team in the league twice that they can compete with anyone.
If their is one weakness to point out currently it would be their inability to consistently finish games.
By being consistent they won't have to worry about making the playoffs at the end of the season.
This article originally appeared on