Joe Pavelski Officially Named Team USA Captain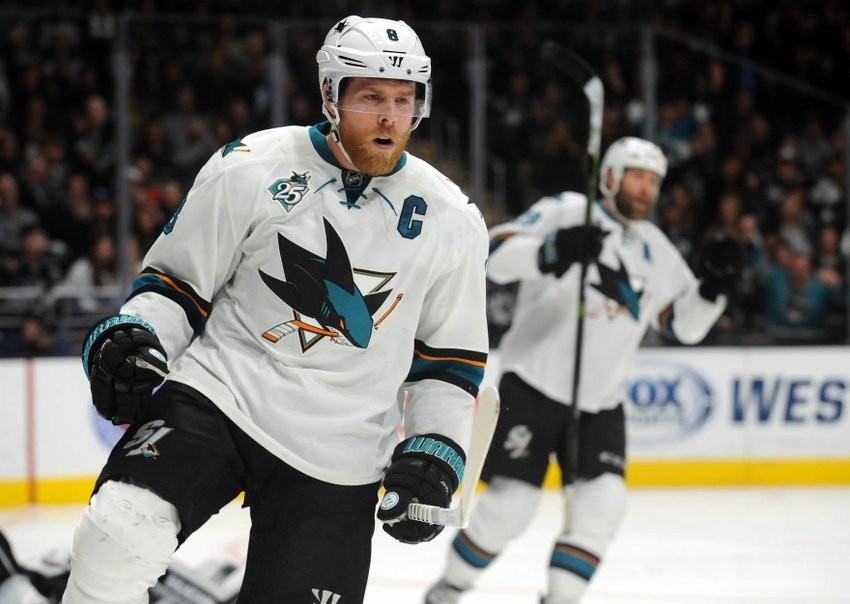 The leadership group for Team USA during the World Cup of Hockey has been announced, and Joe Pavelski is officially Captain America…
It's official: Joe Pavelski will captain Team USA for the World Cup of Hockey. The captain of the San Jose Sharks heads the leadership group announced by USA Hockey via Twitter Wednesday:
#TeamUSA captains & seven-man leadership group named for 2016 World Cup of Hockey: http://bit.ly/2c4WjFp  #WCH2016

— USA Hockey (@usahockey) Sept. 7, 2016
This is not earth-shattering news. CSN Bay Area Insider Kevin Kurz had already reported a source saying Pavelski was "99 percent" likely to be named captain back on Aug. 17.
Still, Zach Parise was Team USA captain during the 2014 Sochi Olympics and is still on the team. It will not be the first time Pavelski will be taking over a team with its recent captain still on the roster.
Pavelski had to overcome enough just to get the Sharks to the second round of the Stanley Cup playoffs. In addition to the tumult of two stripped captains on the roster, they faced their nemesis in the first round.
The Los Angeles Kings were more than just Pacific Division or even California rivals. They had delivered losses that ended each of San Jose's past three seasons. Two came in seven-game playoff series, including statistically the worst choke of a series in major sports history.
Pavelski got the team through that. Moreover, he led San Jose's deepest run ever—two wins from a Stanley Cup. Despite these qualifications, it is still unusual to have Parise removed.
Parise has similar experience as a captain, leading the New Jersey Devils to a six-game exit from the Stanley Cup finals in 2012. His coach is now Pavelski's current bench boss, Peter DeBoer. He was an alternate with the silver medal-winning 2010 Olympic team.
Parise did nothing to precipitate this change. He is still one of seven players announced for the leadership team. Nevertheless, he will not even wear a letter.
Ryan Suter is a great choice as an alternate. He has been a leader in the NHL and international play before. More importantly, the two-way defenseman is probably Team USA's most vital player.
Both Suter and Pavelski were once Wisconsin Badgers. Not only are they products of the same program, they grew up in the same region of the state six months apart. That should help leadership be on the same page.
Patrick Kane will be the other American with a letter on his sweater. His credentials mandated it.
Kane is a three-time Stanley Cup champion. He is the reigning Hart Trophy winner. He was also voted the top player in the league right now by NHL Network.
Besides Parise, the rest of the leadership group includes some major leaders: Ryan McDonagh, David Backes and Ryan Kesler. Pavelski stood above them all because of the leadership he exhibited with the Sharks. Another is because he is peaking as a player right now.
Pavelski was the 10th-ranked player on the top-50 list. That made him San Jose's highest-rated player. He finished 14th in the 2016 Hart Trophy vote per Pro Hockey Talk. (Joe Thornton finished fifth. Brent Burns tied for 20th.)
Pavelski is a two-way player that will be out in crucial situations on both ends of the ice. He can even play any skating position and can handle the minutes.
He is also one of the smartest hockey players in the world. That is how Pavelski has compensated against bigger players near the net. It is how he has compensated against better skaters in open ice.
He combines that intelligence with a great work ethic. Pavelski spends hours upon hours perfecting tipping shots. That gives him credibility with other players.
Obviously, there will be many world-class players in the World Cup of Hockey. Many have more talent. Few will have the supporting talent Pavelski has to work with.
It remains to be seen whether he can lead Team USA to a gold medal. However, it seems much more likely after seeing the leadership he has exhibited in San Jose.
More from Blades of Teal
This article originally appeared on