It's about Connor McDavid and Sydney Crosby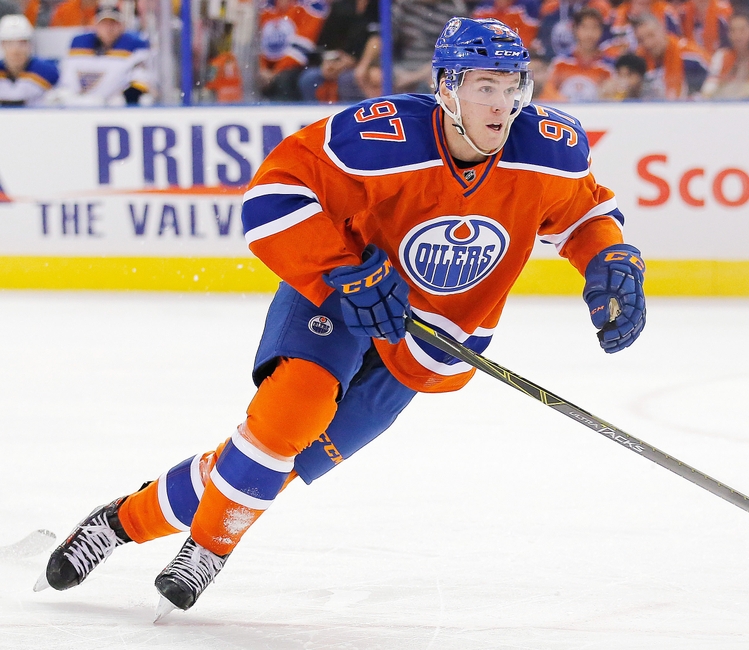 Looking at the NHL schedule, this is a match up between the Edmonton Oilers (9-3-1) and the Pittsburgh Penguins (8-2-2). Really, it's just game right? On paper they are close with the Oilers sitting one point above the Penguins in the NHL standings. They also match up in a few statistical categories. But let's get real. Everybody in the hockey world knows it's about Connor McDavid and Sydney Crosby.
You don't need a crystal ball to read between the lines. It's the established vs. the upstart. The irresistible force against the immovable object. It's icon versus icon. McDavid versus Crosby.
In the Oilers' corner McDavid is fourth in league scoring with 14 points. On the Penguins' side Crosby (boo, hiss) is the best player to lace up skates since Mario Lemieux retired. He's tied for top spot, in the Maurice "Rocket" Richard trophy sweepstakes with eight goals in six games.
For the statistical geeks, I like stats, McDavid's 14 points in 13 games projects to 88 on the season. If he keeps it up. However, Crosby's 10 points in six games prorates to 126  in 76 games. By comparison,  Chicago Blackhawks Artem Anisimov's 17 points in 13 games makes him league leader and on pace for 107 points.
That's pretty, pretty, good.
Yes, we're just getting into the second month of the season. Besides, armchair speculation is fun.  For the record, past NHL scoring tapers off as the season wears on.
McDavid and Crosby can score, score and score some more.
We don't need a crystal ball to read between the lines. Some will say it, some won't, but some hockey pundits boldly predicted McDavid winning the Art Ross trophy. No slight to him, but that doesn't seem realistic at the moment. Crosby's on a torrid pace and plays like a man on a mission and the Penguins haven't lost a regulation game since his return.
The Oilers look to change that.
Still, a few games ago, McDavid was poised to make the pundit's prediction come true. The only thing slowing his point progress are wingers that can't shoot.
But that's another story for another time.
For the Oilers faithful, this is a measuring stick to see if McDavid plays in Crosby's shadow. Or will he step up, with authority, and challenge Crosby as the best player in the game.
It won't be easy.
Crosby scores one-handed goals, undresses defenseman and fires up his team. So far he has been unstoppable and his message to the NHL is obvious: He is the king.
For now.
A generational player vs the elder statesman
With McDavid, there is nothing wrong with being the second best player in the league. The fact is Crosby has 10 years, two Stanley Cups and five 100 point seasons on his résumé. Not bad for a guy who isn't yet 30. Still, McDavid is a generational player. A play-maker extraordinaire generating more scoring chances than pebbles on a beach.
Crosby is the face of the NHL, the game's elder statesman. A superstar with lots of gas in the tank. No doubt hearing about the Generational One adds a spark to his game.
That, and he does play for the defending Stanley Cup Champions. So that might have something to do with it.
Perhaps Edmonton's champion can watch and learn a few things from the best player in the game, bar none. Maybe he will learn what to do when the wingers can't find the back of the net. He might figure out how to shake off checkers bringing his game to a standstill.
From the armchair and those in the stands, one never knows with McDavid. How fast he adapts. How fast he learns. But maybe, just maybe, he will pick up a thing or two from Mr. Crosby.
Here's to hoping both players put on a show.
This article originally appeared on