Islanders vs. Penguins live stream: Watch online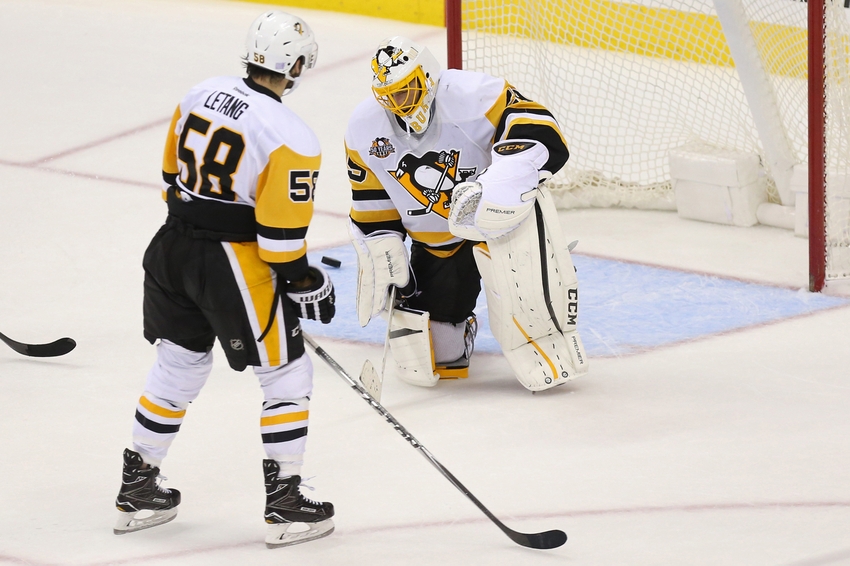 The Pittsburgh Penguins will try to rebound from their worst loss of the season by taking on a struggling New York Islanders team.
The Pittsburgh Penguins will head to the Barclays Center with their head buried in the sand. Against their biggest rivals on national television, the Penguins turned in their worst effort of the season by losing 7-1 to the Washington Capitals. They tried to troll the nation's capital by tweeting out a photo of their Stanley Cup banner next to Washington's divisional winner banner, but that only served to motivate them even further.
The turning point came in the first period, when Evgeni Malkin unintentionally smacked Matt Murray in the face with his stick. Murray was in pain and had to leave the game. It was still 2-0 at that point, but once Marc-Andre Fleury came in, he got lit up.
When Murray was out to start the season, Fleury had a great chance to steal the starting job away from him. But Murray has put up excellent numbers since his return while Fleury has been turning in stinkers. If Murray is out for an extended period of time, the Penguins should bank on Fleury to turn it around so they can sell high on him.
But despite that loss, the Penguins still sit third in the Metropolitan Division. The New York Islanders, on the other hand, are going through a terrible start to the season, sitting last in the East at 5-8-3. Scoring has been their biggest issue, as their leading point-getter only has 12 on the season. Having Jaroslav Halak's agent demanding a trade on Twitter certainly doesn't help matters either.
While they are encouraged to be taking on a Penguins team coming off a 7-1 loss, that won't help matters. If anything, the Pens will play angry and will try to take out their frustrations on the Islanders. Their only saving grace is that this game is at home, which is where all of New York's wins have come from this year.
This game will only be broadcast in the two team's local markets. Anyone looking to watch this game outside of that will need a subscription to NHL.TV. It's an expensive option, but one that every hockey fan must own, especially ones who cheer for a team outside of their region.
Date: Friday, November 18
Start time: 7 p.m. ET
Location: Brooklyn, New York
Stadium: Barclays Center
TV Info: Check local listings
Live Stream: NHL.TV
If the Islanders lose, we might hear some "Fire Jack Capuano" chants from the crowd. But a win might be what they need to turn their season around.
This article originally appeared on